Latest School Events
KS2 Dress Rehearsal

11

Dec

2023
KS2 Xmas Performance

12

Dec

2023

2:00 am - 3:30 am
KS2 Xmas Performance

13

Dec

2023

6:00 pm - 7:30 pm
Xmas Jumper Day

15

Dec

2023
KS1 Xmas Party Day

18

Dec

2023
KS2 Xmas Party Day

19

Dec

2023
Xmas Lunch

20

Dec

2023
School Closes

21

Dec

2023

2:30 pm - 3:30 pm
Teacher Training Day

22

Dec

2023
Christmas Holiday

25

Dec

2023

12:00 am - 07 jan, 1:00 am
Tuesday 30th June 2020
It's a good news day for Old Stratford Primary School.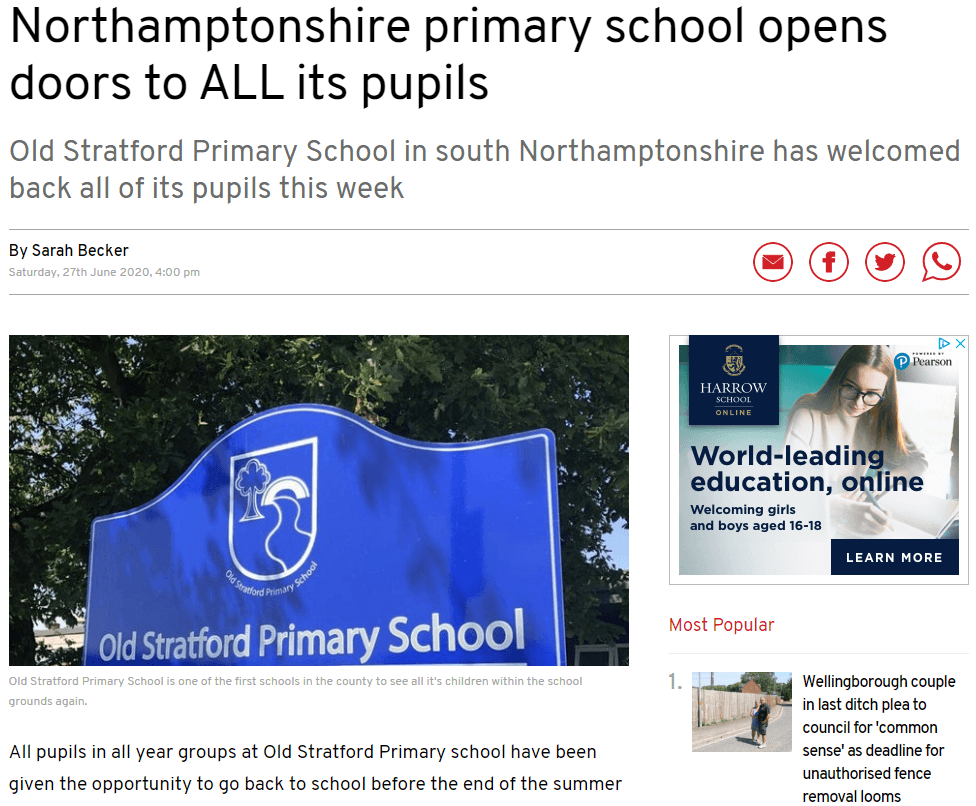 Click on the link below for the full story!
https://www.northamptonchron.co.uk/news/people/northamptonshire-primary-school-opens-doors-all-its-pupils-2896611
Friday 22nd May
Reopening Guidance for parents
Letter from Governors - COVID 19
Friday 20th March
It has been a very sad day today as we said goodbye to the children not knowing when we will see them again. I know this is going to be a very difficult time for everybody. Please stay safe and stay at home as much as you can. Although it maybe tempting to have play dates and socialise, try and resist as this virus is silent and invisible.
Our office will stay open for as long as possible so if you need any help or support please use us as a contact, we will try and help in any way that we can. We can easily be a help centre with school jotter as a resource. So if you need anything then please contact us and we can get a message out to the community if needed.
And to Year 6 that have missed out on so much this year, we will not forget that you haven't had the ending that you deserve. We will organise the biggest party for you all when this all blows over.
As a school we will keep you updated of openings. We will keep posting ideas for work onto the year group pages on the website. We will support you in any way that we can.
Wednesday 11th March
CORONAVIRUS UPDATE
The government is closely monitoring the spread of the Coronavirus and is taking action at home and abroad.
The overall risk of Coronavirus to the UK remains moderate. However we understand that people may be concerned where there are children, students or staff returning from or visiting other countries.
Public Health England and the Foreign Office have issued advice for anyone travelling to affected areas. This can be found at:
Latest information and advice can also be found at:
Advice for parents/guardians
You should not be unduly worried about the possibility of your children catching the Coronavirus.
There is no reason why your children should not continue to attend their school or further education setting as normal. If your child does display symptoms related to Coronavirus please call 111 for advice. Please then let the school know that this has happened.
We recognise that some families or children may be planning to travel during the forthcoming Easter holiday period. If so, please refer to the FCO's latest travel advice via the link above.
What action you can take
A UK wide campaign has been launched to provide clear advice on how to slow the spread of Coronavirus.
Please help to support the campaign which promotes basic hygiene practices, such as regularly washing hands and always sneezing into a tissue, to stem the spread of viruses