News and Updates
Friday 20th March
It has been a very sad day today as we said goodbye to the children not knowing when we will see them again. I know this is going to be a very difficult time for everybody. Please stay safe and stay at home as much as you can. Although it maybe tempting to have play dates and socialise, try and resist as this virus is silent and invisible.
Our office will stay open for as long as possible so if you need any help or support please use us as a contact, we will try and help in any way that we can. We can easily be a help centre with school jotter as a resource. So if you need anything then please contact us and we can get a message out to the community if needed.
And to Year 6 that have missed out on so much this year, we will not forget that you haven't had the ending that you deserve. We will organise the biggest party for you all when this all blows over.
As a school we will keep you updated of openings. We will keep posting ideas for work onto the year group pages on the website. We will support you in any way that we can.
Wednesday 11th March
CORONAVIRUS UPDATE
The government is closely monitoring the spread of the Coronavirus and is taking action at home and abroad.
The overall risk of Coronavirus to the UK remains moderate. However we understand that people may be concerned where there are children, students or staff returning from or visiting other countries.
Public Health England and the Foreign Office have issued advice for anyone travelling to affected areas. This can be found at:
Latest information and advice can also be found at:
Advice for parents/guardians
You should not be unduly worried about the possibility of your children catching the Coronavirus.
There is no reason why your children should not continue to attend their school or further education setting as normal. If your child does display symptoms related to Coronavirus please call 111 for advice. Please then let the school know that this has happened.
We recognise that some families or children may be planning to travel during the forthcoming Easter holiday period. If so, please refer to the FCO's latest travel advice via the link above.
What action you can take
A UK wide campaign has been launched to provide clear advice on how to slow the spread of Coronavirus.
Please help to support the campaign which promotes basic hygiene practices, such as regularly washing hands and always sneezing into a tissue, to stem the spread of viruses.
Friday 3rd May 2019
A Big YV Thank You
Dear Old Startford Primary School,

Year on year your continued support of Young Voices helps us raise a huge amount of money and food for our chosen charities TEENAGE CANCER TRUST and FareShare. We would like to share this special news that our last Young Voices concert tour raised £133,000 in wristbands, bucket collections and text donations for Teenage Cancer Trust. FareShare have also asked us to say a massive thank you for your food donations which have helped to feed disadvantaged children and adults across the UK.

Teenage Cancer Trust Honorary Patron and legendary frontman of rock band, The Who, Roger Daltrey CBE said: "Young Voices do fantastic work to inspire a new generation to find their love for music, something Teenage Cancer Trust feels very passionately about making this partnership quite special. I hope that everyone who participated or attended one of these concerts feels very proud of themselves. They've helped to further the charity's vital work to ensure that every young person diagnosed with cancer in the UK receives age-appropriate care and support."

From the bottom of our hearts here at Young Voices, thank you.
Friday 15th March 2019
We've just received #NationalLottery funding! We have received £10000 to help fund a sensory area in our outdoors Early Years Area. Thank you to everyone who plays The National Lottery for supporting us.
Find out more on the @TNLComFund website: bit.ly/NationalLotteryfunded-March2019
Friday 24th January 2019
Dear Parents/Carers,
Over the past few months, Mrs Lewis (Literacy Coordinator) has been working incredibly hard preparing books and training staff on a new reading scheme for KS2 pupils. This reading scheme is completely different to our KS1 scheme and focuses primarily on comprehension and grammar skills encouraging pupils to reach higher levels of reading.
We have now officially begun our new Accelerated Reader (AR) program. AR is a nationwide reading program which encourages and motivates pupils to read books at school and home and earn points by taking computerised comprehension tests at school. Every book in our school library has been given a level, point value and quiz number. The information is printed inside every AR book.
Each pupil has been given a STAR Reading Test to determine his or her reading level. The STAR Reading Test is a computer based reading assessment that uses computer-adaptive technology. Questions continually adjust to your child's responses. If the child's response is correct, the difficulty level is increased. If the child cannot answer a question or answers incorrectly, the difficulty level is reduced. The test uses multiple-choice questions and takes approximately 10 minutes.
Book levels are reported using an ATOSTM readability formula and represent the difficulty of the text. The levels range from 0.5-13.5. Books are chosen based on the ZPD range recommended for each pupil by the STAR Reading Test.
ZPD represents a Zone of Proximal Development. This is the range of books that will challenge a child without causing frustration or loss of motivation. Your child will receive a ZDP, or reading range after taking the STAR Reading test. It is important for children to read a high degree of comprehension within his/her ZDP.
When finished a book, your child will take a short quiz on the computer – passing the quiz is an indication that your child has understood what has been read. Your child's class teacher will assess your child termly to determine whether your child's ZPD needs to change.
The AR program is a real opportunity for us to monitor and develop comprehension skills. As with anything, performance improves with practice. According to Renaissance Learning's research, children who read at least 20 minutes a day with a 90% comprehension rate on AR quizzes see the greatest gains. Encourage your child to read at home, discuss books, ask questions about what they have read and visit your local library.
You can find out more about the AR program by visiting: AR Book Finder to conduct a search of all available books with AR quizzes. Visit Renaissance Learning for more product information.
Yours sincerely,
Mrs Sarbutts
05 Jul 2018
Sports Day
05 Oct 2018
Parentmail letter
15 Nov 2018
M&S School uniform Newsletter
Young Voices 2019
This year the children in Year 5&6 attended Young Voices at the 02 in London! They had an amazing time watching legends such as Tony Hadley singing Gold and many other wonderful musical numbers, please see the Gallery section for some of the photos we took.
SCHOOL PERFORMANCE
I am extremely proud to share with you the fantastic news that we have been ranked 10th in the County for school performance by the DfE. This is an amazing achievement for Old Stratford Primary School after our highest SATs results ever! A big well done to all the children for working so hard and being supported by the wonderful, dedicated staff here at Old Stratford Primary School.
Christmas Dinner- MONDAY 17th DECEMBER 2018
This years Christmas Dinner will be held on
This must be booked by Wednesday 12th December 2018 at Midnight
Please book in the usual way at www.kingswoodcatering.co.uk
Not registered for dinners?
Then go on-line, register and book.
Need to talk to us?
Please e-mail us on
enquiries@kingswoodcatering.co.uk
OFSTED Report
I am pleased to inform you that the school grading has improved to GOOD both overall and in every sub category! You can see the full feedback online at http://reports.ofsted.gov.uk. It should be published there no later than Friday.
This is clearly a significant improvement on the 2016 audit when the school received a Requires Improvement result.
Clearly a huge amount of hard work and effort has gone into this improvement from all the staff at Old Stratford over the past two years and I think they deserve a great deal of credit for what they have achieved, supported by the leadership of Mr Webster and Mrs Sarbutts. They all deserve a big thank you!
I would also like to thank all the parents who contributed to the online survey and messaging. The OFSTED inspector noted that this was particularly high, and the overwhelmingly positive comments was I know much appreciated by all the staff. She also noted in her feedback the children, who she felt were a credit to their school, their parents and themselves.
We have felt for some time that the school was moving in the right direction, and while an OFSTED experience is never a comfortable one, we were pleased that they came and confirmed that view. However, there is still more to do, and the OFSTED report clearly shows what more we must improve to reach the goal I stated in my first letter as Chair in 2016, to be an Outstanding school.
However, this report marks an important step in that journey and a real achievement for our school and community.
Yours sincerely
Andrew Brodie
Chair of Governors
Wrap Around Care
We are rapidly approaching the launch date of our wrap around care service provided from Energy Kidz. Next term is the last term that parents and carers will be able to book Breakfast Club with the school directly. The new Breakfast Club and After School Club will start on the 17th April. The club are already taking bookings online at www.energy-kidz.co.uk
If you would like to find out more about the Club then please join us Friday 23rd February at 9.05am for a special assembly held by Energy Kidz.
Early Years Outdoor Area
Our Early Years outdoor area has finally been completed. We are really pleased with the results and look forward to our Early Years children spending hours of quality time out there using the new surfacing and equipment. I want to say a huge thank you to OSSA for their donation to help fund the project. With their donation we were able to purchase the Water Wall, Damning Station and Climber for the children to enjoy. If you haven't yet seen the Outdoor Area, please feel free to pop in and have a look when you are next in for Walk In morning.
Tag Rugby
On Monday the 29th January we took 2 teams to a Tag Rugby cluster tournament. Both teams did incredibly well at the event showing us their speed, agility and sheer determination. A big well done to both teams!
OSSA Disco
OSSA held another very successful disco last week. The children had a great time and were treated to a large cookie for their snack. Another really big thank you to everybody who helped out on the evening.
Early Years Fire Brigade Visit
Children in our Reception Class were treated last week to a visit from the fire brigade. They really enjoyed finding out how the fire services help us and had great fun looking around the fire engine. They even had a go at using the hose which caused great excitement.
Owls Visit
Year 2 had some very special visitors today. They were visited by a range of owls following their book study in Literacy. All the children (and staff) were amazed by the birds' beauty and had a very enjoyable and informative afternoon.
Parents Evening
Parent's Evenings will take place after half term on Wednesday 28th February and Thursday 1st March. Both evenings will run from 3.45pm – 7.00pm. Please fill in slips and send them back as soon as possible so that appointments can be confirmed.
SATs and Phonics Meetings
In preparation for the end of year SATs and Phonics Screening tests we will be holding some information evenings for parents. At these meetings you will be informed of what each test involves and how you can help your child at home.
Phonics Meeting – Monday 26th February 3- 3.30pm
This meeting is for all parents that have children in Early Years or Year 1.
KS1 SATs Meeting – Monday 26th February at 6pm – 6.30pm
This meeting is for all parents that have children in Year 2.
KS2 SATs Meeting – Monday 26th February at 6.30pm – 7.00pm
This is for all parents that have children in Year 6.
Appointment of New Office Manager
We had a very successful day of interviewing for a new Office Manager on Friday 1st December. We had some strong candidates, all of which could have brought different skills to the school. Finally we decided to appoint Claire Winborne who will be starting with us on Wednesday 3rd January. We are really looking forward to her joining us and I'm sure you will join us in welcoming her in the New Year. I would also like to take this opportunity to thank you all for your patience whilst the office staff have been managing extra workload due to the vacancy. A big thank you to Mrs Hoddinott and Mrs Ansell who have helped man the desk and the telephone.
Wrap Around Care
After school care, as we know, is in short supply in the immediate area surrounding Old Stratford and it is something that the school has struggled to source. However, over the past term we have met with a number of providers that are keen to offer their services. Therefore, I am pleased to announce that after Easter we will be able to provide an after school club for your children. The company that will provide the club is called Energy Kidz and are very well established with 'Good' and 'Outstanding' Ofsted ratings in all of their clubs across the country. Please see the attached sheet from the company that would they would like your assistance with as they work to set up the club ready for the Summer Term. On this sheet there are links to follow to fill in a questionnaire. To assist with this process we will send the document to each family as an email in the next few days.
Year 1 & 2 Castle Day
All the children had a fabulous day dressing up for their Castle Day. The children enjoyed a day set during the early mediaeval period and spent a day in the life of a typical Norman castle under siege in the south east of England. To finish the day the children experienced a Norman banquet.
Christmas Fete
A huge thank you to OSSA for a very successful Christmas Fete. There was lots on offer from stalls to games, from crafts to raffles and even an opportunity to visit Father Christmas! A big thank you to everybody that helped make it such a successful and festive evening.
Year 5 & 6 1940's Day
On the 4th December it was Year 5 and 6 children's turn to be immersed in their topic going back in time to the 1940's. The children dressed up and spent the day as a typical child in World War 2. They experienced what it could have been like being evacuated to the countryside and spending a day in their new school. They were then able to explore the High Street where they could visit different traders. By the end of the day the children had a good idea of the cause and effect of the evacuations during the Second World War.
Merit Shop
The Merit Shop, run by the Student Council, opened for the first time on 7th December. It welcomed all children that have earned their first 25 merits. The shop will now open regularly for children to purchase a gift from the shop with their Merit Shop Gift Voucher.
Christmas Choir
A big well done to all the children who sang at Old Stratford Community Hall on Saturday. Everybody enjoyed their festive songs as they sang so beautifully. I'd also like to thank Mr Webb and Mrs Else for helping prepare the children and also giving up their time to supervise the children for the event.
Early Years and Key Stage 1 Dress Rehearsal will be rescheduled for Tuesday 12th December at 10am.
Latest School Events
Easter Holiday

06

Apr

2020

Teacher Training Day

20

Apr

2020

School opens - children return to school

21

Apr

2020

8:55 am - 8:55 am

Class photos

22

Apr

2020

Life education bus

23

Apr

2020
CHRISTMAS PERFORMANCES
It's that time of year when Christmas performances draw near. The stage is up and staff are beginning to practice with the children. Please support us as much as you can by helping your child to learn their lines if they have them.
A separate letter will be sent out for you to apply for tickets so make sure you have checked your children's book bags! As I'm sure you will understand we have to limit the tickets to three per child for Reception and KS1 and two per child for KS2.
Reception & KS1 performances will be on Wednesday 13th December at 2.00pm and Thursday 14th December at 6.00pm. Children will need to be back at school for 5.30pm to get ready for the performance.
KS2 performances will be on Wednesday 13th December at 6.00pm and Thursday 14th December at 2.00pm.
Friends, family and younger children are more than welcome to join us for our dress rehearsals on Monday 11th December at 2.00pm for KS1 and Tuesday 12th December at 2pm for KS2. These can be attended without a ticket.
As I'm sure you can appreciate this is a really busy time for the school office so your understanding will be much appreciated.
As I'm sure you can appreciate this is a really busy time as it is for the school office but they are also short staffed so your understanding will be much appreciated.
CHRISTMAS POST SACK AND CHRISTMAS DINNER
Children can post cards to their friends in school from Monday 4th December – please make sure the children's surnames and classes are on the envelope.
Christmas dinner will be on Monday 18th December and needs to be ordered in the usual way by Tuesday 12th December.
OSSA DISCO
What a huge success the OSSA disco was. It was lovely to see all the children dressed up and some wearing fantastic wigs to support the theme. 155 children attended which is fantastic! A big thank you to all of OSSA who organised the event.
STRICTLY COME DANCING
After lots of practice, our Strictly Come Dancing Squad are now ready to perform at the Derngate Theatre on Saturday. We wish them lots of luck and best wishes as they compete against other schools in the county for the Strictly county title. But most of all we hope they all have a fantastic time performing on the big stage! I would like to take this opportunity to say a big thank you to Kelly Wallis who helped train the dancers alongside Mrs Faraday.
REMEMBRANCE MEMORIAL
Well done to all the year 6 children that represented the school at the remembrance service at the memorial on Friday. The children led in a number of ways throughout the service (reading poems, narrating and laying the poppy wreath). It was lovely to see so many parents supporting the event too.
VIP ASSEMBLY
We had another wonderful VIP Assembly last Friday which I think went down very well with the children. The previous VIP children really enjoyed wearing their special medal around the school. The medals are only to be worn in school to avoid getting lost or broken. Unfortunately the children do not get to keep the medals as they will then be passed onto the next VIP children. However, the children will be awarded with a certificate which they can keep to remind them of their achievements.
Our next assembly will be a Celebration Assembly on Friday 17th December where all parents are invited and children are asked to bring any awards that they have achieved outside of school.
CHILDREN IN NEED
We will be raising money for Children In Need by allowing the children to come in Mufti for the day for a donation of £1. As it is also anti bullying week the children can also wear odd socks. This is a national appeal to show acceptance of people and their differences.
BREAKFAST CLUB
Breakfast Club is proving to be a huge success with numbers continuing to rise. We understand what a great help Breakfast Club is for families and would like to ensure this club continues however, at the present time the club is running at a considerable loss. Therefore, after Christmas, the fees for Breakfast Club will increase to £3.00 per child and £4.00 per child with breakfast included. Forms for booking will be sent out the week commencing 4th December in preparation for booking next term.
CHRISTMAS LUNCH
Christmas is fast approaching! Christmas lunch for the children will be on Monday 18th December. Please ensure you have booked your children's lunch to avoid disappointment.
CHRISTMAS FETE
The Christmas Fete is organised by OSSA and will be held on Friday 1st December at 6pm – 8pm. There is still time to volunteer to help on the day or evening. Please contact Claire Metcalf or Melanie Coates if you can spare some time to help. Alternatively contact the school office and we can put you in touch with the appropriate person.
Thank you to everybody who has already purchased raffle tickets. Please return any unsold raffle tickets to the office so that they can be passed onto others to sell.
Remember that on Thursday 30th November OSSA will hold a Mufti Day where children can come to school in their own clothes. Instead of a monetary donation OSSA ask for the following donations for the fete:
Reception, Year1, 2 & 3 – Bring a NEW toy (suitable for Primary School aged child).
Years 4, 5, & 6 – Bring a bottle (wine, beer, spirits or non-alcoholic drinks).
OSSA are also asking for donations for the Jambola Stall – clean jam jars filled with sweets, chocolates, football cards, rubbers, pencils etc).
For the Adopt-a-teddy stall pre-loved (washed and dried) or new soft toys would also be appreciated.
We hope you will all join us on the 1st December to kick start the Christmas festivities.
BIG FAMILY CHRISTMAS
Please remember to bring in your shoe boxes for the Big Family Christmas appeal. Boxes must be in school before the 1st December. All boxes will be donated to children in Milton Keynes, who wouldn't otherwise receive a Christmas present.
SAD GOODBYES
After 21 years of dedication and commitment to Old Stratford Primary School, we will be saying a very sad goodbye to Mrs Carter, our Office Manager, on Tuesday 31st October. As you know Mrs Carter is a huge part of the Old Stratford team and will be very difficult to replace. We hope we can make her last few weeks memorable ones. We will be advertising for a new Office Manager in a public forum to ensure we attract applicants from the widest networks and of the highest calibre.
HARVEST ASSEMBLY
Thank you to all those who came to help celebrate Harvest. The children did a fabulous job, sharing their work and singing their favourite harvest songs. Thank you to everybody who sent in fruit and vegetables for our display. These were very gratefully received by elderly members of the local community. A big thank you to all members of staff who helped distribute them around the village. I would also like to thank Mr Webb, Mrs Wilkins and Miss Clarke for coordinating the Harvest Assembly.
MACMILLAN COFFEE MORNING
Our coffee morning was a huge success with many delicious cakes received as donations. Many thanks to everybody who donated in various different ways whether it be through money in envelopes, donations for cakes and refreshments or baking and donating cakes. Can I also thank members of OSSA who came in and helped serve. The total amount raised was £678.67
VIP ASSEMBLY
We had a wonderful first VIP Assembly last Friday which I think went down very well with the children. Look out for the VIPs wearing their special medals. Keep an eye out for the next Golden Tickets which will come out prior to our next VIP Assembly which is on Friday 3rd November.
BREAKFAST CLUB
I would like to thank parents for their patience whilst we have worked hard to sort registers for Breakfast Club. The registers are now set for the new term with no availability left. Now this is sorted we will focus our attention on getting an after school club up and running! Watch this space!
AFTER SCHOOL CLUBS
After half-term there will be various clubs starting. These clubs will be:
Tuesday- Rock School with Mr Webb
Tuesday-Construction Club with Mrs Lewis
Wednesday-Dodgeball & Hot Shots
Tuesday – Art Club Miss Clarke
Thursday- Film Club with Mrs Wilkins & Mrs Bull
Thursday-Strictly Come Dancing with Mrs Faraday (Squad members only)
Letters will be sent out shortly with more details of times and age groups for each club.
PARENTS EVENING
Parents Evening is a good chance for you to see how your child has settled into their new class with their new teacher. Please fill in appointment slips ASAP. Also just a reminder that Andrew Brodie (Chair of Governors) and Phil Webster will be available to speak to if anybody has any questions regarding Academy Status.
WEBSITE
The school website has now been updated and all dates for the school year have been added. This will now be updated regularly for your reference. All newsletters will also be uploaded onto the website. Please also refer to the website to find ideas for helping your child at home or ideas for age appropriate challenges.
Changes (September 2017)
During the first two training days of the term, the staff have been working hard at evaluating and reflecting ensuring we continue to develop the provision for our children. We have so many wonderfully talented children at Old Stratford School and it is important to celebrate their achievements at every opportunity. Therefore, as staff we have begun to develop some additional opportunities for you as parents to help celebrate your child's achievements.
Celebration assemblies will still take place on a Friday morning at 9.05am but occasionally they will be replaced with an alternative. We are very privileged as teachers to see your child achieving regularly in the classroom. It is for this reason, we would like to invite you in, to see what we see, during our 'Walk in Mornings'. These will take place on a Friday morning between 8.45am – 9.15am, where there will be an opportunity for you to come in and work alongside your child on an activity set up by the class teacher.
Additionally, we will also be introducing a very special VIP Assembly which will also take place on a Friday morning. This will replace the Class Cups and give the teachers the opportunity to reward a number of children in their class with a special award rather than just one. Parents will be invited to this assembly by a Golden Ticket which will be given to the child to take home a week before the assembly. Each child at this assembly will be able to sit with their parents/carers during the assembly until it is their turn to walk down the red carpet and collect their medal before their class teacher explains the reasons for the award. The children are very excited about the VIP assemblies and are looking forward to seeing who may get the very first Golden Ticket!
Rewards and Sanctions
Another area that the staff have been developing is the Behaviour Policy. The children enjoy collecting stars and merits towards achieving their Bronze, Silver and Gold certificates but we have decided to revamp this system slightly to make it more exciting for the children. Therefore although the children will still be collecting merits, this will go towards a Bronze Ticket rather than a bronze certificate. The children will then be able to take their ticket to the Merit Shop where they will be able to exchange the ticket for a gift from the Bronze section. As the children earn more merits the gift gets slightly larger. The Merit Shop will be run by the school council ensuring the children become fully involved. Merits are not awarded for expected behaviour but for going above and beyond in school and striving to do the very best that you can. For example:
Perseverance with something they find difficult
Helping somebody else in their class
Showing exemplary manners
Doing extra jobs around the school
Improving their class work
Again the children are very excited about the Merit Shop. Obviously new systems take time to embed and it is important that we review anything put in place regularly. Therefore we will review each new system on a termly basis to ensure it is consistent and is having a positive impact on our children.
Hand in hand with this we have reviewed the sanctions children receive for unacceptable behaviour too. We will still be using our Good to be Green policy however we have added some additional sanctions to our Stages. (Please see attached Good to be Green sheet). The main difference is the introduction of School Service. This is not a detention. This is a dedicated time where if a child is missing some of their playtime, it is with the class teacher to enable them to talk through the unacceptable behaviour and how the child can make steps to move forward in the future without making the same mistakes again. A child will have gone through 3 previous Stages before reaching a School Service. However there are some incidents where a child may be moved straight the Stage 4 bypassing the other stages. For example:
Deliberately physically hurting another child (Kicking, hitting, punching, pushing etc).
Deliberately hurting other people's feelings (name calling, bullying behaviour).
Refusing to do what a member of staff has asked you to do.
Being disrespectful to a member of staff.
NEW SCHOOL REPORTS
The school governors have been looking at the end of year reports and deciding how they make them more focussed on the next steps children have to make in their learning. It was felt that previous reports just explained what the children had learnt rather than their next steps. They also wanted parents to know how much progress they had made during the year and where they are in relation to other children across the country. This will be shown with an attainment box for each subject.
As Mr Webster will be unable to make a comment on each child and it was unfair to ask Mrs Sarbutts to do so, the head teachers comment box is not included. Governors will reflect on whether this returns in future years.
Below are links to the new reports:
At the end of the year there will be a chance to review the new format and we will include a parent evaluation so parents are able to have their say about the changes.
MRS SARBUTTS
After half term, we are very excited that Mrs Sarbutts will be joining us and beginning her role as Head of School. She has already been in on a number of occasions and is looking forward to having half a term to get to know everyone at the school.
She will be leading an assembly for the children to introduce herself on the first day back and would like to invite parents to meet her on Wednesday 14th June at 9.15am or 7.00pm. This will be an opportunity to put a face to the name and ask any questions you may have. Mr Webster will also continue to give some time and support the school.
Together we are fully committed to the vision of creating an outstanding school for the children and families of Old Stratford.
BONNIE VISITING THE SCHOOL
As part of the continual drive to excite children about reading, we are trialling a dog visiting the children for them to read to. Mrs Wilsdon's dog, Bonnie, has had to go through a number of weeks training before she has been allowed to carry out the role, but successfully passed and is now eager to listen to the children read.
This is part of a nationally recognised scheme, but if you want more information please look at the following website or pop in to discuss it with Mr Webster:
http://petsastherapy.org/what-we-do/read2dogs/
We understand some children may be nervous, but this is done on a one to one basis and only if the child is happy. Bonnie will be on the lead at all times and Mrs Wilsdon will be with the children.
We have decided to start with Reception class and hope, in time, everyone will have the opportunity to experience reading to Bonnie. We have already introduced Bonnie to the children at an assembly and everyone is very excited!
Finally we would like to thank Mrs Wilsdon for giving her time to make this a possibility for the children.
CROSS COUNTRY
Well done to the cross country team who have just competed in the EWS cross country championships. The school did really well and when we totalled all the scores we came first out of all the schools at the event.
There were some excellent individual performances also - Nikolas Reynolds and Mollie Knox came second in their respective races and Liberty Young came first.
Well done to everyone involved and thank you to those adults that supported at the event. We now are looking to take a smaller team to the Woodford Halse cross country event.
YOUNG VOICES CONCERT
It seems so long ago now but we would like to thank all the children who went to the Young Voices concert from Years 5 and 6. They represented the school superbly and I'm sure they will all agree that the whole experience was fantastic.
Children, though tired the next day, shared all the things they had enjoyed and wanted to go again!
Thank you to all the staff who volunteered to go with the children on this trip.
INDOOR ATHLETICS SUCCESS
Congratulating to our indoor athletics team for representing the school so well over the last two events.
At the first event, which was run for local schools, the team came first and were then put through to the county finals. We found the county event more challenging but, as the organiser said, we came 8th out of the 95 schools in Northamptonshire who entered the event. It also gives us a challenge for next year!
Well done to everyone involved.
NEW HEAD OF SCHOOL STARTING
We are pleased to announce that, after a tough day of interviewing last term, we have successfully appointed a new Head of School. Her name is Mrs Sarbutts and she will be joining the school after the summer half term.
We were pleased that we had a strong field of over ten candidates apply and we were able to put six of them through to interview. After a number of tasks and a focussed interview, Mrs Sarbutts was the unanimous decision of everyone involved – even the student council!
There is now planning being put in place for a successful transition, to ensure that the work the school has started is continued, while allowing Mrs Sarbutts the chance to put her own stamp on the school in the future.
As part of this planning, Mr Webster will stay working with the school as the Partnership Head for two days a week and will then reduce this to one day a week after the summer half term to ensure there is support in the first few months. Governors will then decide if they want this role to continue, which is most likely, until the school has achieved its' good status from OFSTED again and is on its way to an outstanding grading.
If you have any further questions please don't hesitate to talk to Mr Webster
BUILDING WORK
As you will have noticed the front entrance is well on its way to completion and the builders have now moved into the old ICT suite and the library area. These are going to become a food technology area and arts and craft space for the children to use. There will also be a bigger library at the heart of the school.
This has meant that space is at a premium and areas of the school will be blocked off for the rest of this term. We have talked to the children about being safe in these areas
We also have a brand new perimeter fence being erected and our new bicycle shelter should be with us in the next few weeks. On Friday 13th January parents will not be allowed to access the playground from the Dickens Drive entrance. This is because a new gate is being put in which needs 48 hours to set.
We have been told that all the work will be completed by Easter and we are looking forward to using all the new areas that will then be available to the children at the school.
Thank you for your patience and particularly those parents who have children in Reception for the longer than expected move. This was due to the concrete under the carpet being soaked and therefore no new flooring could be laid until the concrete was fully dried.
However, we are now happy that we are all moved back in and the children were really excited about their new floor.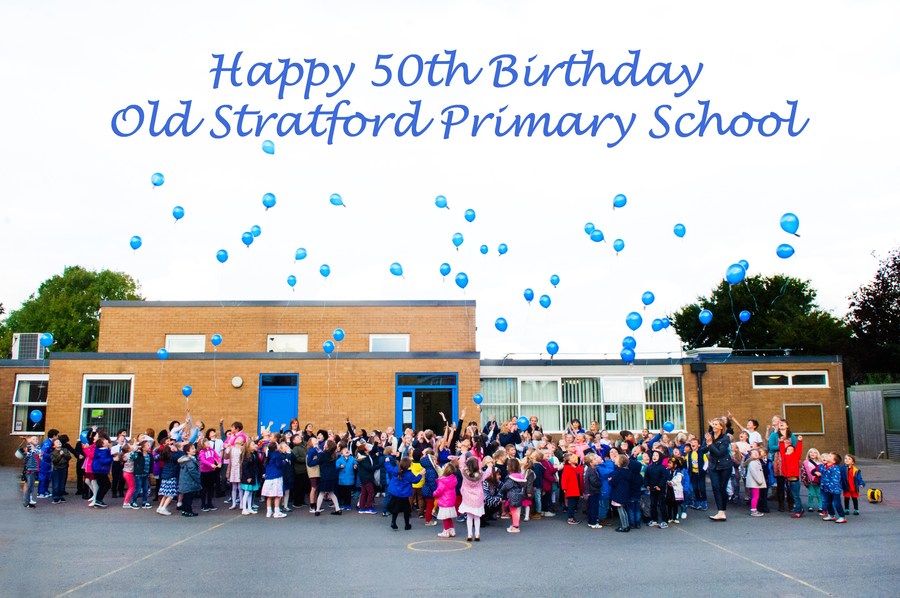 50TH BIRTHDAY CELEBRATIONS
What a wonderful day! Thank you to everyone who was involved in, or attended, our 50th Birthday celebrations. The day was a real success and the children really enjoyed putting on the assemblies for the parents. It was lovely to hear some of the memories of ex pupils and staff - a superb end to our half term.
We have already received phone calls from Horsham, Hove, Thame and Maidenhead to say that our balloons have landed in their garden!
CHANGES TO THE DAILY ROUTINE
We have been looking at the timetable for the day and changed a number of things to try to give more and aid the smoother running of teaching time. We are going to trial this for a number of weeks to see the impact and reflect towards Christmas. Nothing has changed in regards to the start and finish times of the day.
8.55-9.00

9.00-9.15

9.15-10.15

Lesson 1

10.15-11.15

Lesson 2

11.15-11.30

11.30-12.30

Lesson 3

12.30-1.30

1.30-2.30

Lesson 4

2.30-3.30

Lesson 5

Monday

REGISTER

Assembly

Break

Lunch
As you can see children will get five, hour lessons during the day with English and maths being normally taught in the morning. However some of the lessons may be broken down to fit in things like spellings or mental maths practice. We are all going out to morning break together and more adults will be on the playground to support this. Fruit or vegetable snacks can be eaten outside. Remember those children in KS2 can bring in fruit or vegetables from home. The school council will discuss at their next meeting what else might constitute a healthy snack that we could allow at this time. Lunch has moved to 12.30-1.30. Lunch food should be ordered in exactly the same way. We are also trialling having no break in the afternoon.