Head Teacher's Blog
30.4.21
Good morning everybody! We have been very busy in school settling the children back into their routines within the classroom. It is so good to see everybody back and although we cannot get completely back to normality there definitely feels like hope on the horizon.
As the numbers of COVID cases in the immediate area and nationally continue to drop we have been working on injecting some of the exciting enrichment activities back into the school curriculum (all COVID compliant of course). Look out on ParentMail for more information regarding trips and outdoor activities.
Meanwhile in school, the children have enjoyed a trip from The Life Education pop up classroom. The children really enjoyed the experience and it was a treat to get out of the classroom and explore another area in the school again.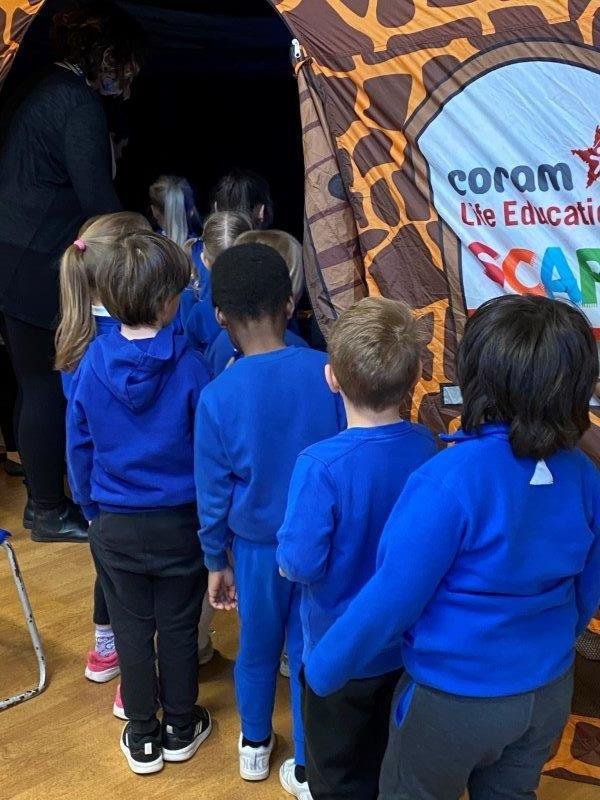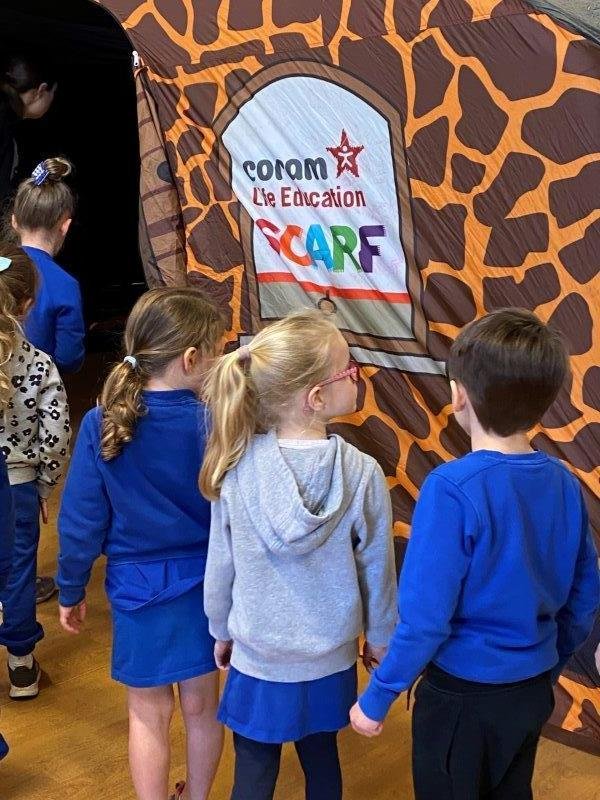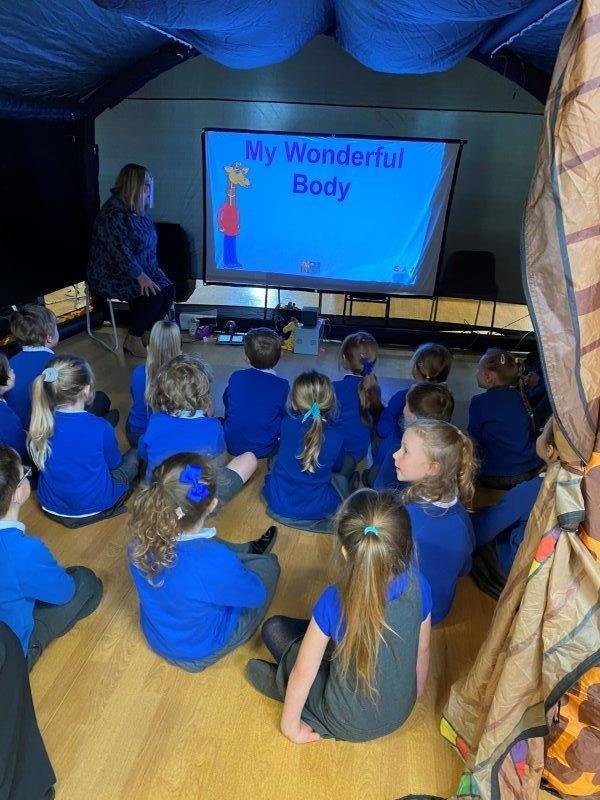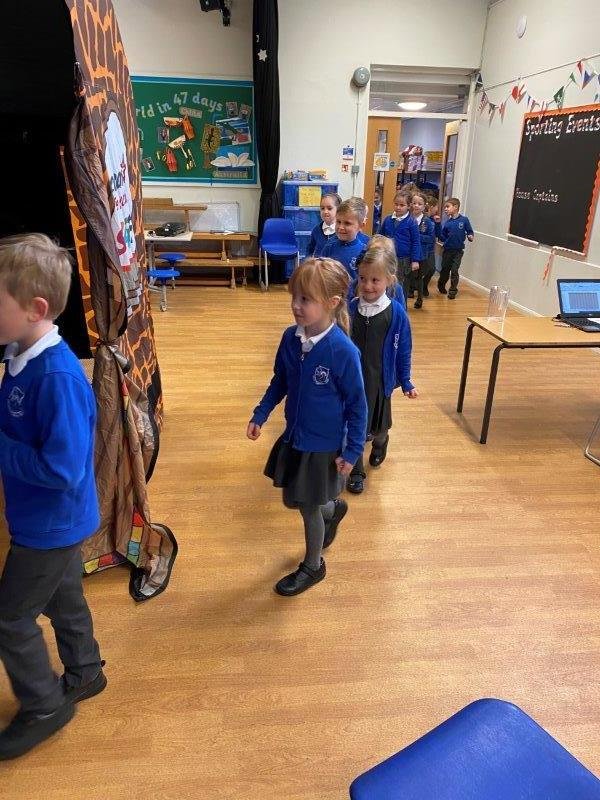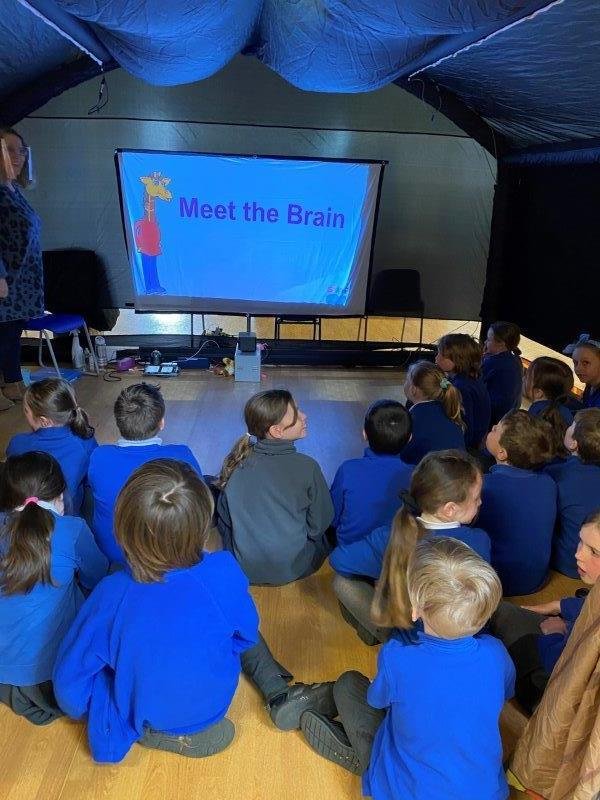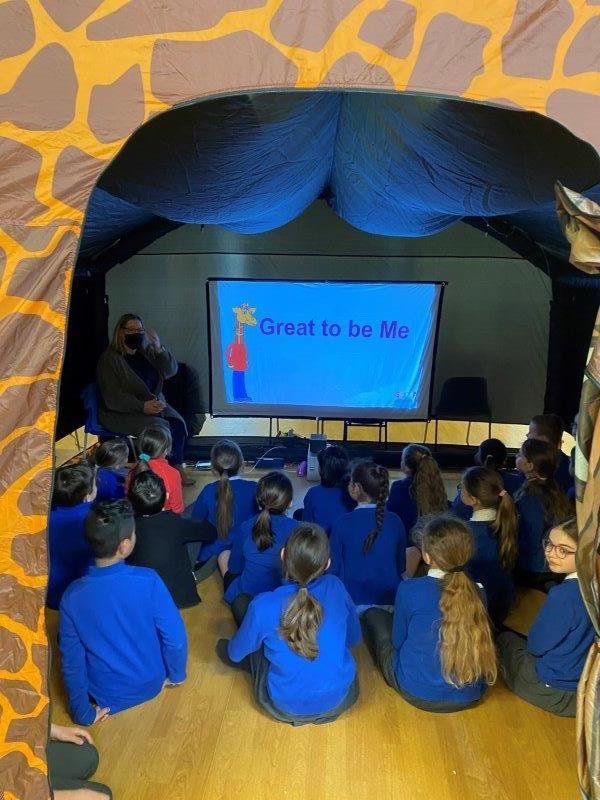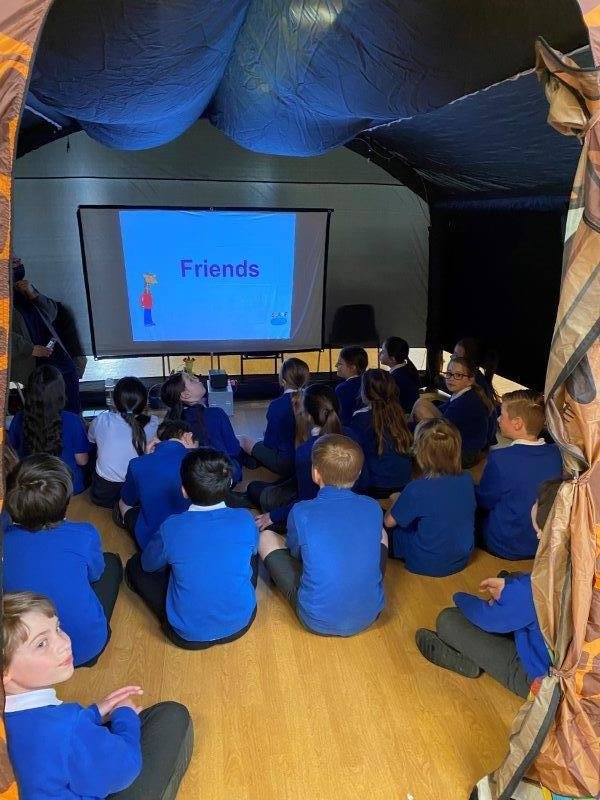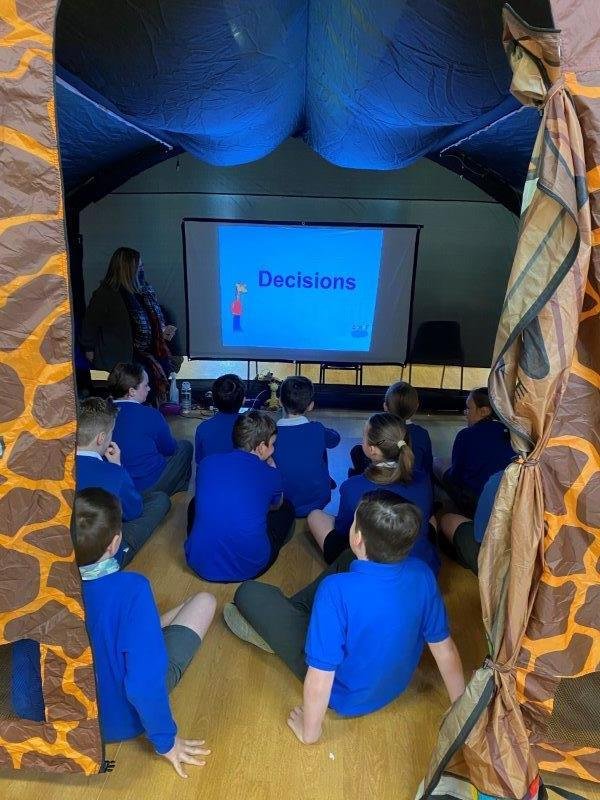 Year 4 children have also started their music project. Over the next 10 weeks, they will be learning how to play the violin. They will be taught by specialist music teachers from NPAHT music school.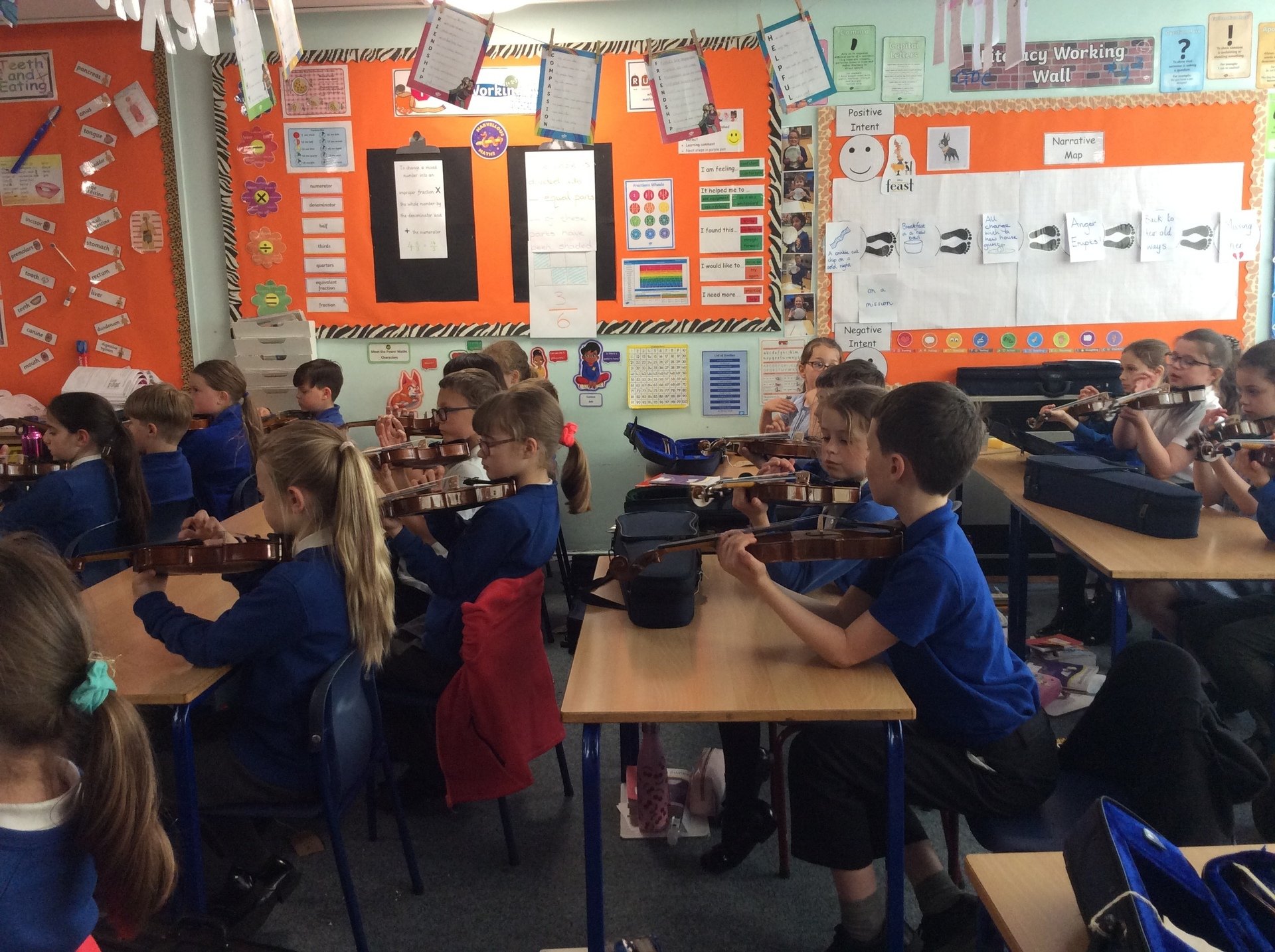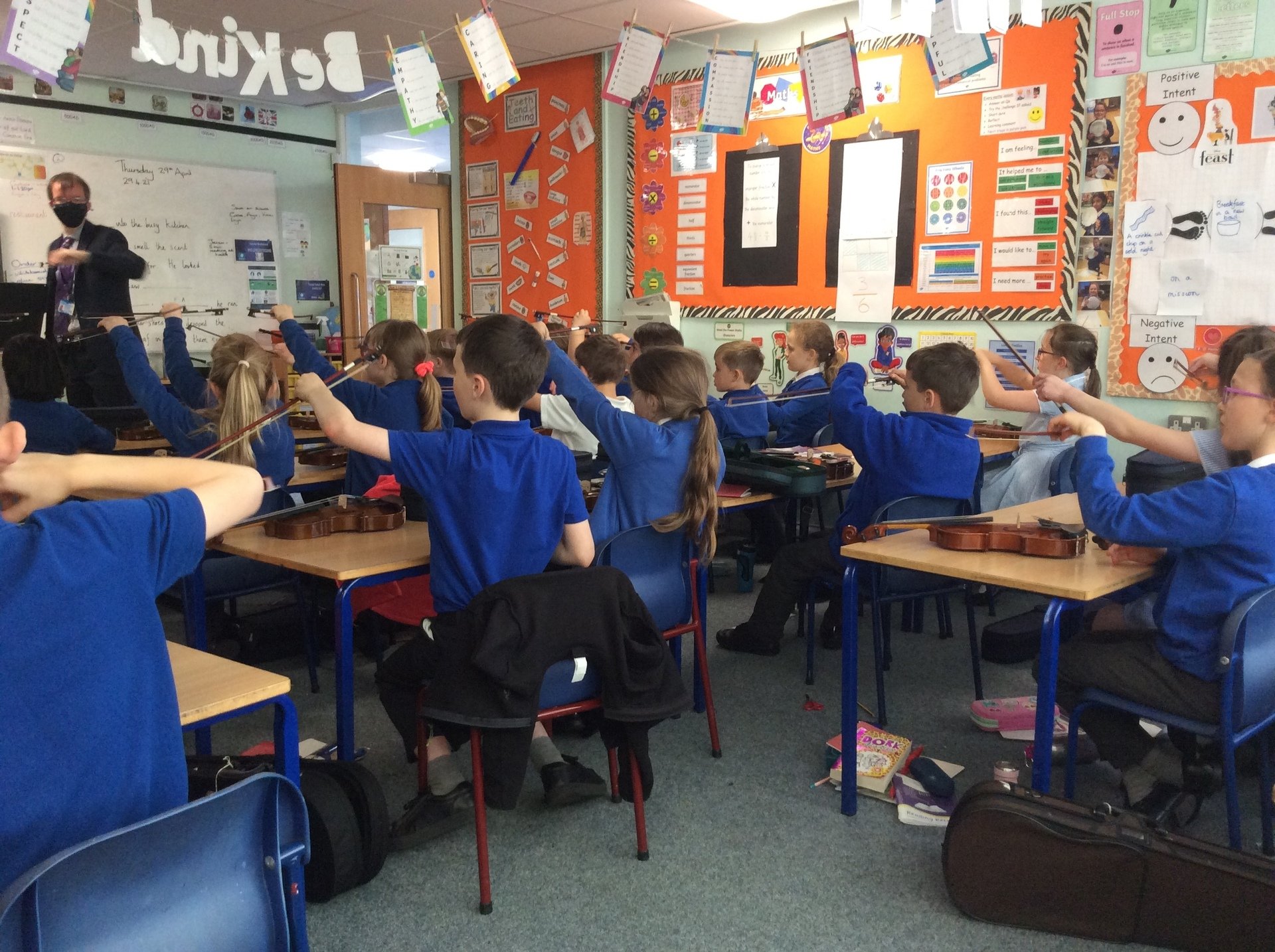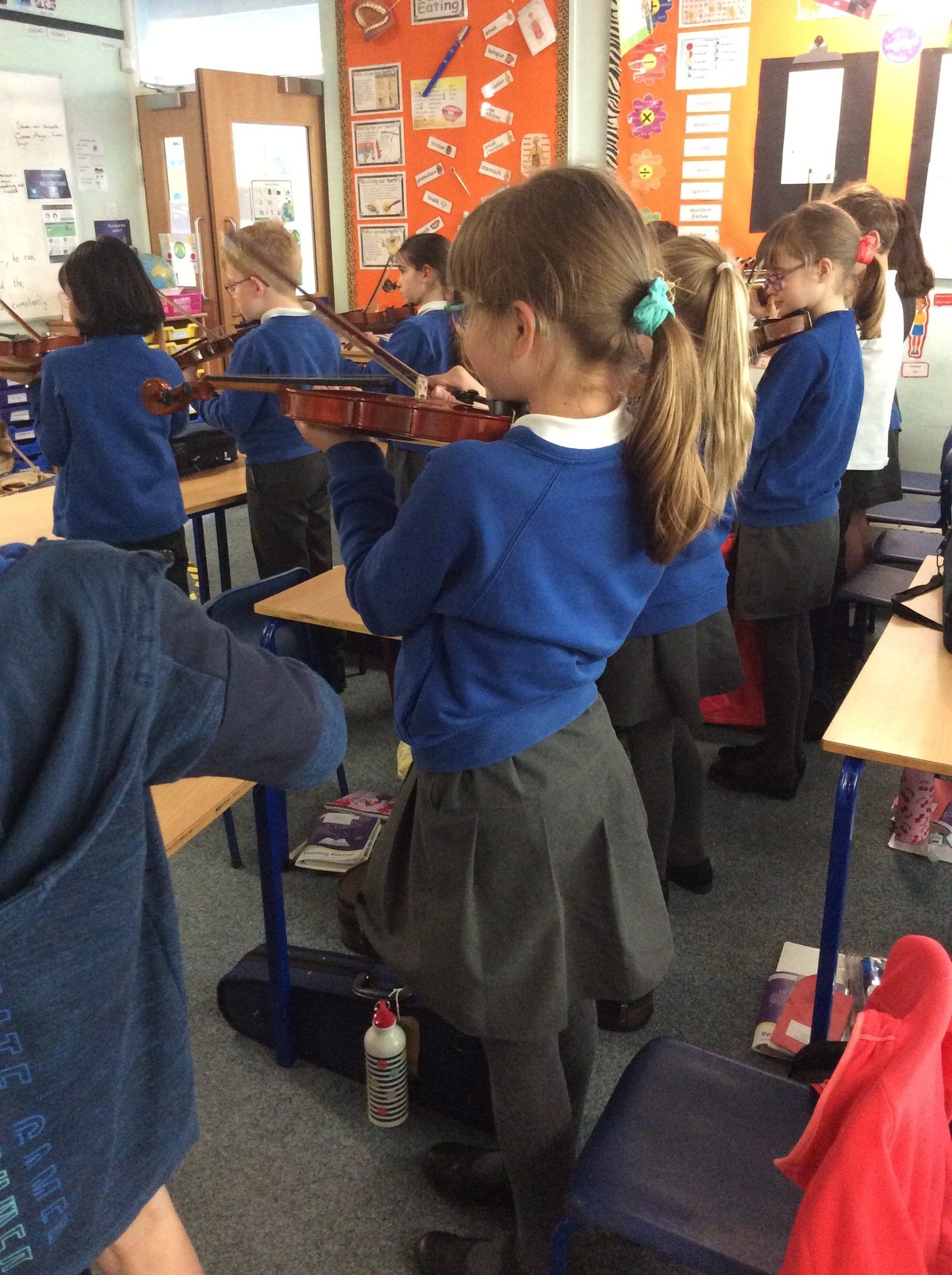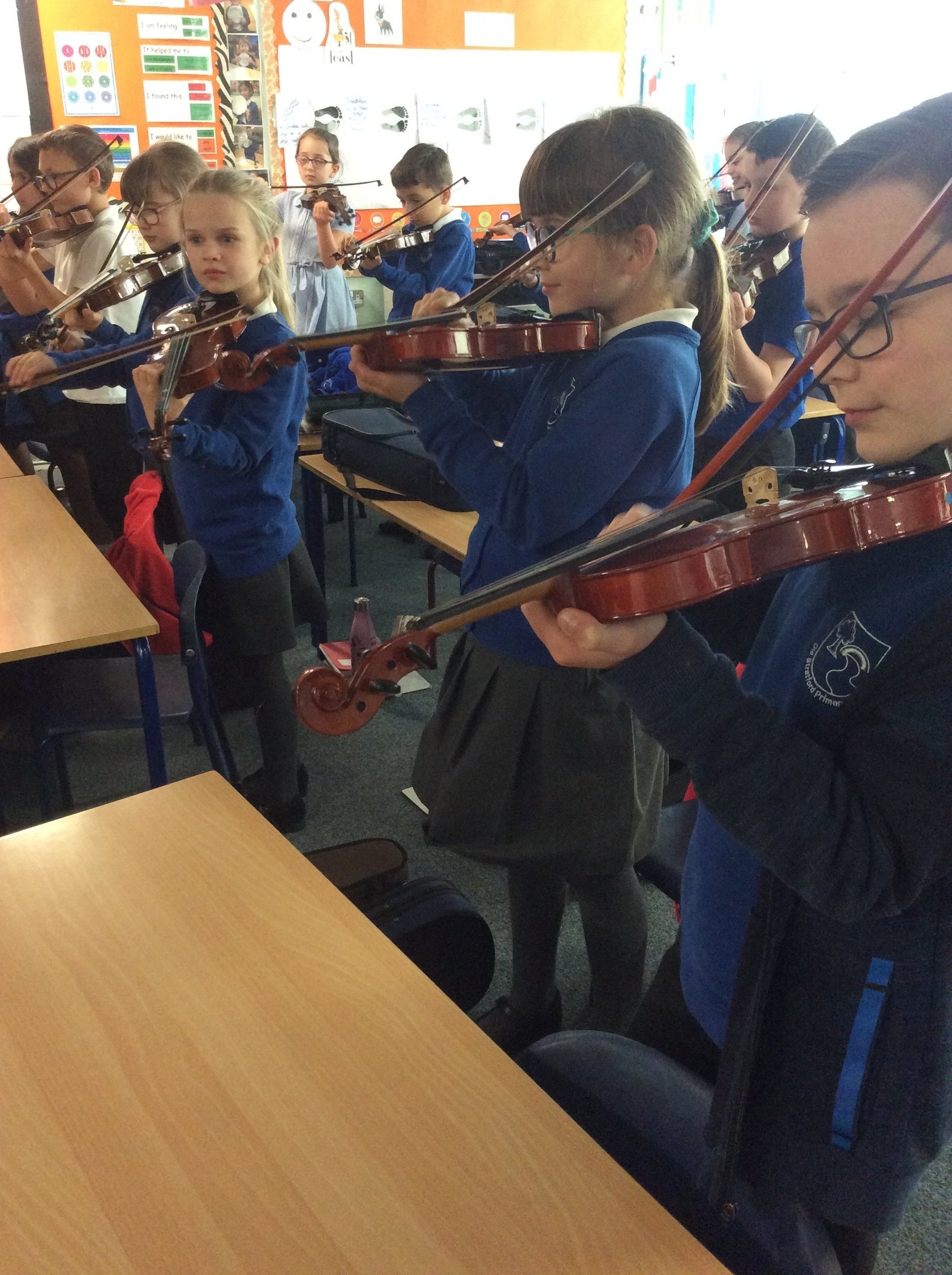 Our Reception children have had a particularly difficult start to their school journey with COVID restrictions in place but they certainly don't seem to be letting it get in the way of some good old fashion fun with a cardboard box! After a delivery of a huge cardboard box the children wasted no time at all using their imaginations to make it into all sorts of things. I think Mr. Andrews had fun too!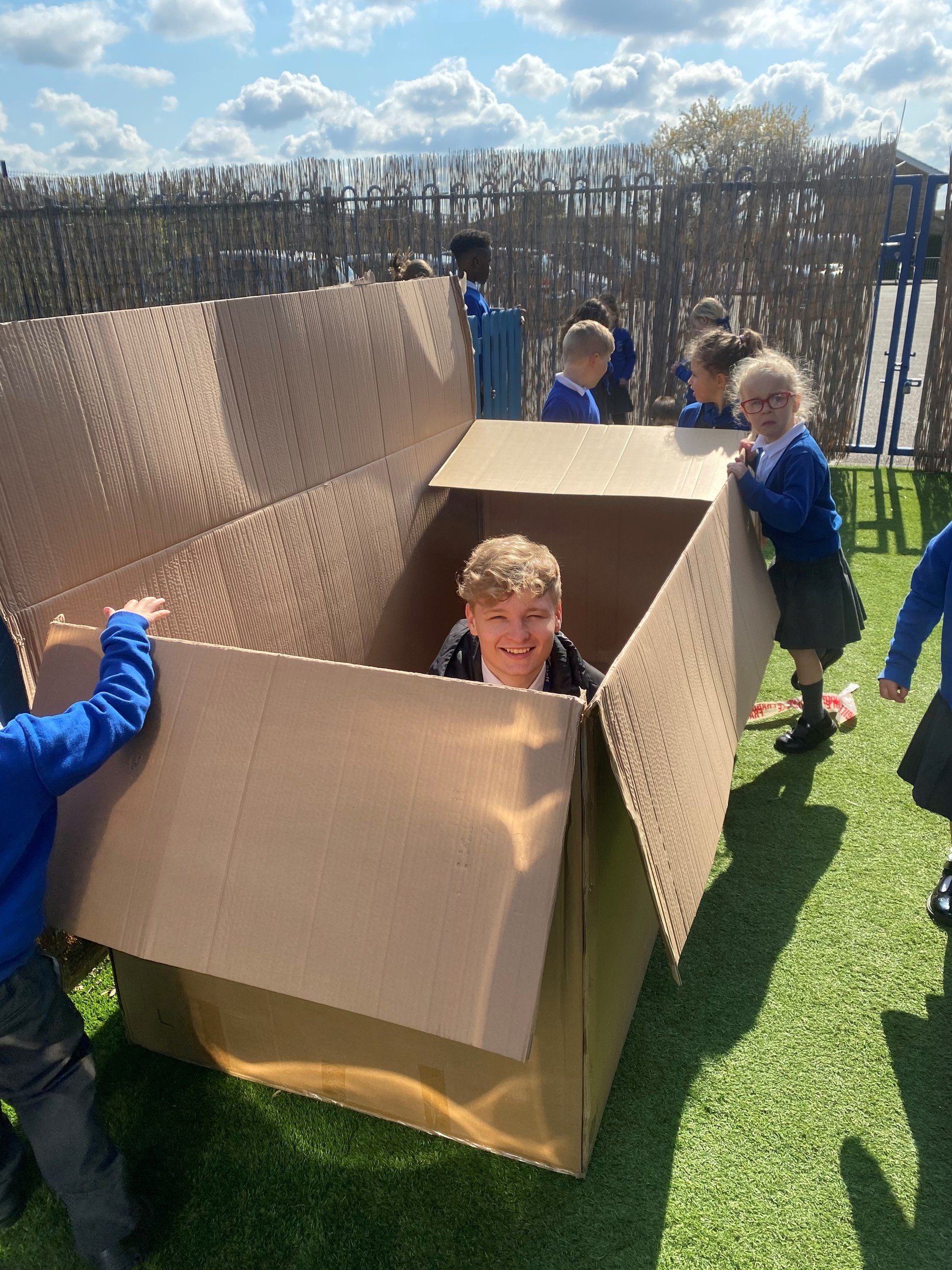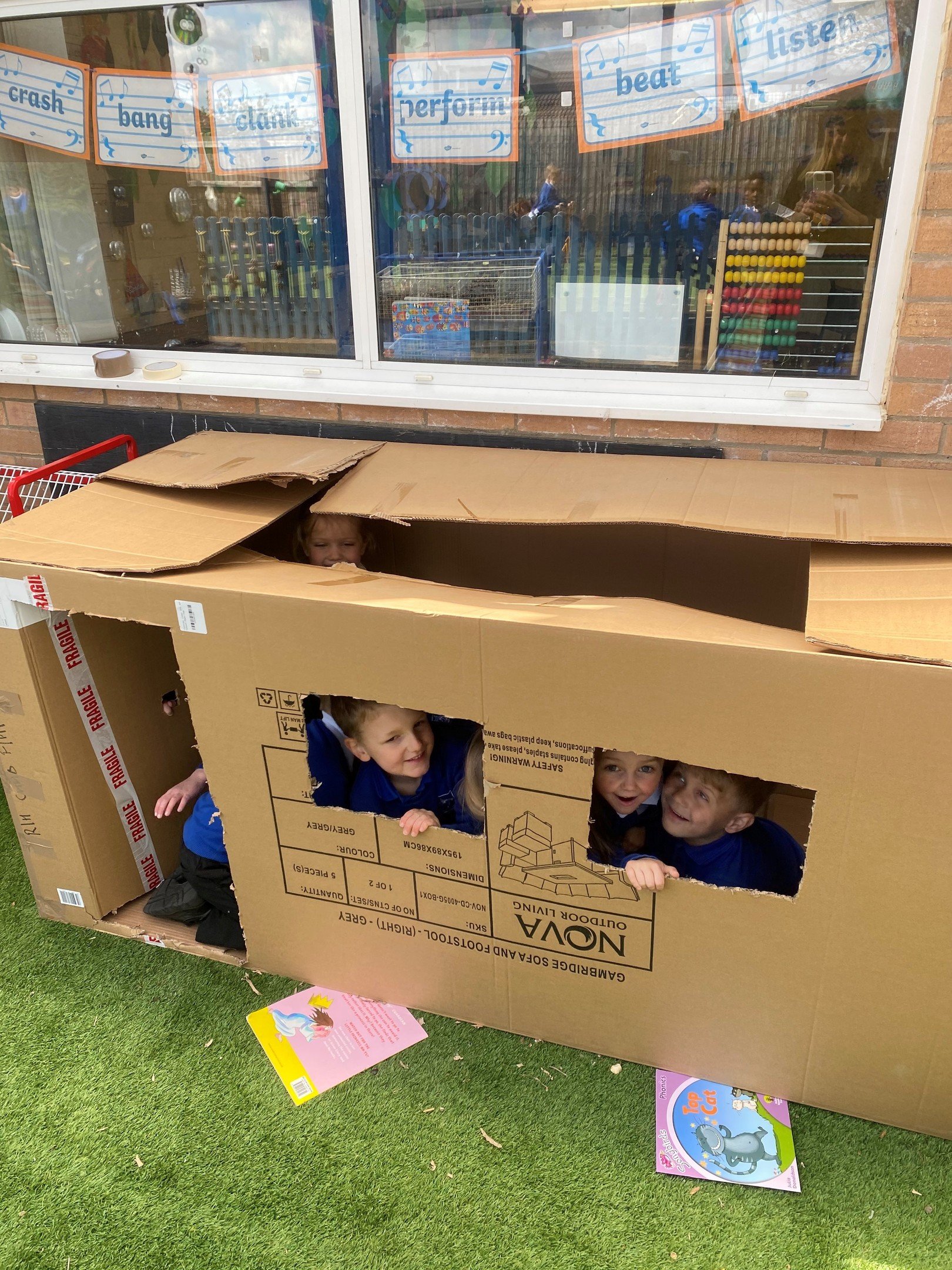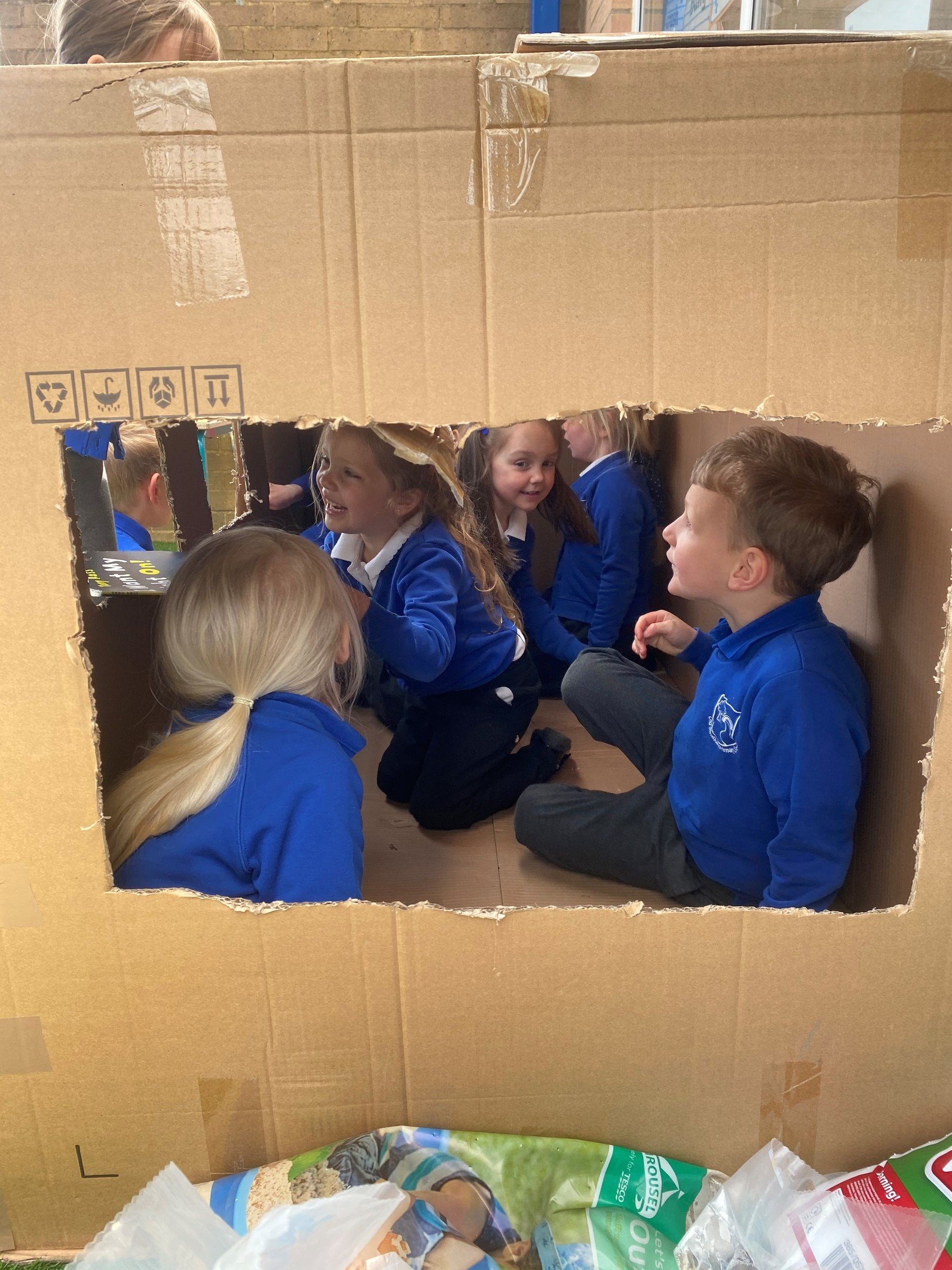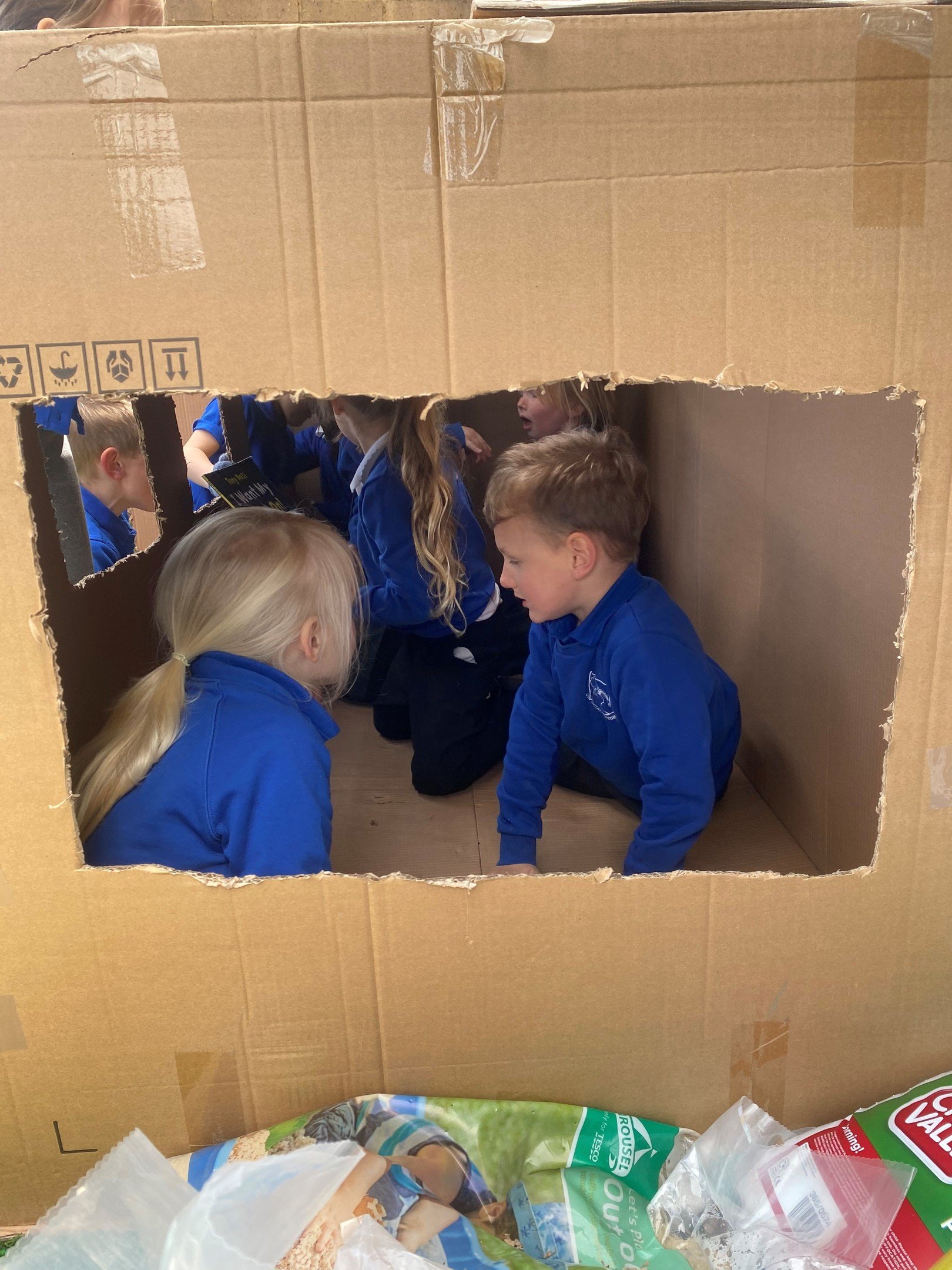 5.3.21
Good afternoon everybody! I have a very good Friday feeling today as we finally come to the end of remote learning for the children and get them back into the classrooms on Monday. We cannot wait to see them all and have a fun week prepared for them to help them settle back into school life.
Over the last week, Miss Slater met again with her Book Club and had this message for you.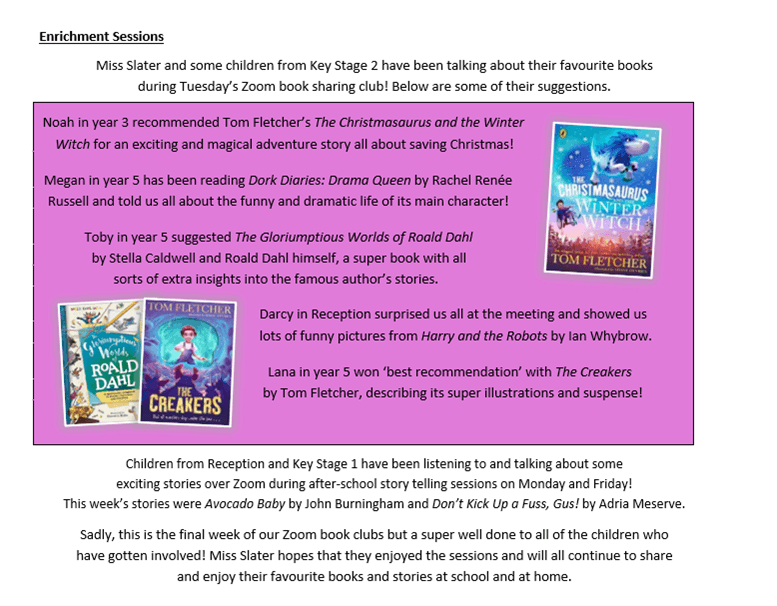 Miss Clarke also completed her last remote learning Art Club and had these great pictures sent in for our online gallery. Well done everybody!
Jack (C) from Year 5 has been very creative and made an animation of his take on the Pandemic Lockdown. Brilliant!
26.2.21
Good morning everybody! I hope you had a lovely half term and managed to step away from the screen for a while. My boys were really looking forward to half term but their attitude changed when they realised that there was nothing to do and we couldn't go and visit relatives like we normally would. This led us to planning some fun days together. So we had a baking day (where we baked scones, cakes and pies), a gaming day (where I got thrashed on every switch and PlayStation game we have) and a Movie Marathon Day (where we caught up with some old favourites)! I tried to include a 'tidy the house' day but this didn't go down too well and was abandoned by 10.30 am. But the main thing is that we had some fun together and made use of the time doing things we don't normally have the time to do.
So Boris Johnson's news about schools reopening on the 8th of March went down very well in my house. We are now counting the days until my boys can see their friends again and have some normality in their lives. I am also looking forward to getting all of our Old Stratford pupils back into school. It will be so good to see everybody again. Although we will still have restrictions in place, getting back into a routine and children able to see their friends is a good start to the exit out of this pandemic.
If your children are feeling anxious about returning, having regular, positive conversations can really help. Remind them of all the things they enjoy about school. Younger children could make their teacher or a friend a card expressing all the things they have missed about school. Your child will then look forward to giving this to their teacher. Explain to them that you are going to be beginning to get back to normal too. Younger children may think that you will still be doing all of the things that you have been doing together even when they have gone back to school. You may need to explain to them that this is not the case.
I will miss all of the lovely work being sent in. Everybody has worked so hard and I know you as parents have had the hardest job and I'd like to thank you for your commitment and perseverance throughout this whole lockdown. Take a look at what some of our Year 3 children have been doing. They have been studying the artist Andy Goldworthy who uses natural materials to make art.
Well done Year 3!
12.2.21
Good afternoon everybody! You have made it! It is finally half-term and you can put away the worksheets, close down the Zoom calls and have a well earned rest. I am so impressed with the shear commitment everybody has had to ensure that our children have kept up with their learning. It has been a huge team effort and one that I am incredibly proud to be part of. Thank you all for persevering with it but it is now time to have a break. Hopefully the weather will be a little kinder over half term so that we can all get outside (safely) and enjoy some fresh air.
Well done to everybody who took part in Miss Clarke's Funny Faces Art challenge again this week. Take a look at these.
Well done everybody!
Miss Slater also has a message for you all today as she had some very successful enrichment sessions this week with her Book Clubs. If you would like to do some reading over half term, why not look at these recommendations?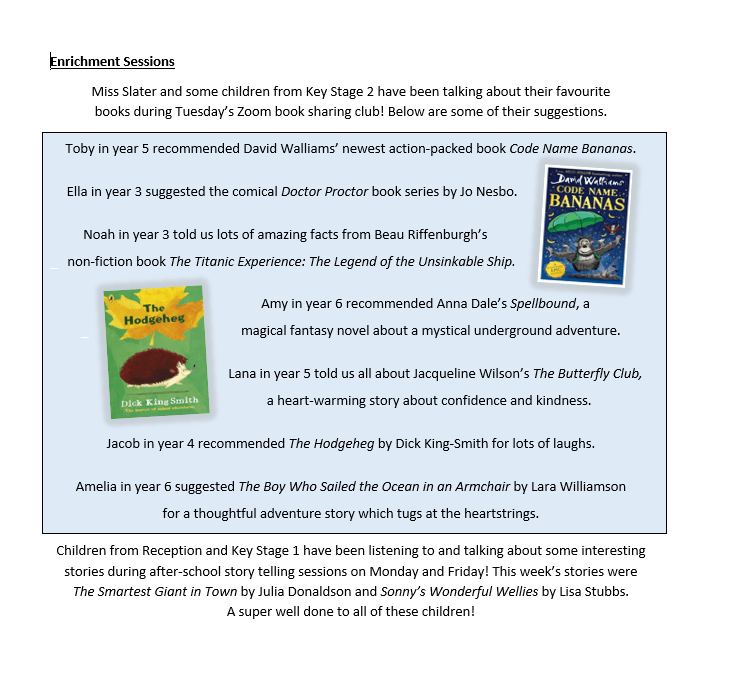 Have a great half-term everybody!
9.2.2021
Good morning everybody! How have you all been doing with the challenge I set you this week? I hope you have all been reducing the pressure a little bit on yourselves. It's been hard to get outside this week with the temperatures dropping to sub zero most days. It is definitely hat and scarf weather! There has still been a lot of hard work going on though and it is lovely to see the creative side coming out.
Take a look at what some of our Y6 children have been doing. Amy, Kitty and Tilly have created these beautiful pictures of elephants linked to their Indian topic. Well done girls - these are incredibly colourful. Then they also created pictures of the Taj Mahal - seen below.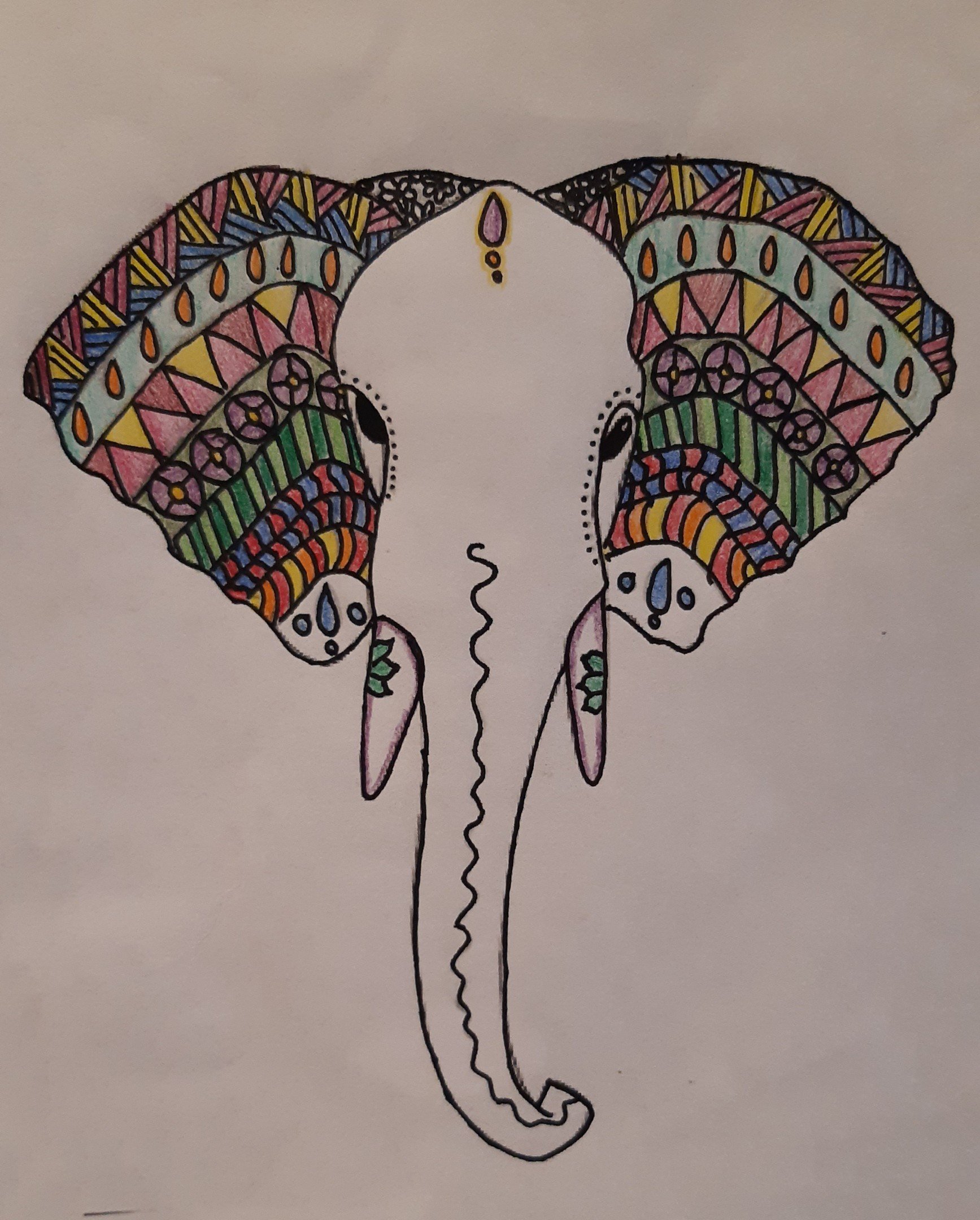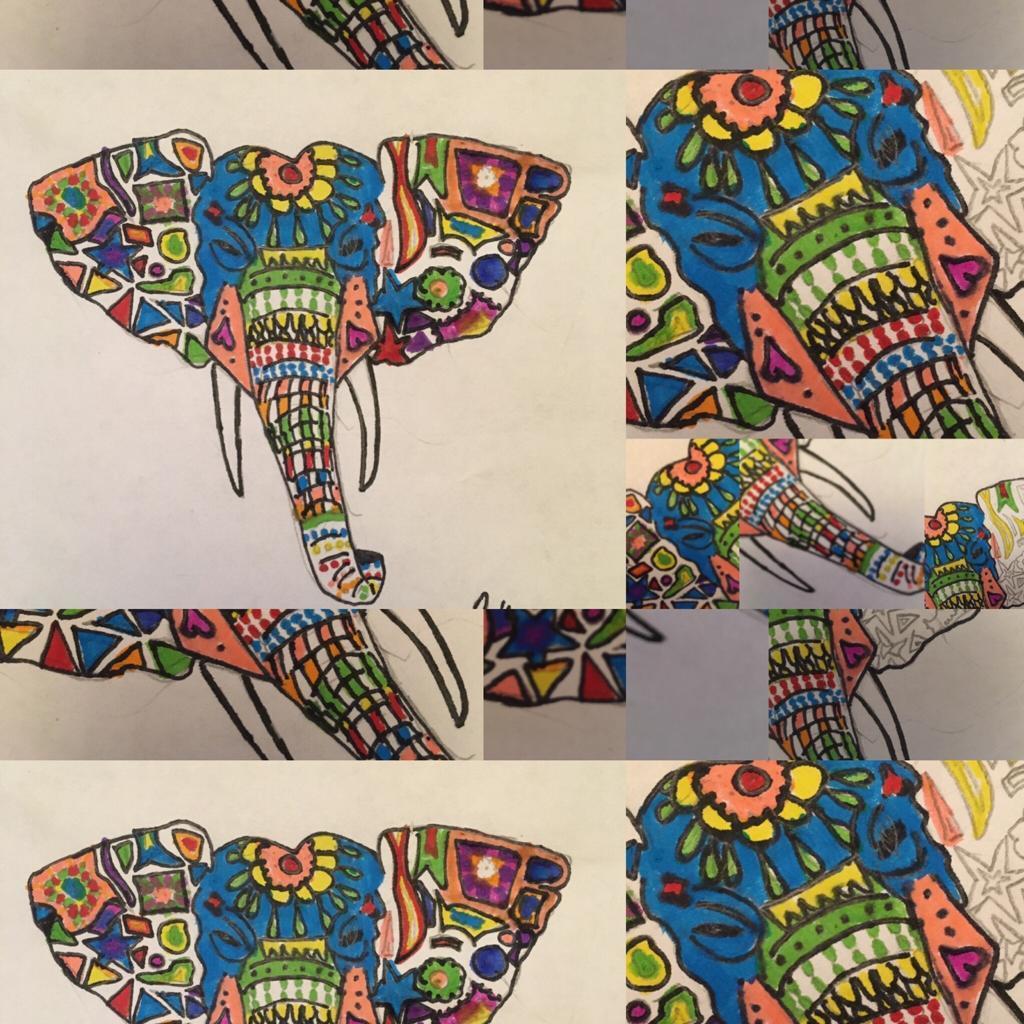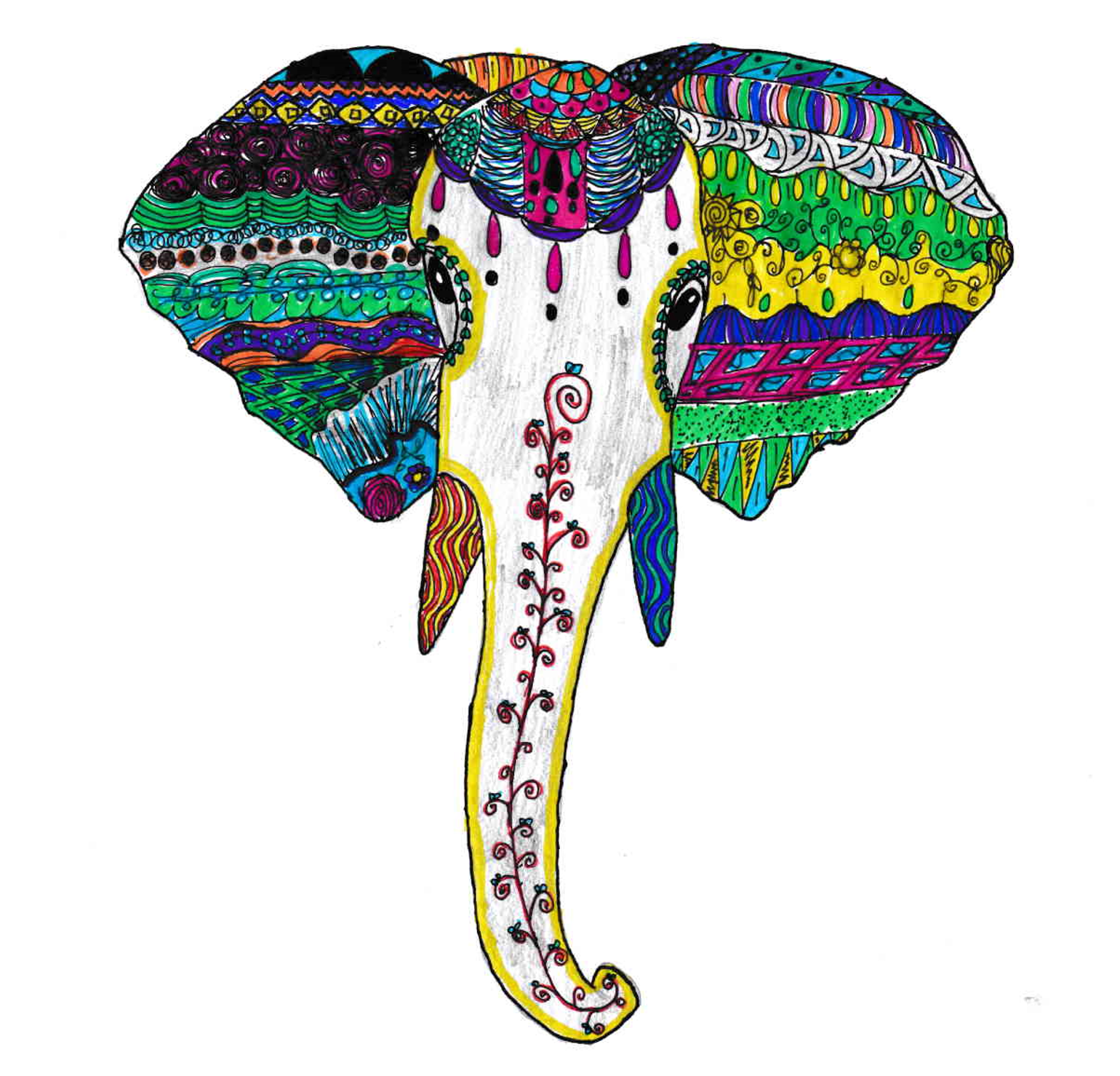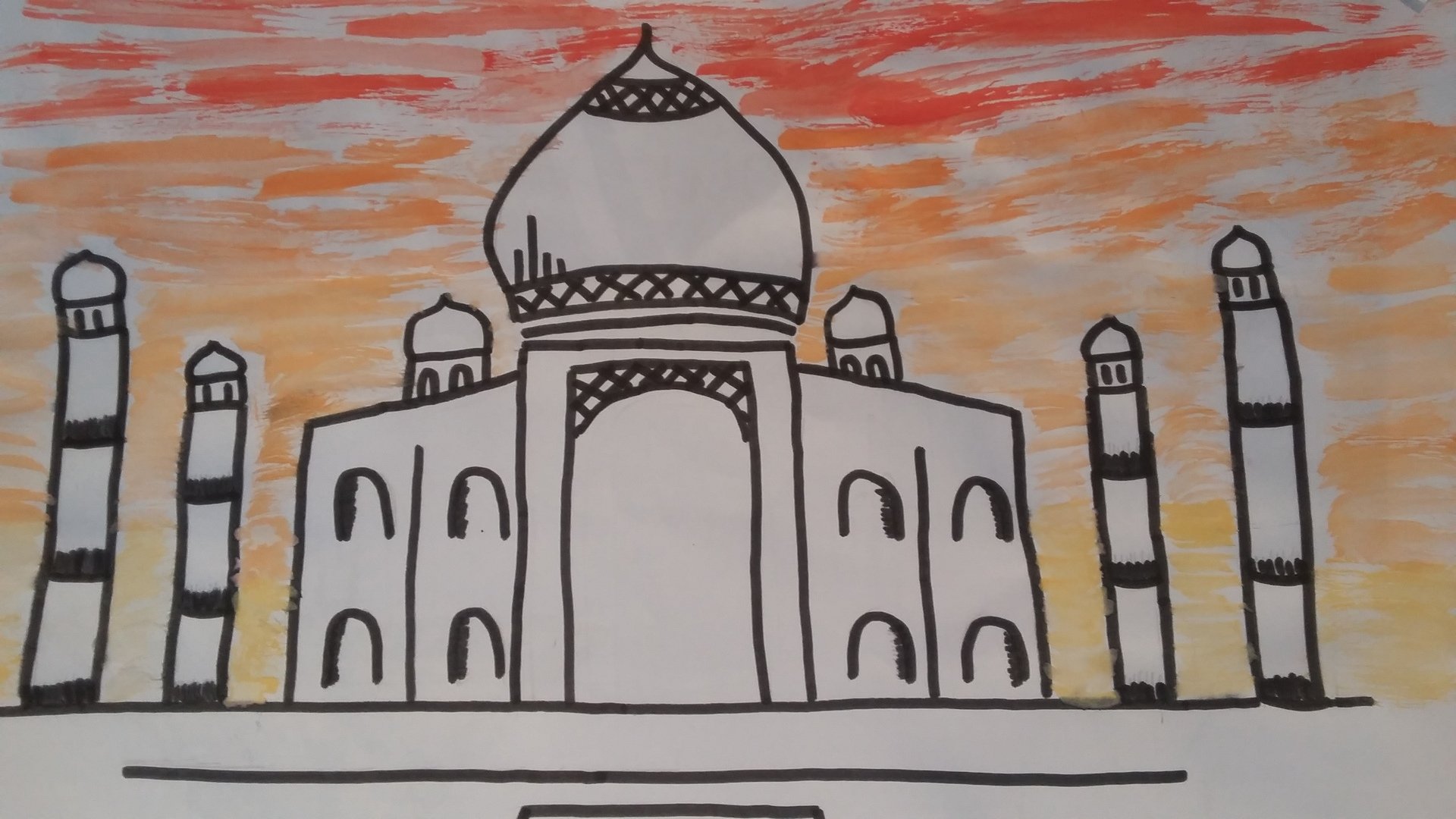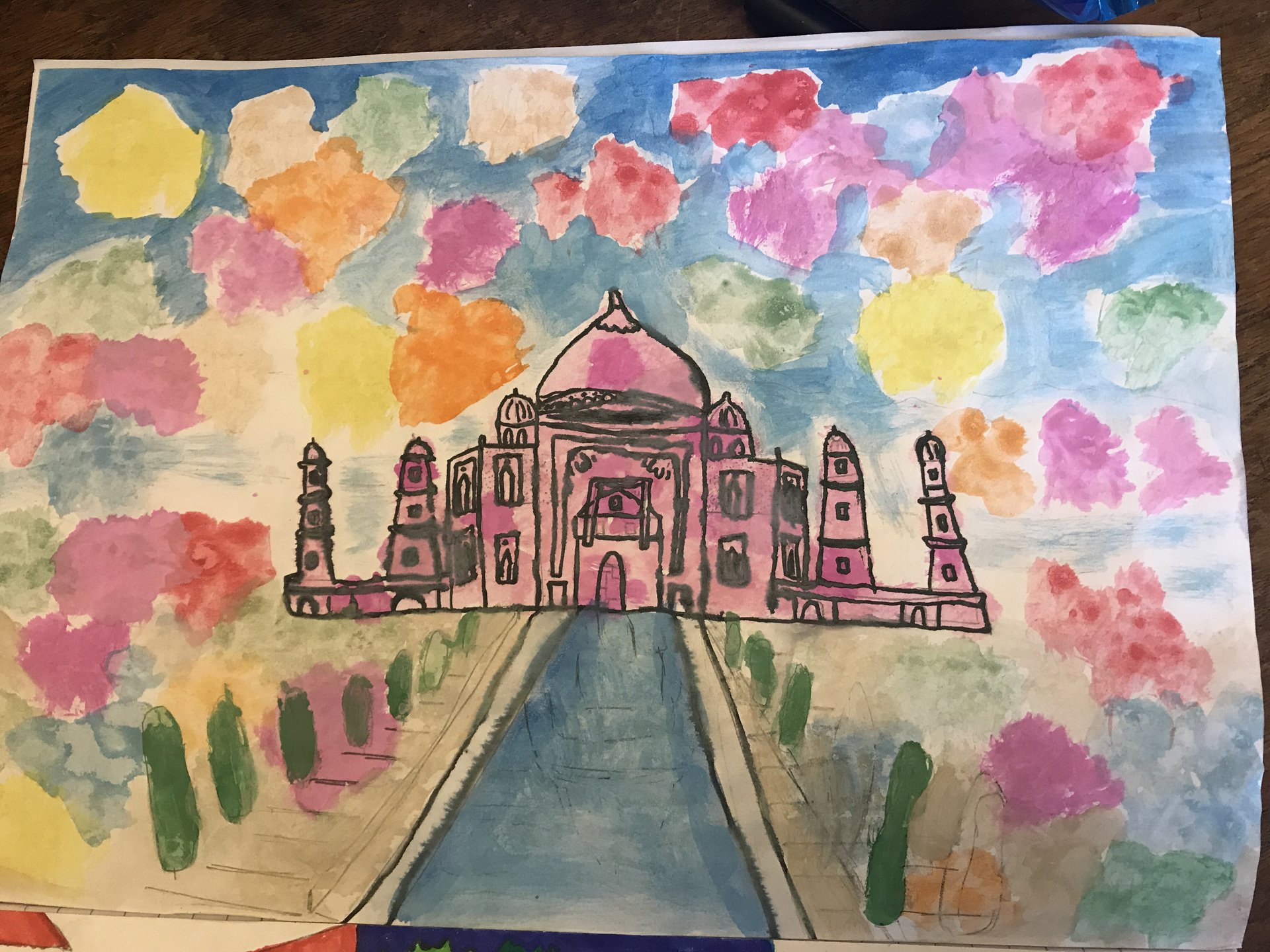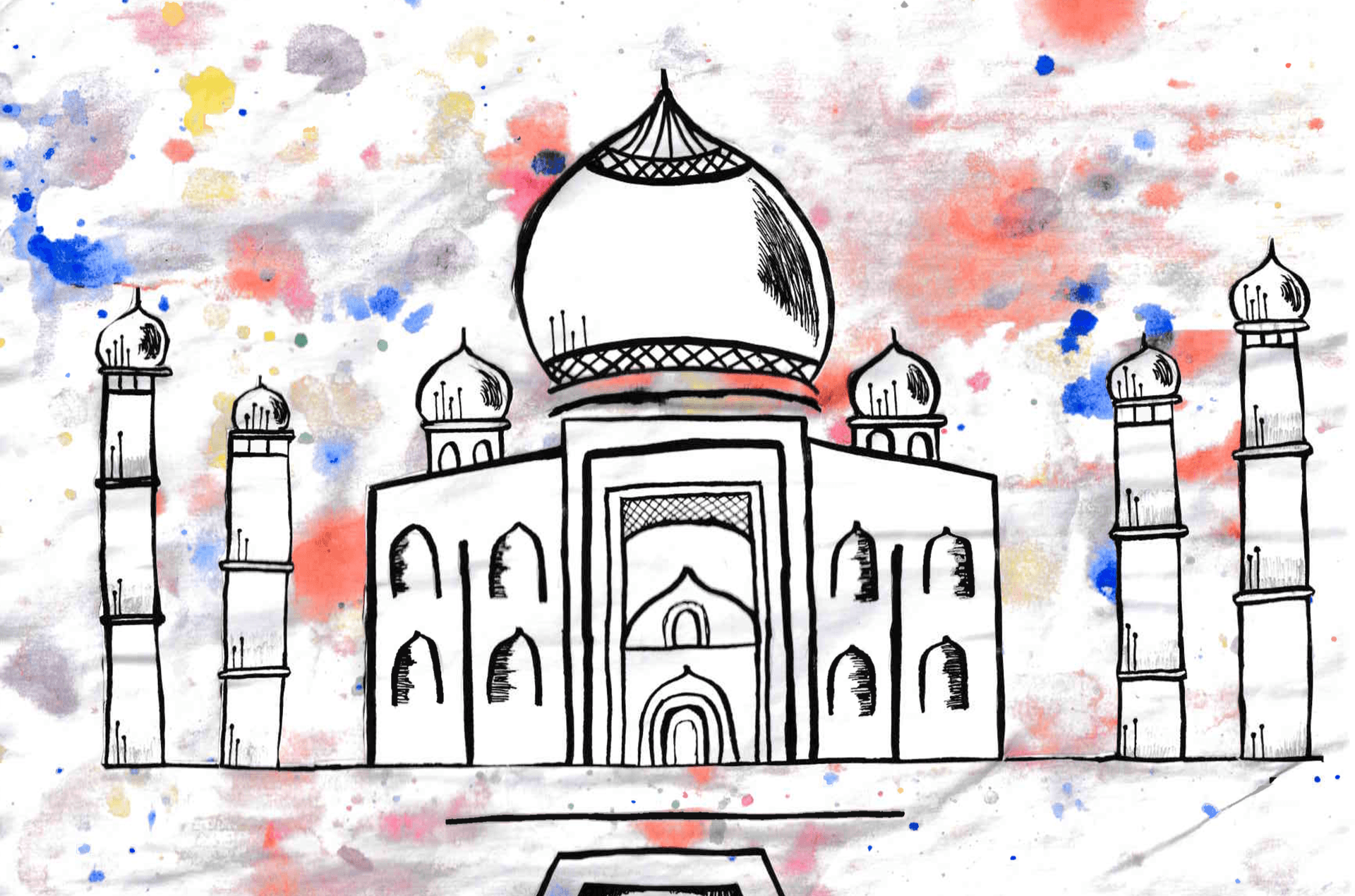 Miss Clarke's Art Club challenge was very successful this week too. We had all sorts of fantasy creatures sent in. Well done everybody!
Fantasy Creatures - Miss Clarke's Art Club
5.2.21
Good afternoon everybody. I hope you have all had a good week and are looking forward to the weekend. I would like to say thank you to everybody who has filled out their Remote Learning Survey which was sent to you through Parent Mail. I have again been overwhelmed by the support we received regarding the package that we are providing for your children. However, it is not to be forgotten that it is very much a team effort between parents, children and teachers. Moving forward we will annalyse the results and see if there are any tweaks that we can make to improve the package that we provide.
One commonality which did resonate throughout the majority of the surveys was the incredible pressure that you the parents are under. So many of you feel feelings of guilt, anxiety, and in some cases inadequacy. Please can I reassure you that you are all doing a great job. Juggling so many roles at home is so difficult so please remember that we understand. There will be days where your child's learning is not a priority especially if you are working from home. We understand that there may be days when your child is not engaged and needs a break or you need a break from teaching and supporting. Please do not hesitate to do what is best for your family situation. All I ask is that you keep your child's class teacher informed of your situation so that we can lower our expectations for your child that week etc.
Remember, we will be able to help your child when they return to school and fill any gaps in learning that have developed during this time. I think it is important for you all to know that this was a common theme running through all the surveys so please do not think that you are the only one feeling under pressure.
As we run up to half term next week, I would like to set you the same challenge that I have set the teachers and that is to step back and have an easier week. Take the pressure off and lower your expectations. I would never normally advise to lower your expectations but next week I would like you to. At this stage we are all becoming a little lockdown fatigued and definitely remote learning fatigued. So please put your own wellbeing first next week.
The quality of work still being produced is astounding so don't forget to reflect over the week passed and celebrate how much has been achieved. You have all survived another week of a global pandemic!
Take a look at this beautiful writing from Tanya, Charlotte and Lily from Year 4. The quality is excellent. They have all used incredible language. Well done girls, you should be really proud of this work.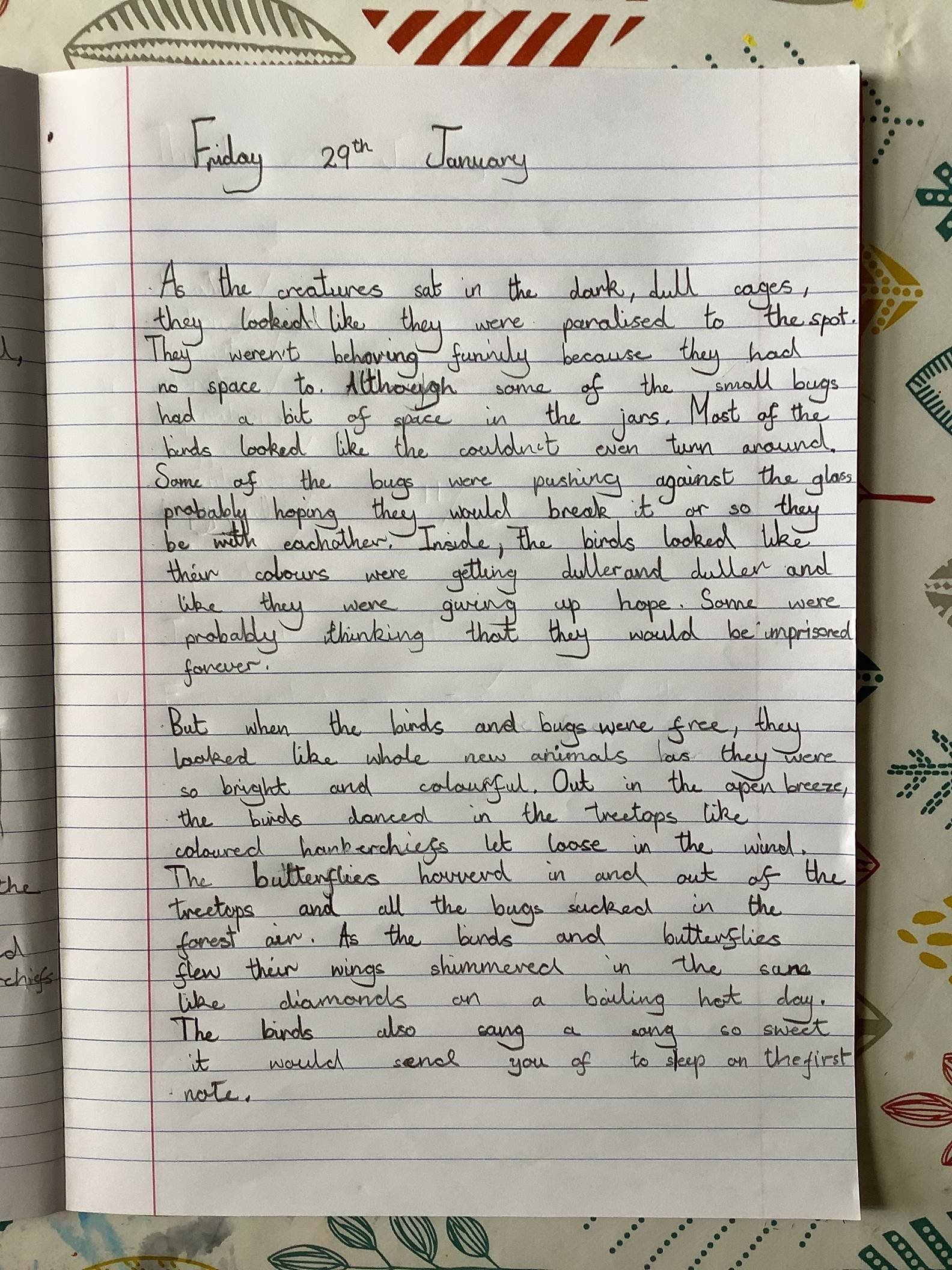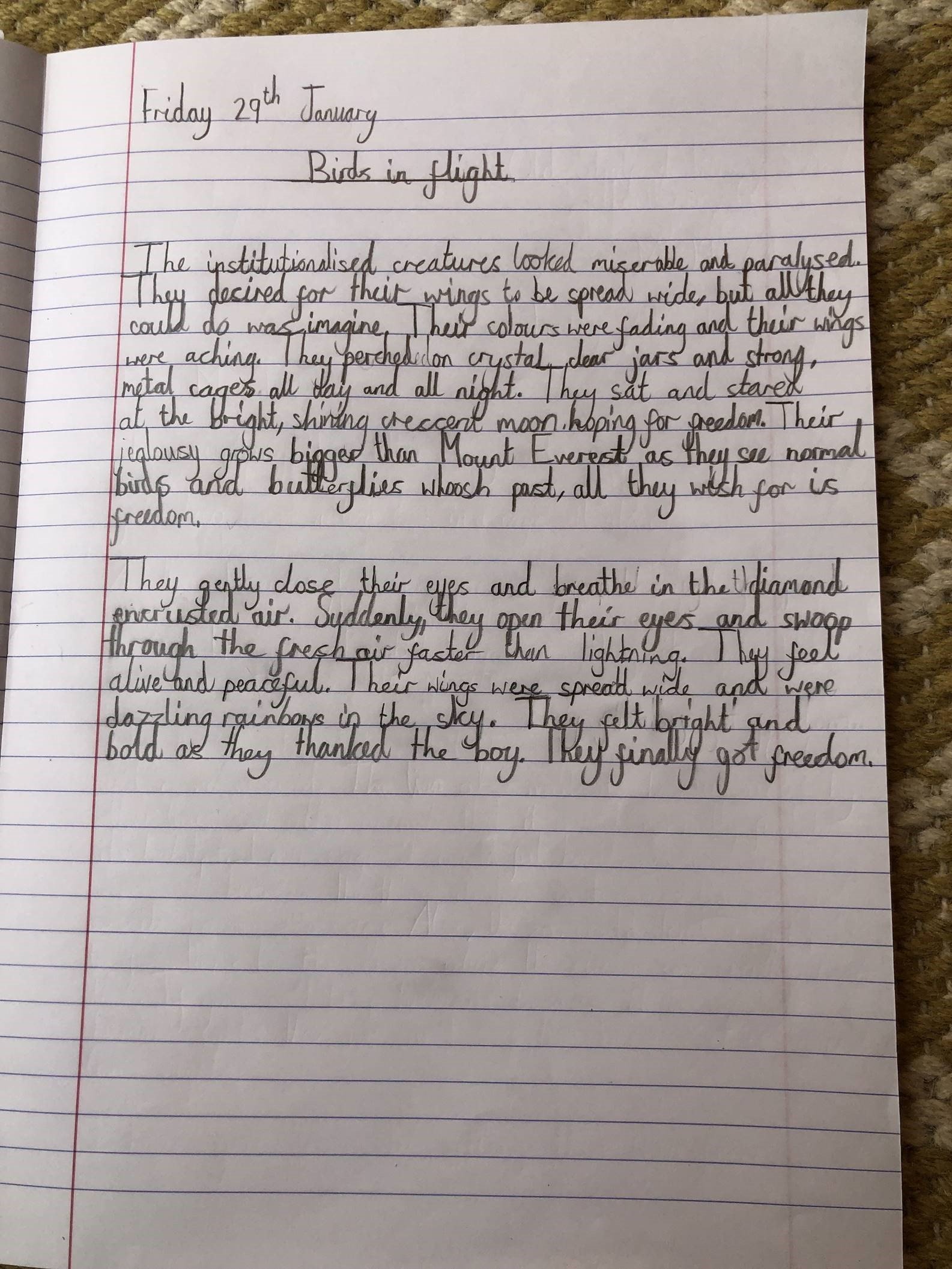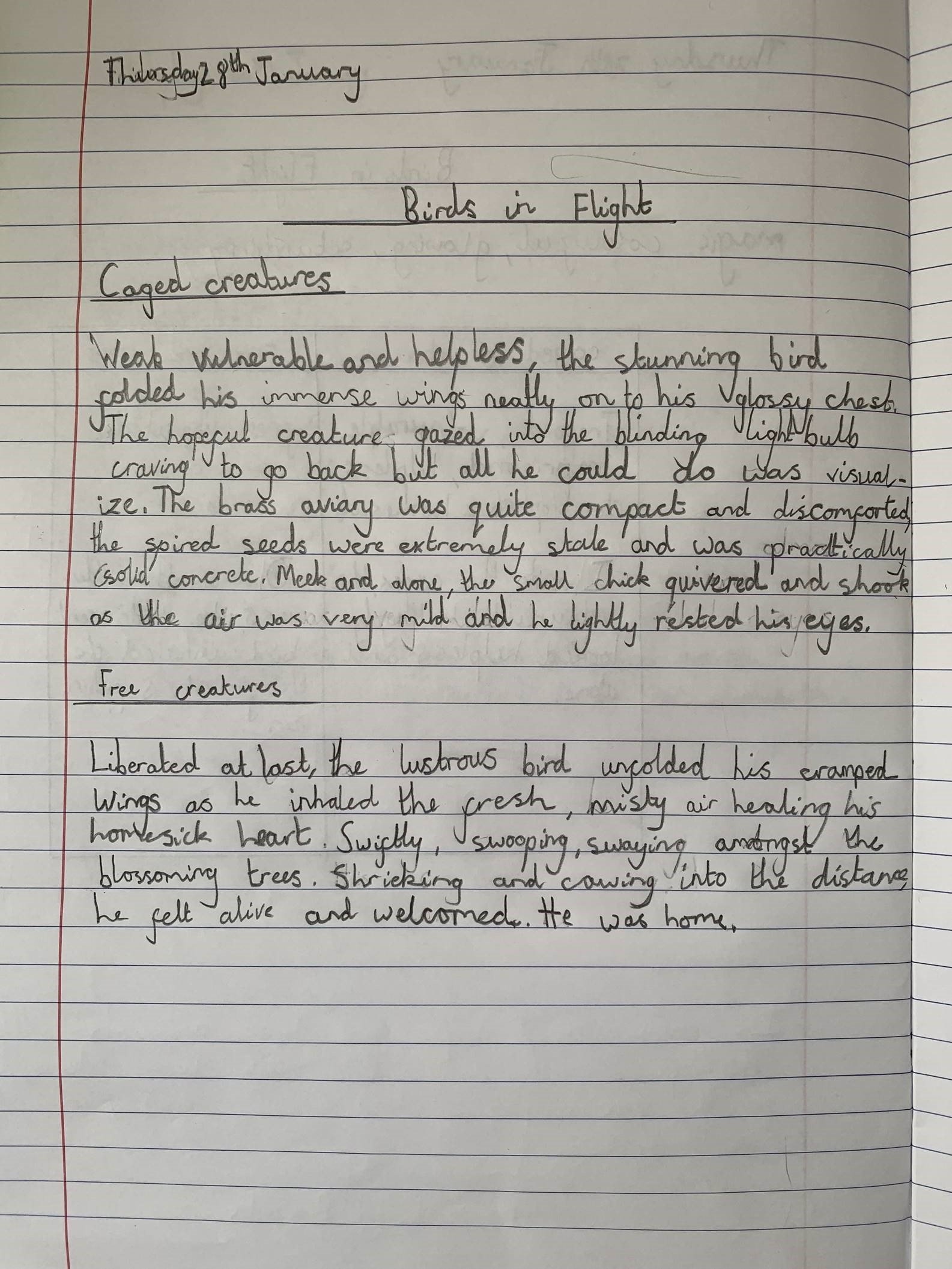 Last weekend for Archie's History topic he walked to his closest natural water source - the River Ouse. It was flooded and he realised it was best to build shelters on a hill. He found an arrow shaped stone and gathered branches from the garden to make a bow and arrow. The stone even cut through his stick.
To create his Cave Art picture he tried singeing the paper to make it look old and then burnt a twig to create charcoal to draw with. Well done Archie, it looks like you really enjoyed this. Super work!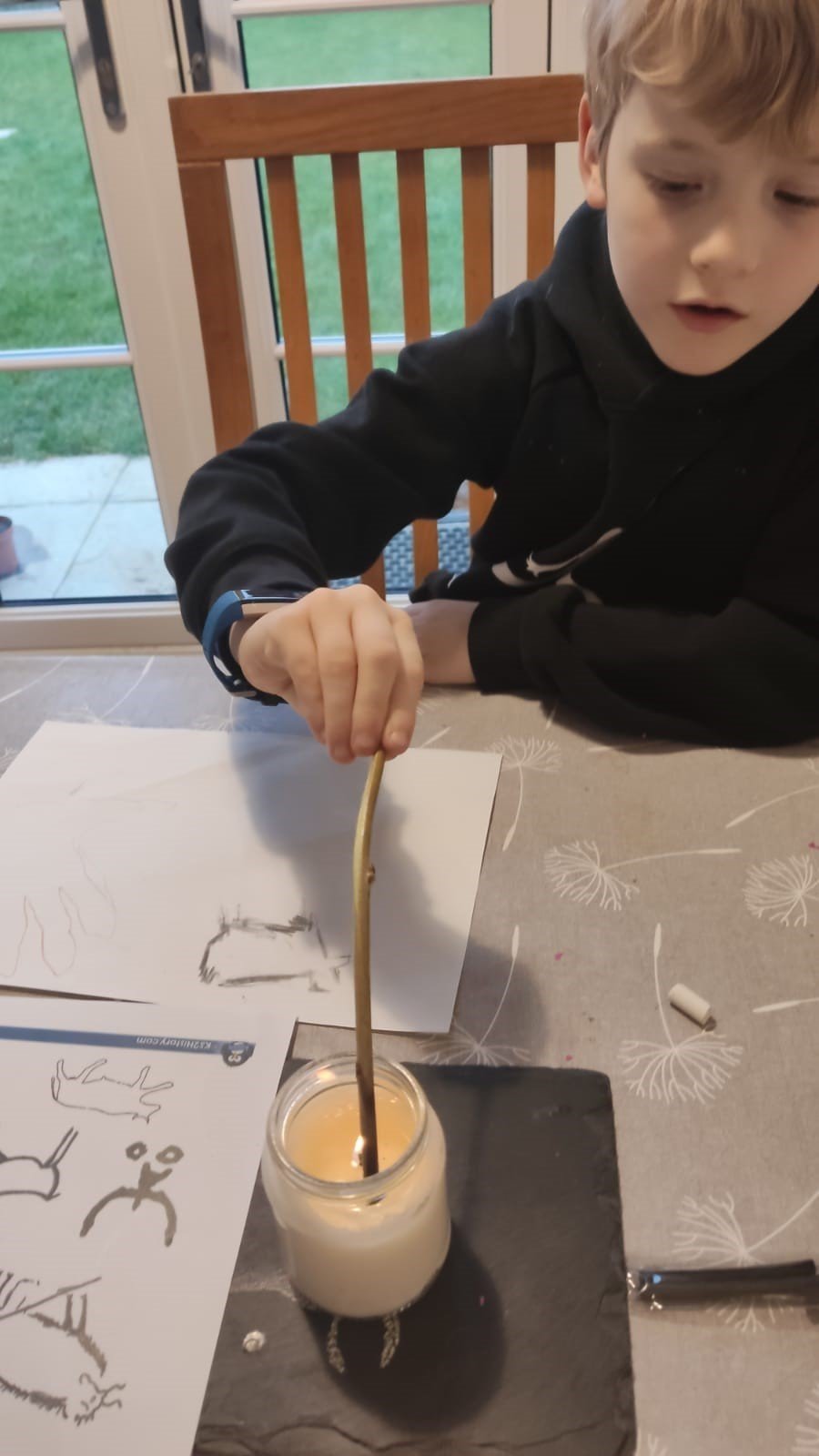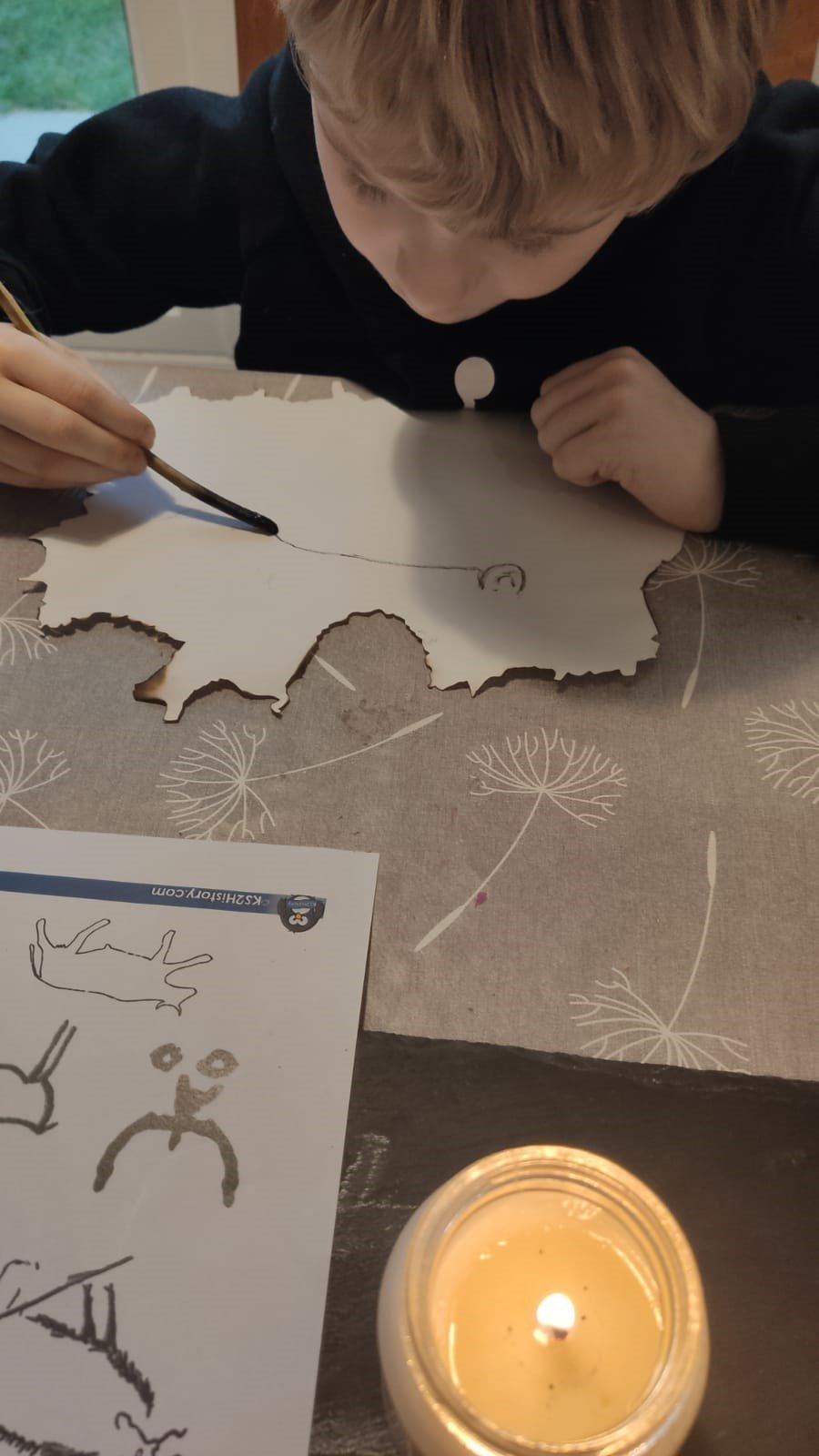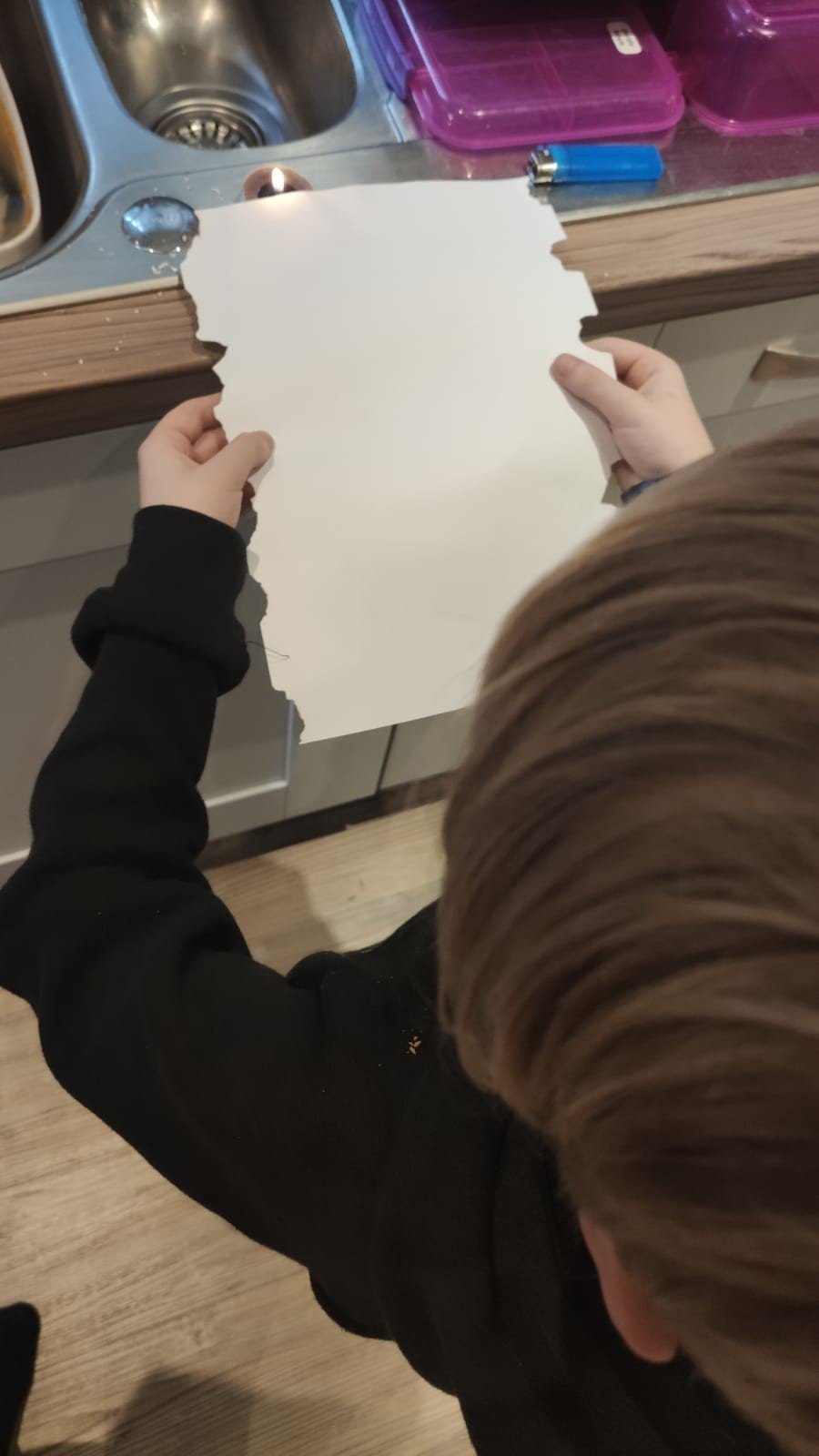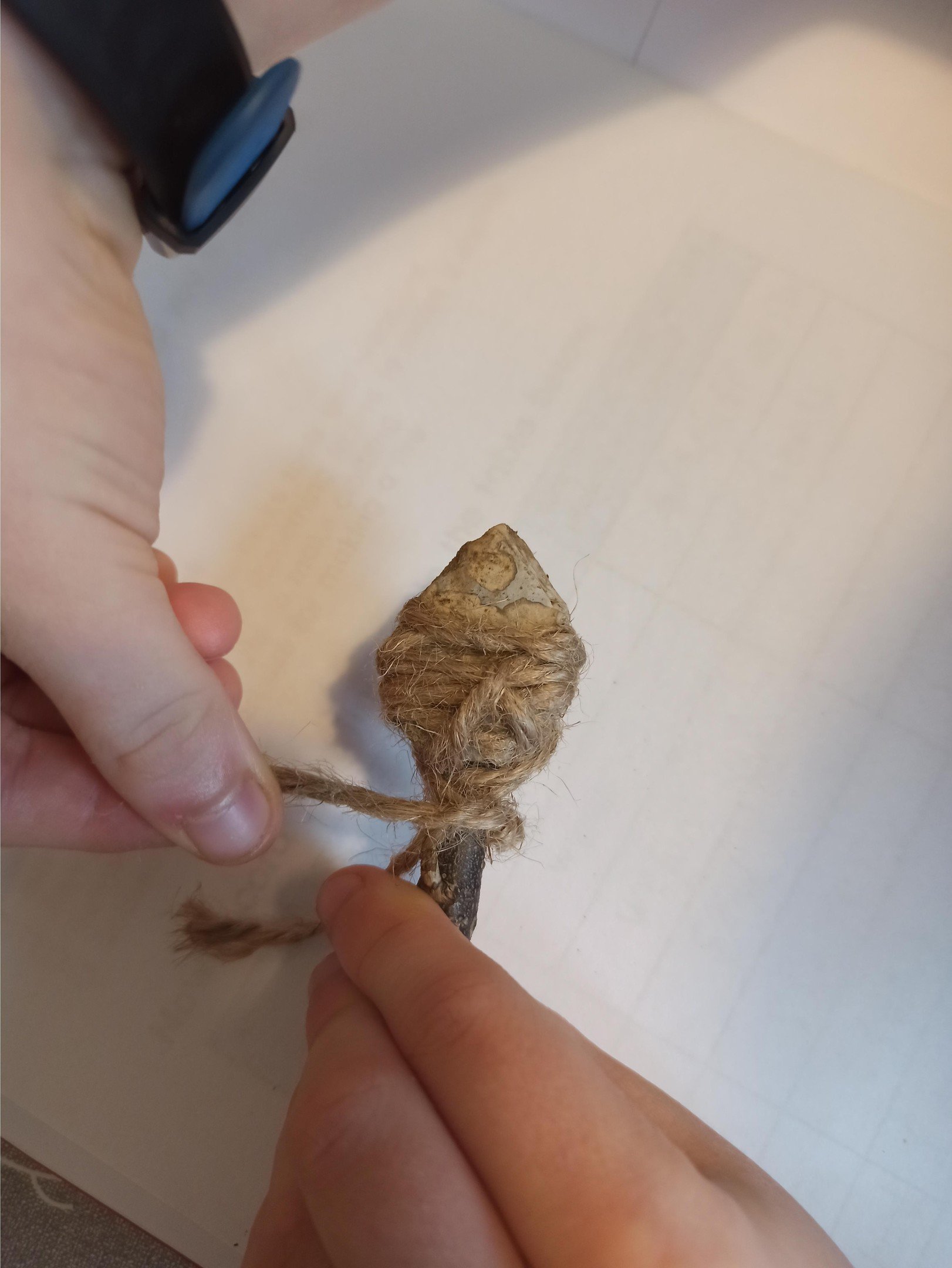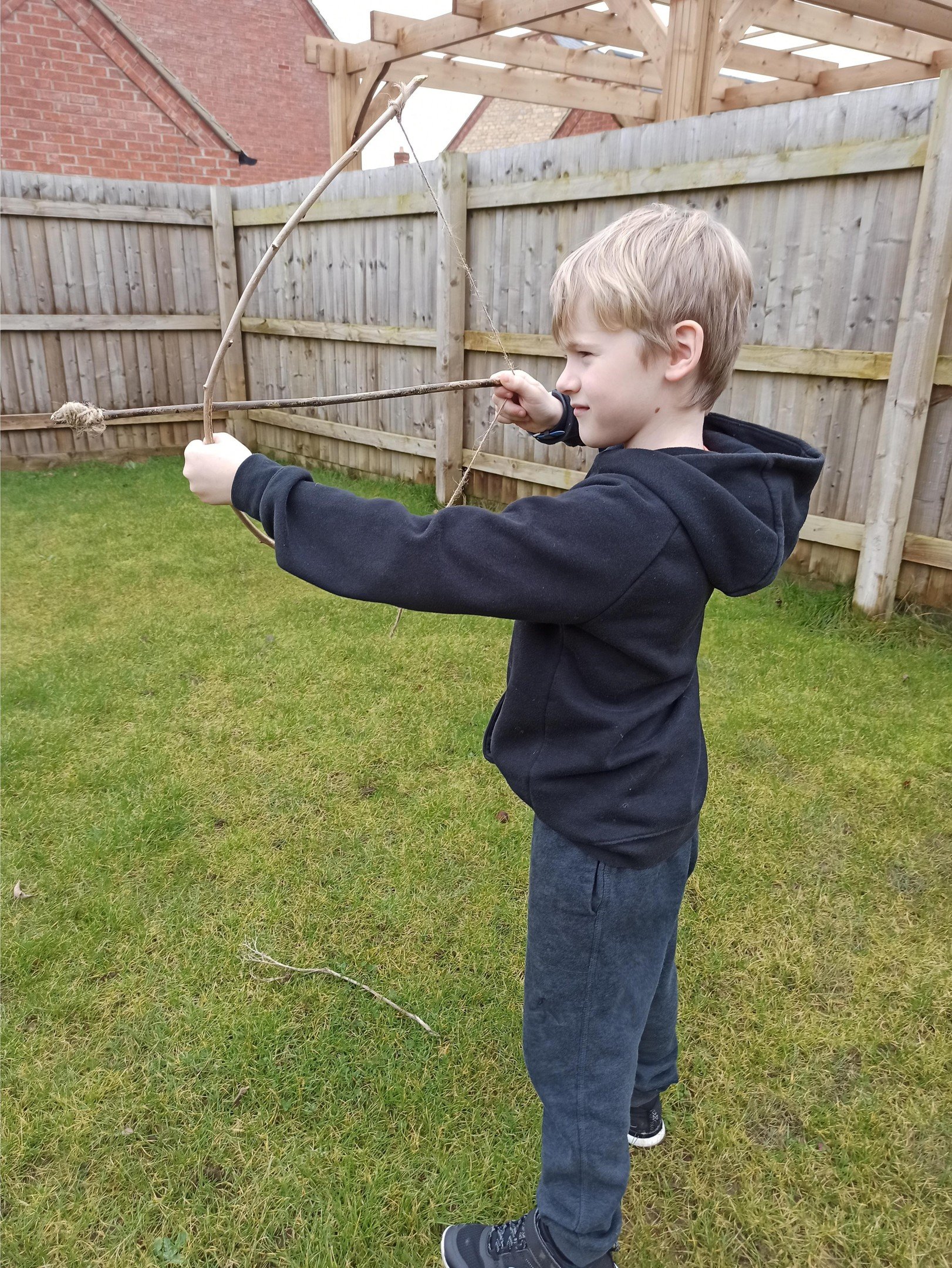 Look at what Year 2 have been up to. They have been very busy. Harry went on a material hunt and thought hard about the material he had found and their suitability. Well done Harry!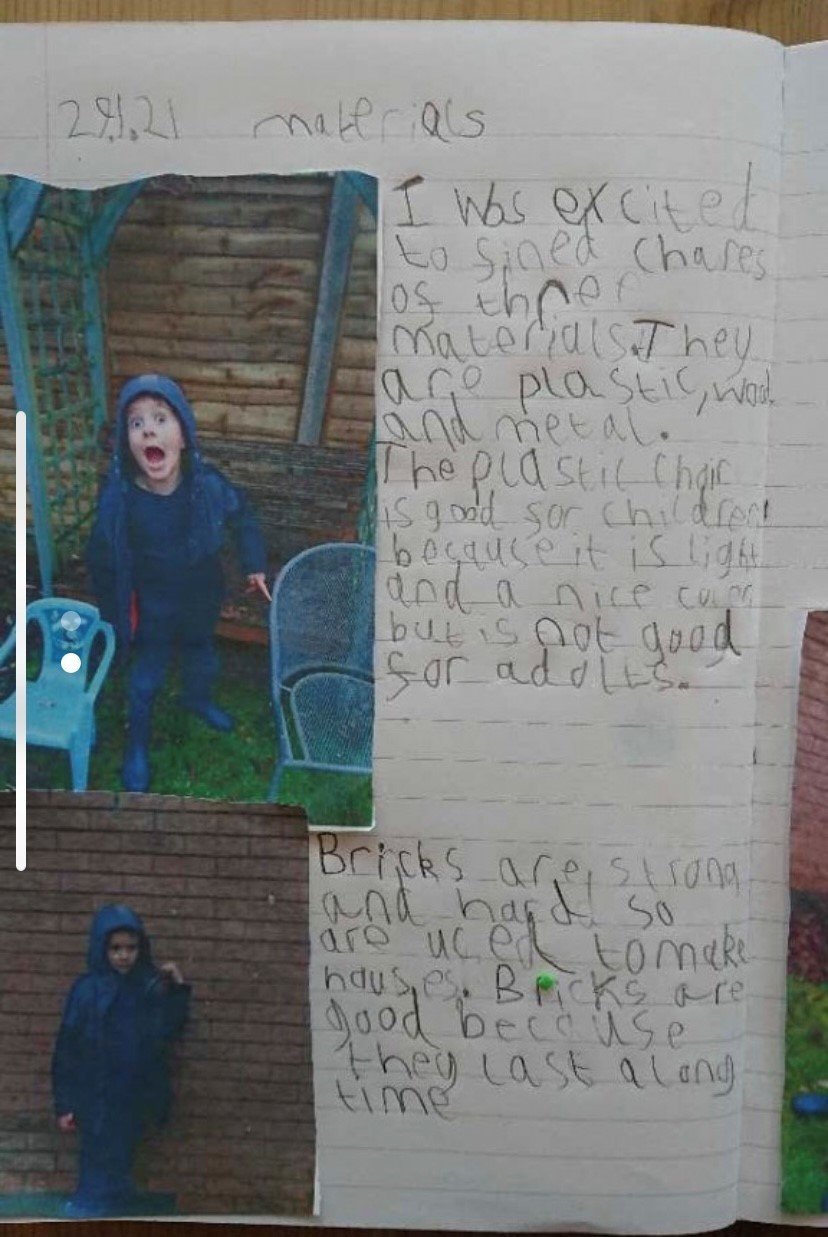 Alice had a great time sorting her nuts into groups of 2 for her 2 times table before eating them all for her snack. Great maths work Alice and a great smile!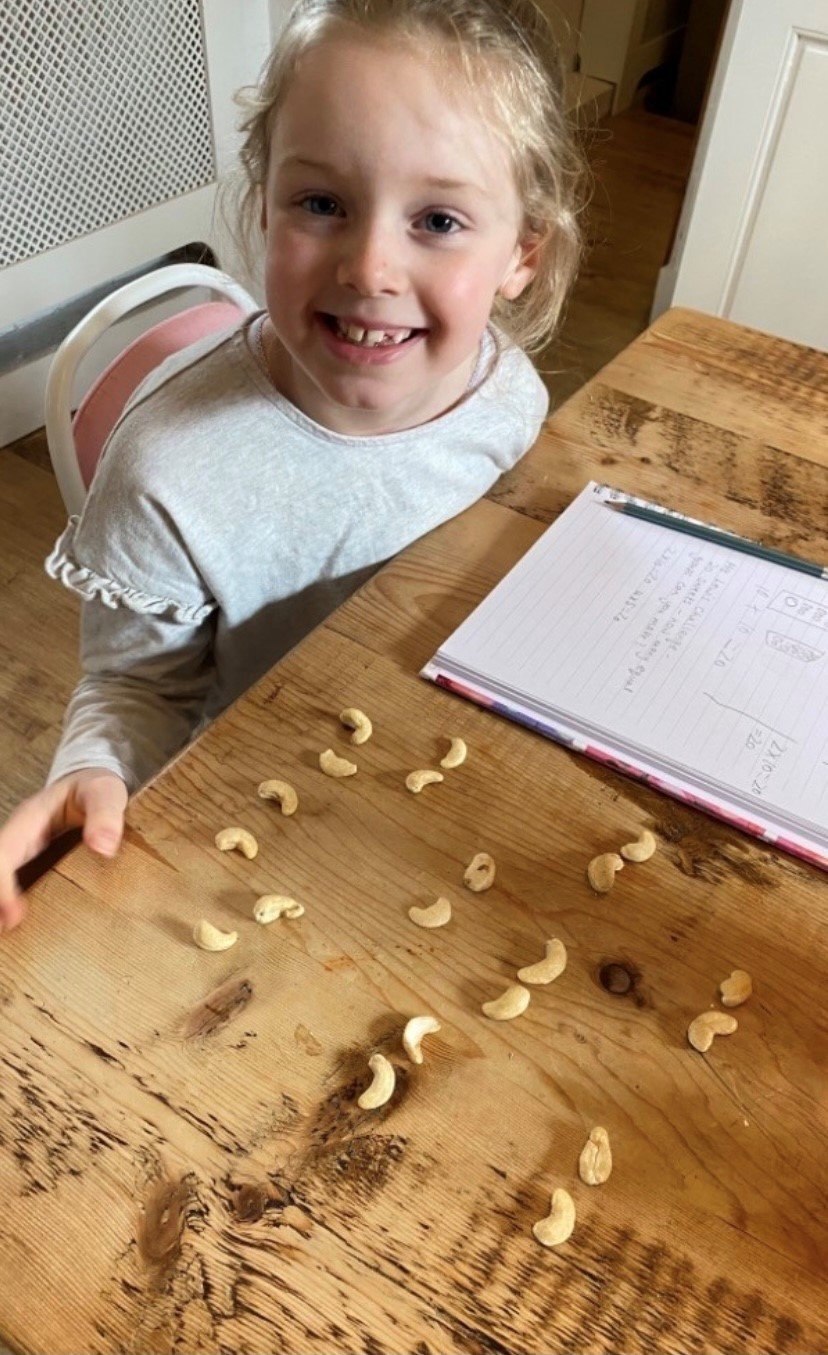 George has been enjoying his maths work too. He was sorting coins to make exact amounts. Well done George!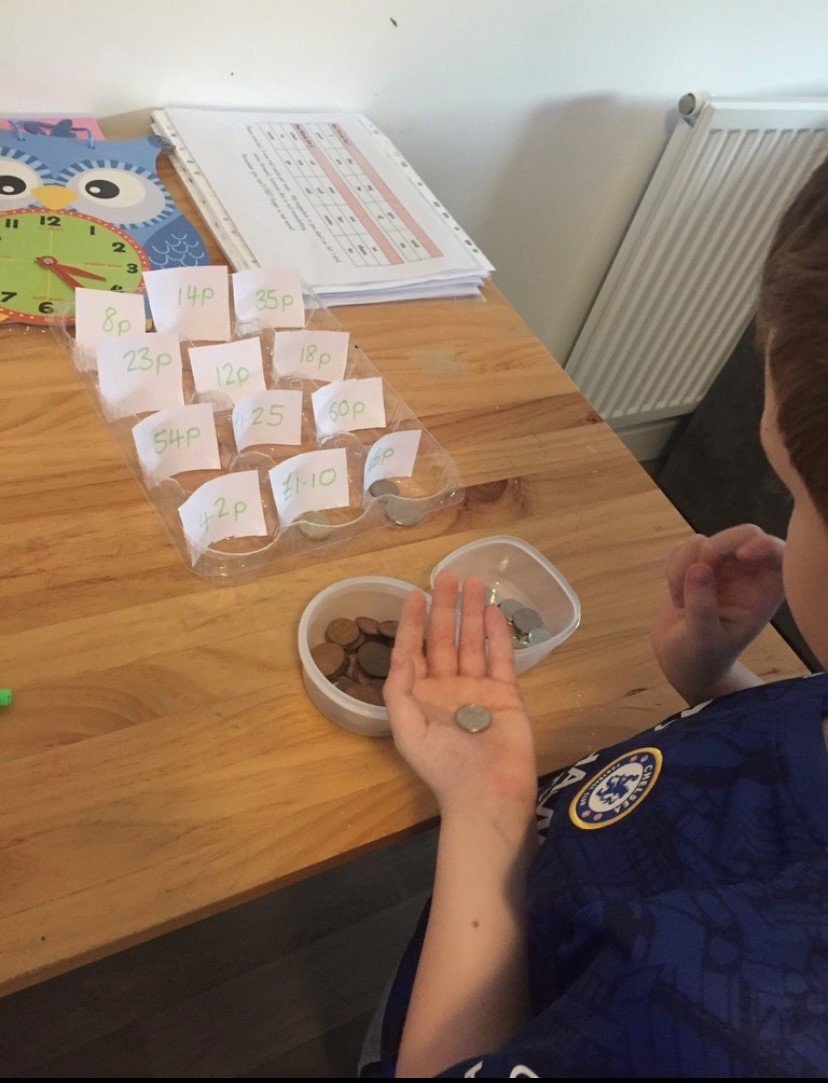 I can see why you have a big smile on your face Olivia. What a fantastic pizza you have made! Well done for writing up your recipe and instructions in your book.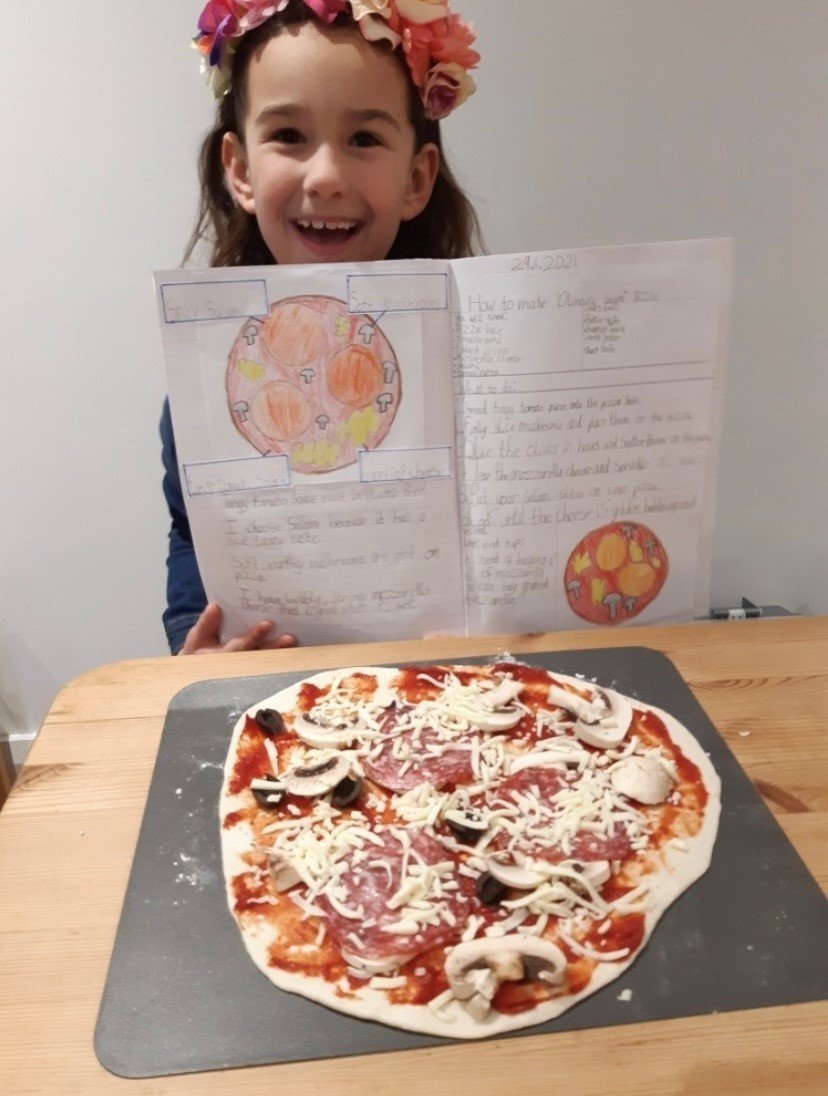 Olivia. B did some fantastic work when she planned an expedition just like some of the explorers they have been studying. Super work Olivia!
Tanya in Year 4 was asked to do a bird watching activity but went the extra mile and built her own bird table! This is amazing Tanya. I am sure you will see lots of birds now - well done!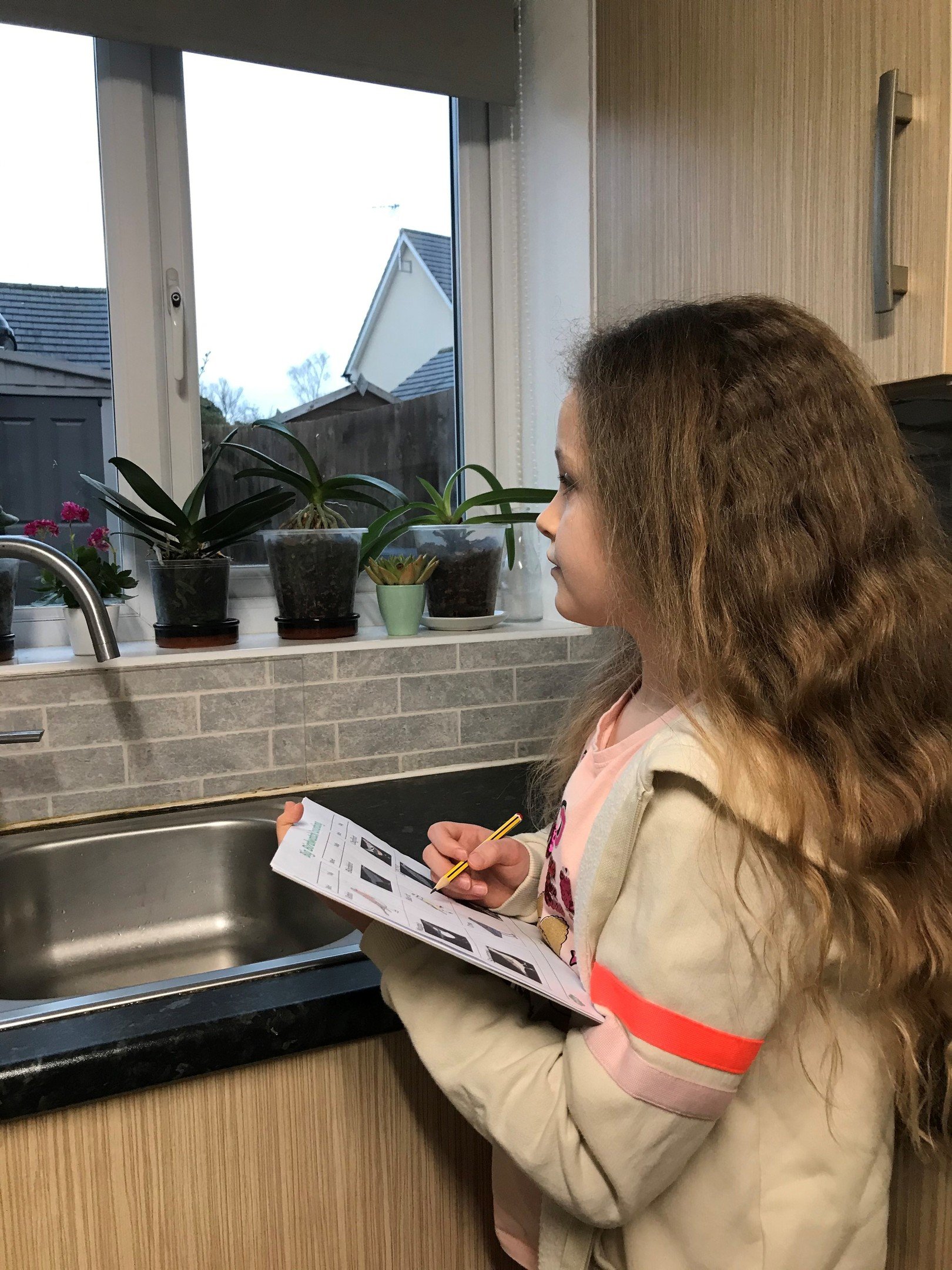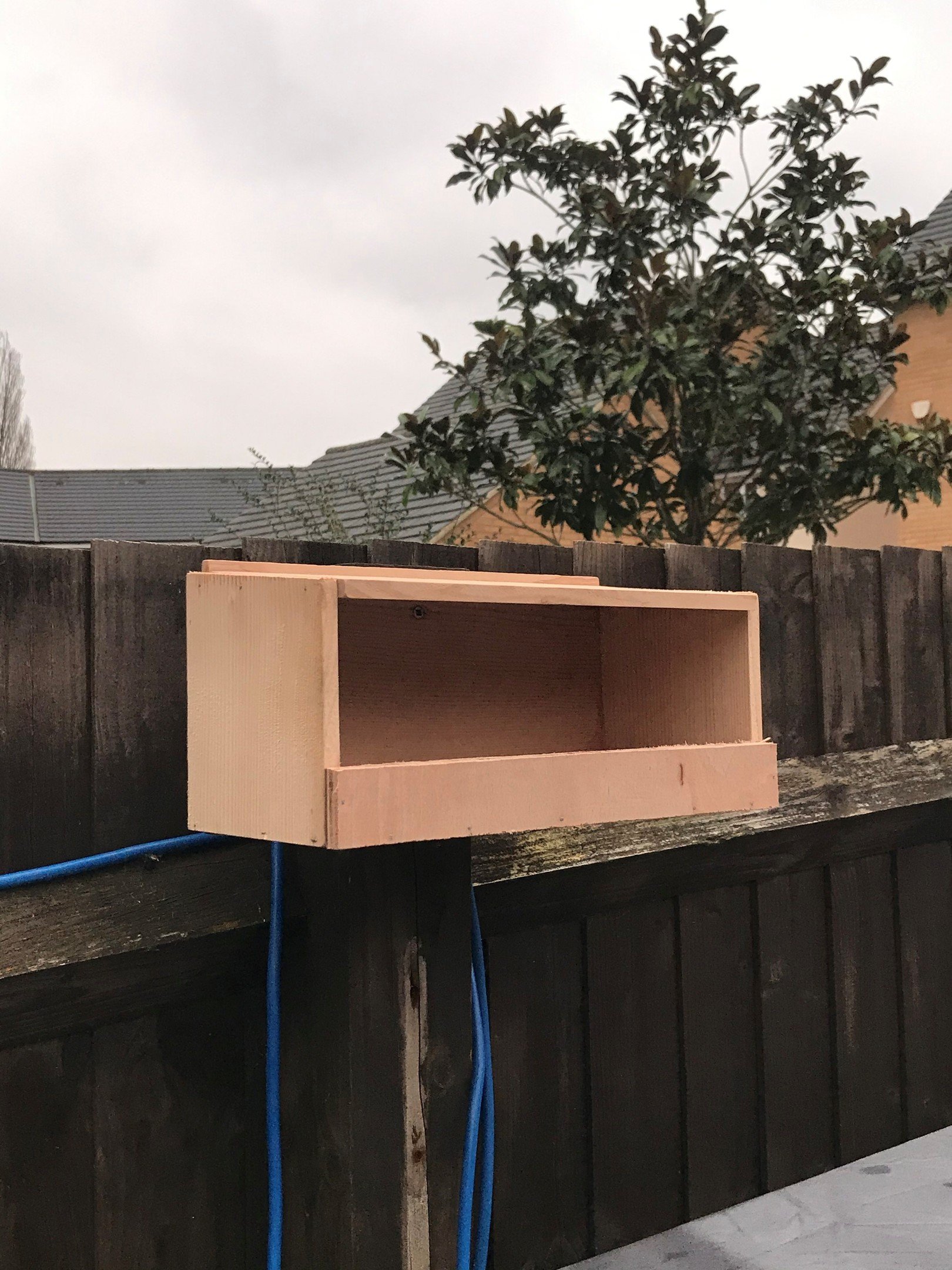 And lastly but by no means least Year 4 had an optional task this week which involved them designing and making a hat which was inspired by the story 'The Black Hat'. This is a story which involves a boy finding a magical hat full of amazing, colourful creatures. Here are 3 lovely designs by Molly, Seren, Maisy and Daisy.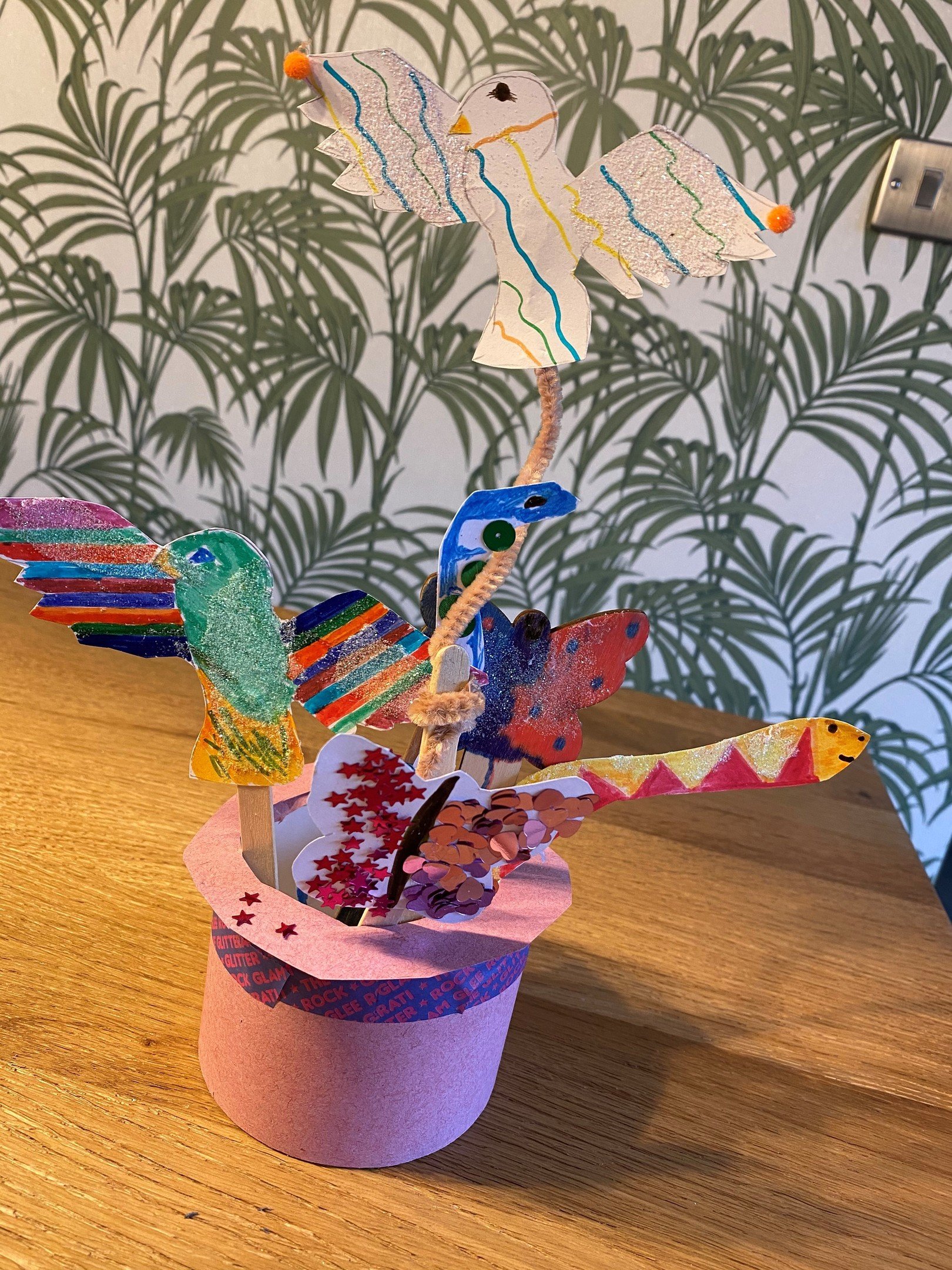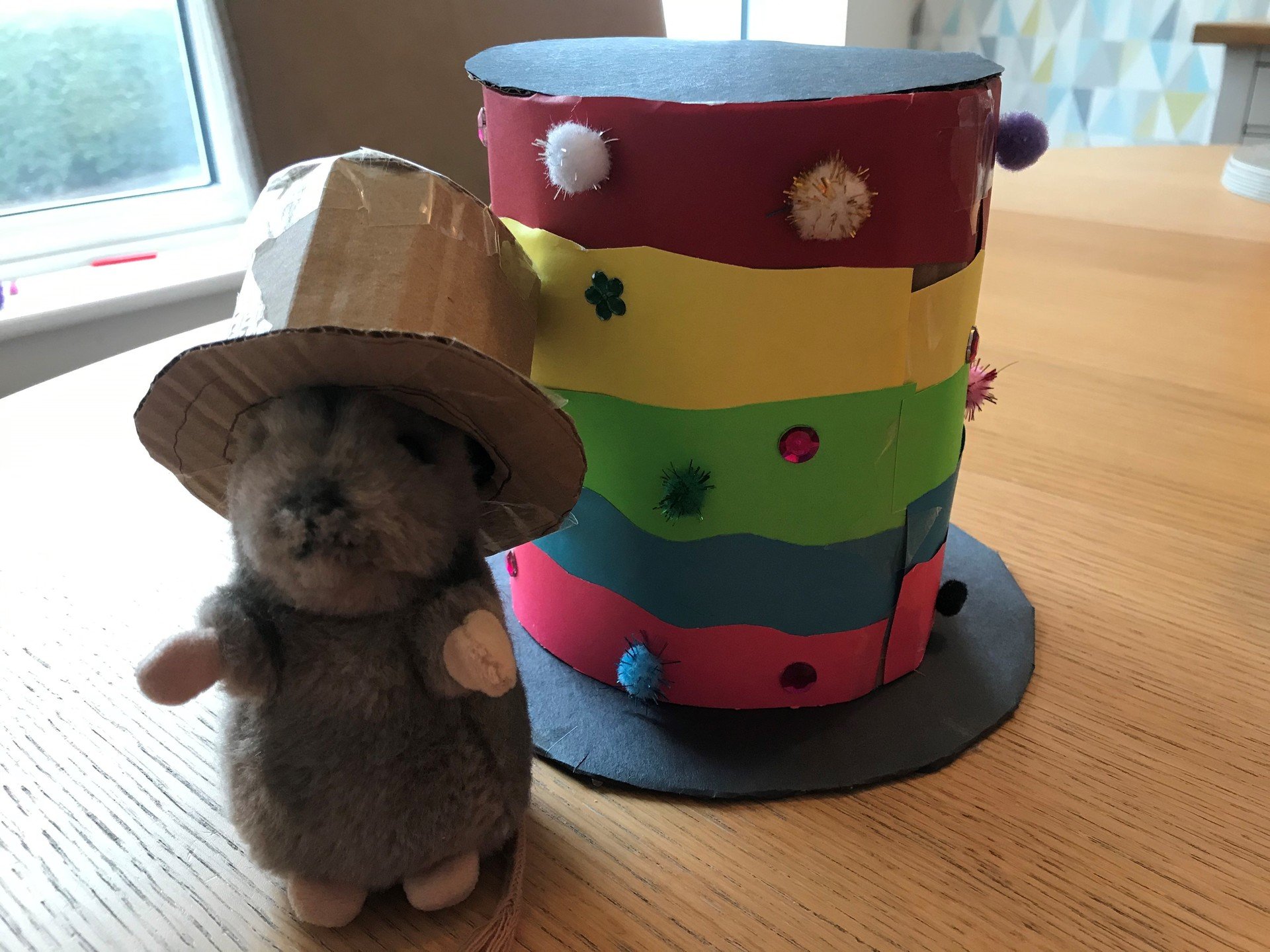 3.2.21
More excellent artwork from Miss Clarke's Art Club. Well done everybody!
1.2.21
Good afternoon everybody - I hope you all had a good weekend. I can hardly believe we are in February already. Time seems to be passing so quickly. Hopefully the children will be back with us in no time at all and we can all get back to some normality. We do miss you all in school. But I can see how hard you have all been working at home as your teachers are keen to share your work with me.
But first, as promised on Friday, let's take a look at all of the drawings sent into Miss Clarke's Art Club. Well done to all of those children and adults that joined in. We certainly have some budding artists out there.
Well done everybody! I wonder how many of you are going to take part in this week's challenge.
I have had a number of parents contact me worrying about their child's education and becoming anxious that their child is going to drop behind in the learning. Please try not to worry. This poem struck a chord with me this weekend, which I think sums up how some of us are feeling but also the hidden lessons our children are learning.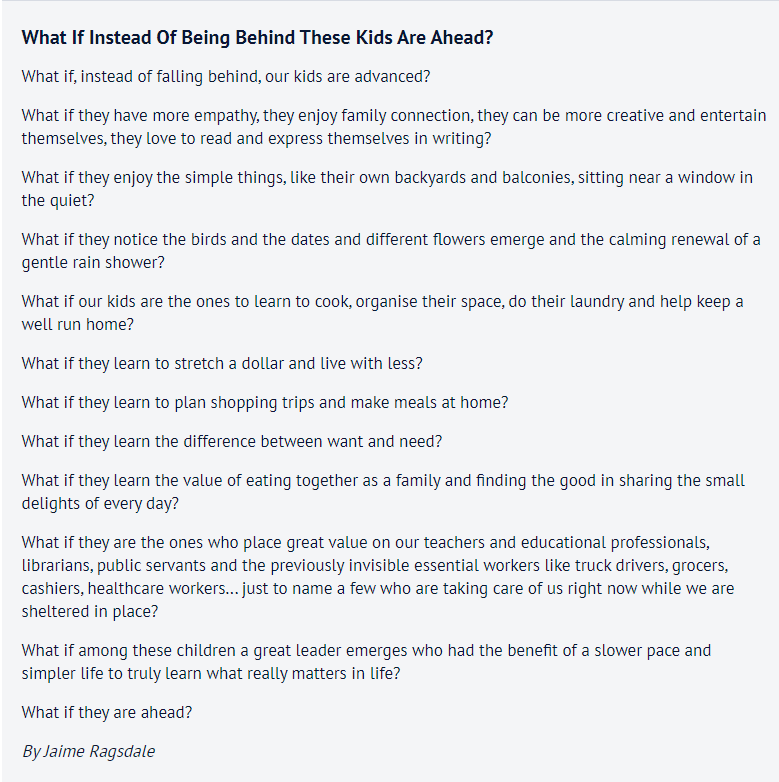 29.1.21
Good afternoon everybody, I hope you have all had a good week. I think we were all disappointed this week after the Prime Minister announced that schools wouldn't be open until at least the 8th March. It is very hard for children, especially those of primary school age, to learn at home. Having said that I am very impressed with the work that is going on and the level of engagement from our children. The teachers are so proud of you all for working your socks off at home! I have plenty to share today from a wide range age groups across the school.
The children in Reception have been keeping busy with arts and crafts.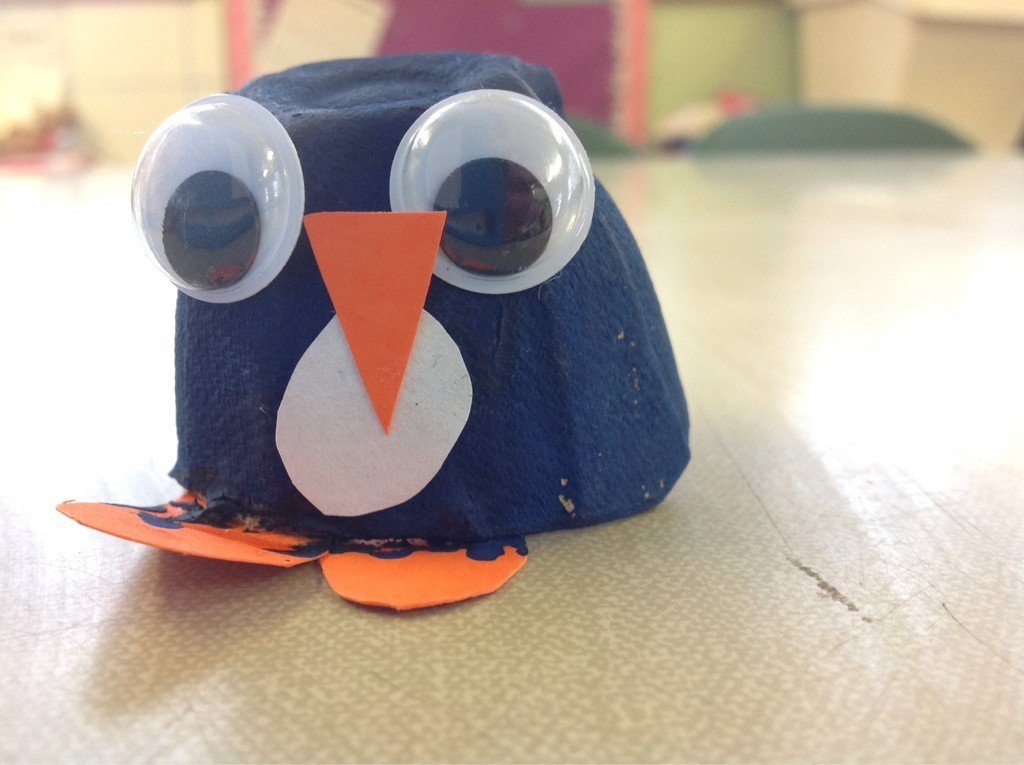 For National Penguin day – Zachary made a penguin. He used an egg box, googly eyes, and paper to create it. The children practiced their cutting skills when creating these. They also carefully followed instructions. Well done Zachary!
Remi created this Arctic fox. She tried so hard to make hers look similar to the picture that she had seen. The children looked at Arctic foxes in the Key worker class thinking about where they live, and what time of year they would have liked to come and have a holiday in Old Stratford. Great work Remi!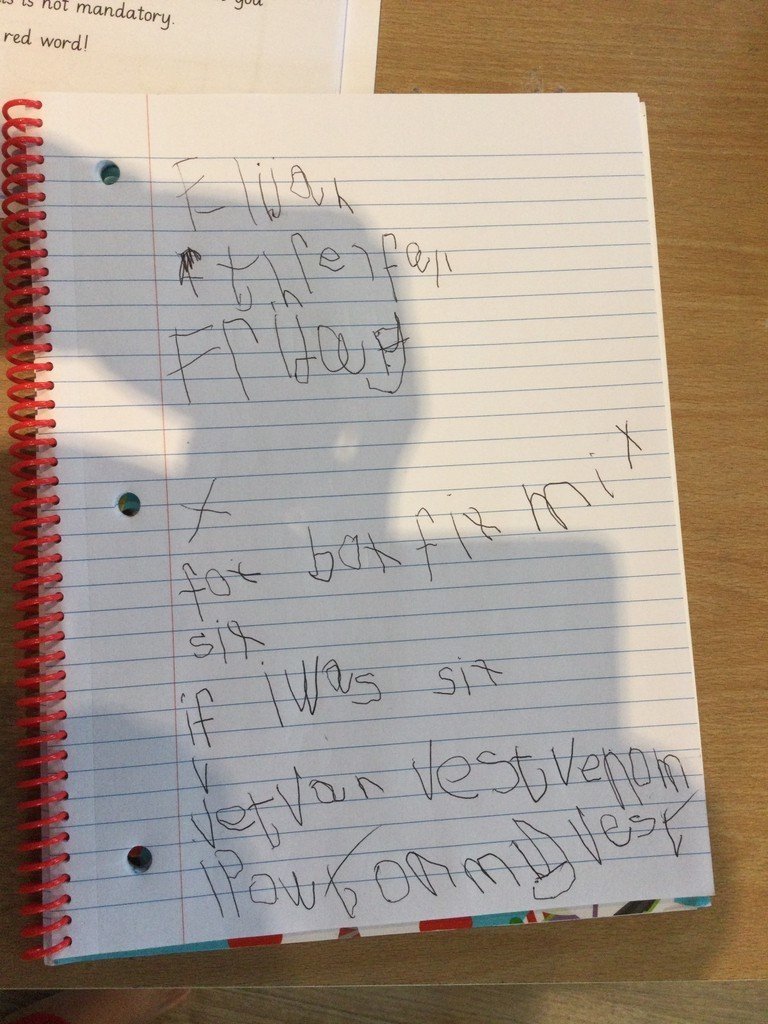 Elijah did some fantastic writing. Reception had been learning the 'x' and 'v' sounds in their phonics session and this is the work he produced following it. Elijah, this is amazing writing!
Year 1 have been studying a text called 'The Queen's Hat' by Steve Antony and their topic is 'London' so they had some fun and made some Queen's guards. Here are 3 great examples. Well done Emelia, Isaac and Reed for your creations.
Emilia Isaac Reed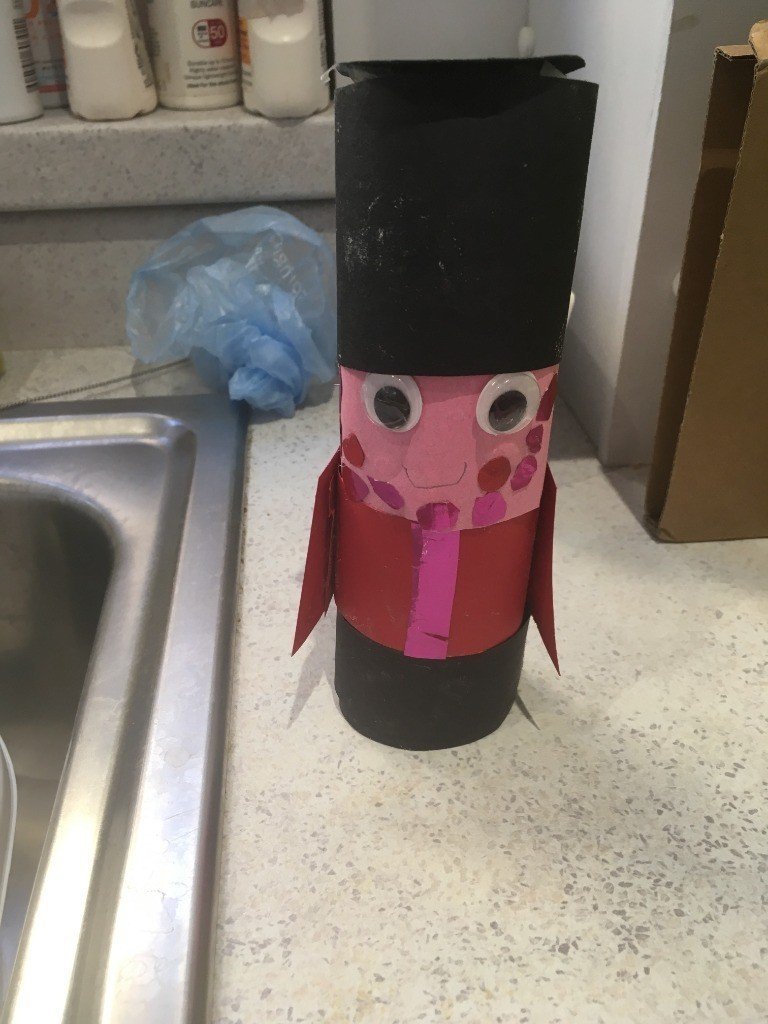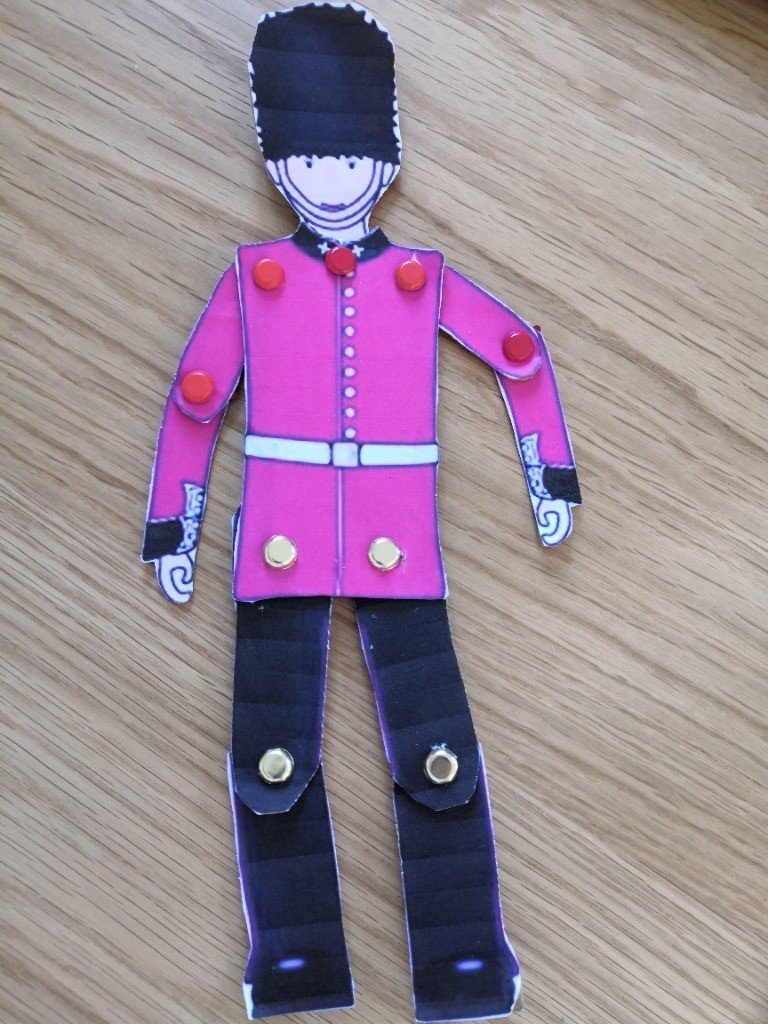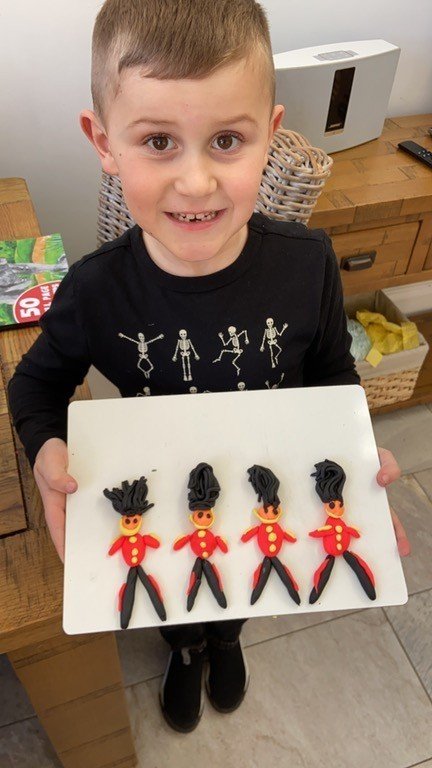 In Maths, Year 1 have also been learning about 2D and 3D shapes. They had to find some 3D shapes around their house. Take a look at what they found. Great work Year 1! Emily Henry Cleo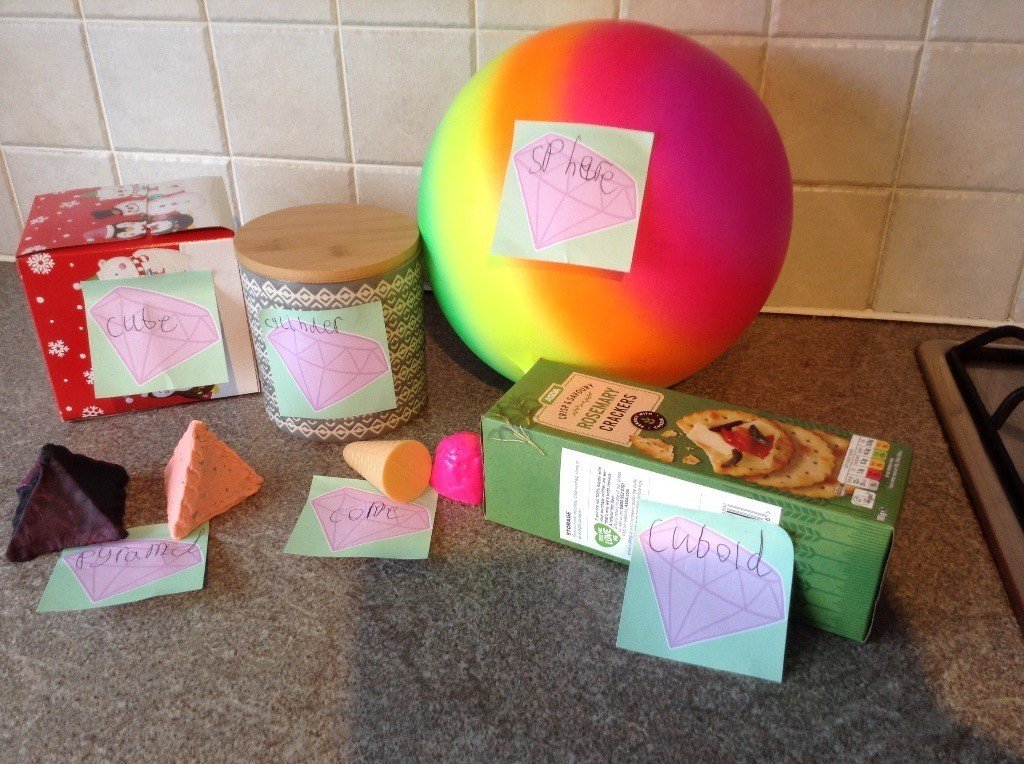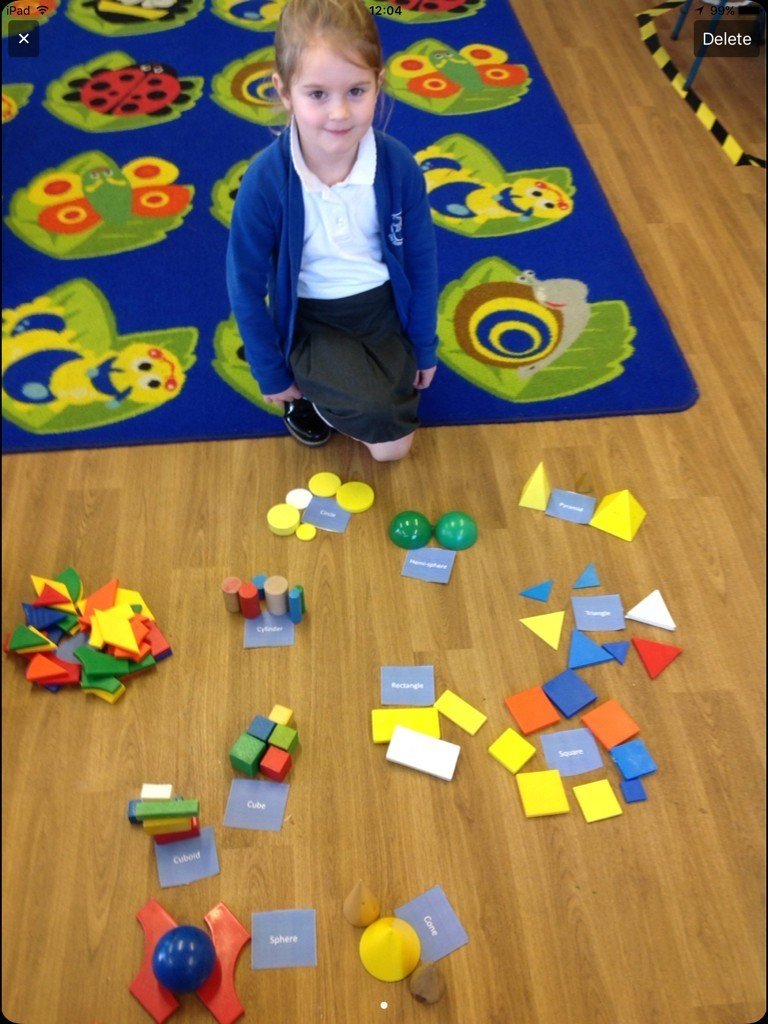 Year 3 children did a mini Art Exhibition during their Zoom meeting displaying some wellbeing work they did on 'love'.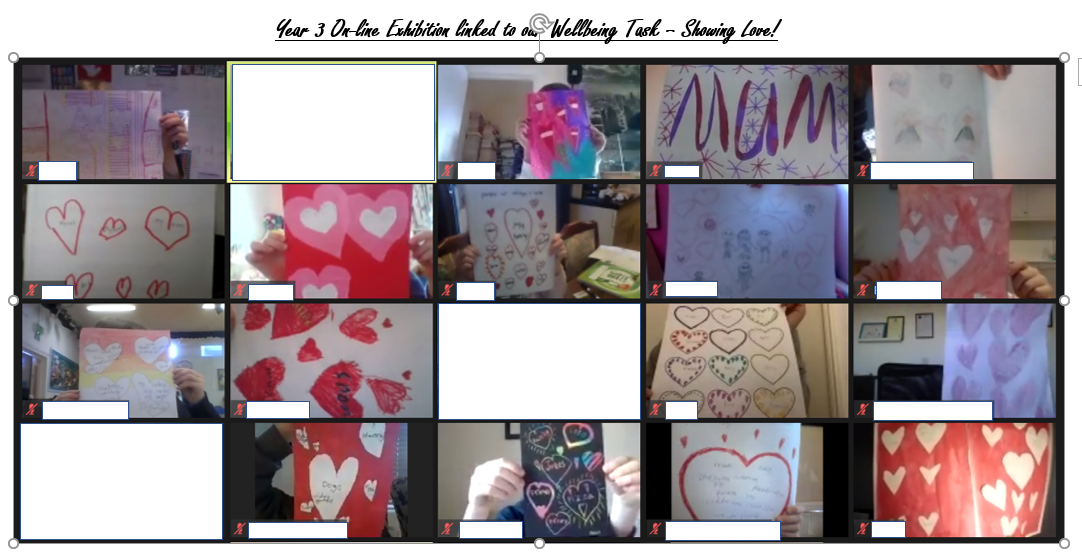 Lovely work Year 3 - well done!
Year 2 had a two week unit learning about money where they identified coins and notes, ordered and counted them, made totals, solved problems and by the end of it were able to give out change correctly by counting on. For one of the lessons, the children were tasked with creating their very own shop, complete with price tags so they could practise giving out change. Take a look at some of our Year 2 Shopkeepers!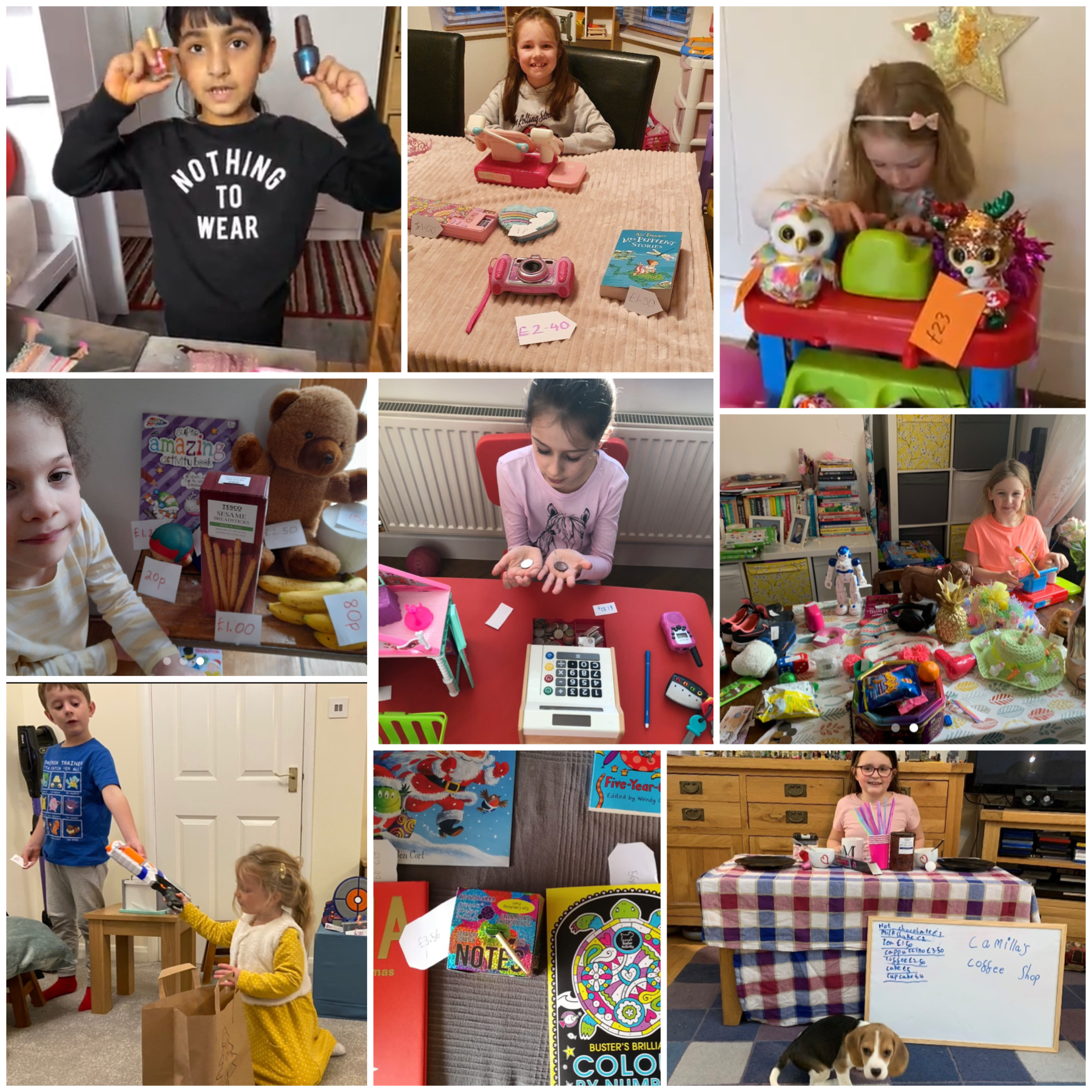 I think it's quite evident how much support our children are getting at home - so thank you to all the parents because you are all doing such a fantastic job. Please take a break at the weekend and enjoy some well earned relaxing family time!
I look forward to catching up with you all next week to share some fantastic art work from Miss Clarke's Art Club.
25.1.21
Good afternoon. I hope you all had a lovely weekend and managed to get out in the snow. I went for a walk yesterday afternoon and counted numerous snowmen on my travels. I was most disappointed that I had failed to take my phone with me so couldn't take any photos so if you have any of you having fun in the snow, please send them into me. Although my 2 boys didn't build a snowman, they had endless fun throwing snowballs at one another and their poor mum!
It was quite a scary drive to work this morning with the roads being so icy but I'm hoping for a safer journey home.
I have some work to share with you from Year 3 today. Take a look what they have been up to.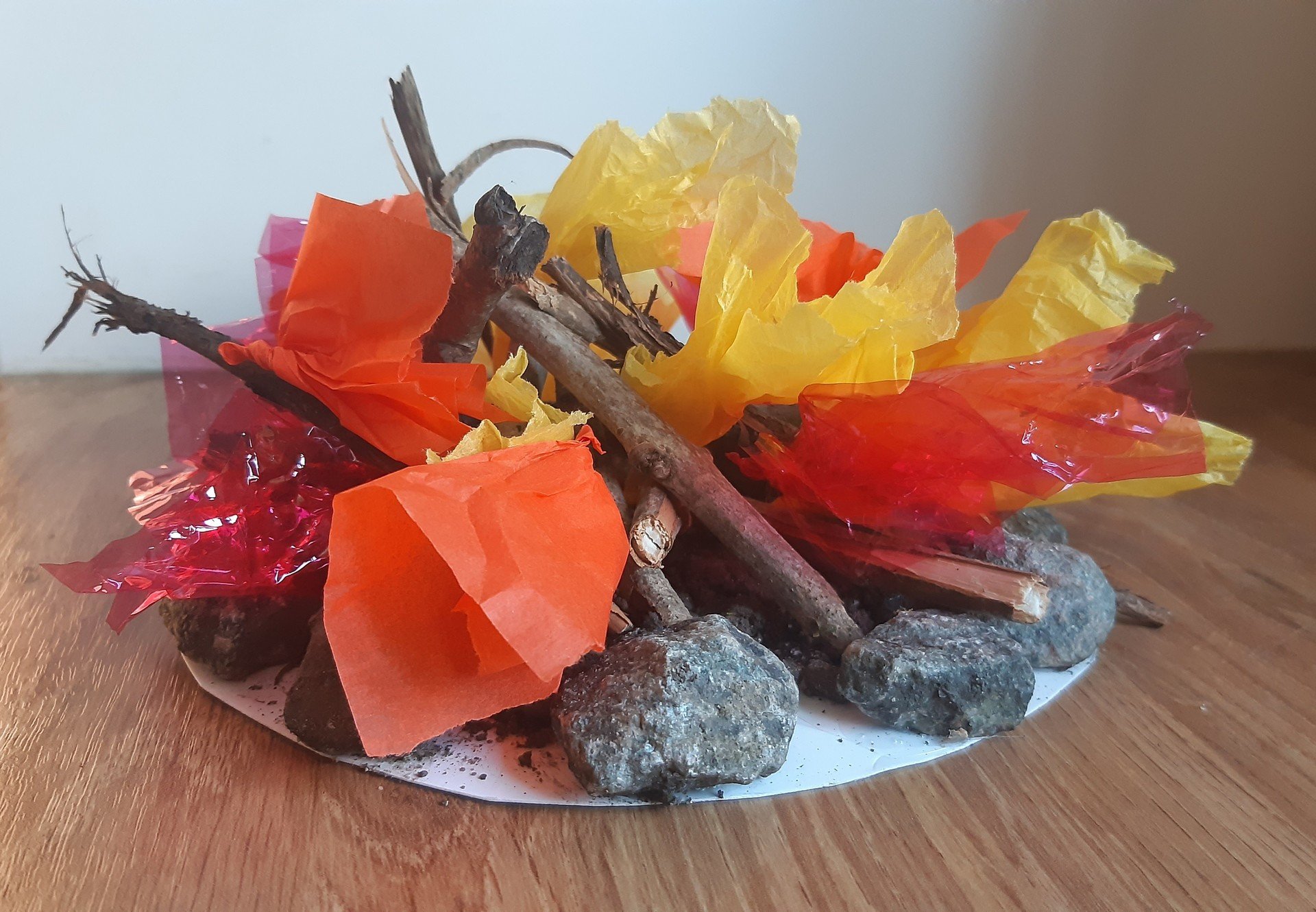 Year 3 have started their Stone Age Topic and Ella has made a fantastic fire out of materials she could find at home. It looks very realistic so well done Ella!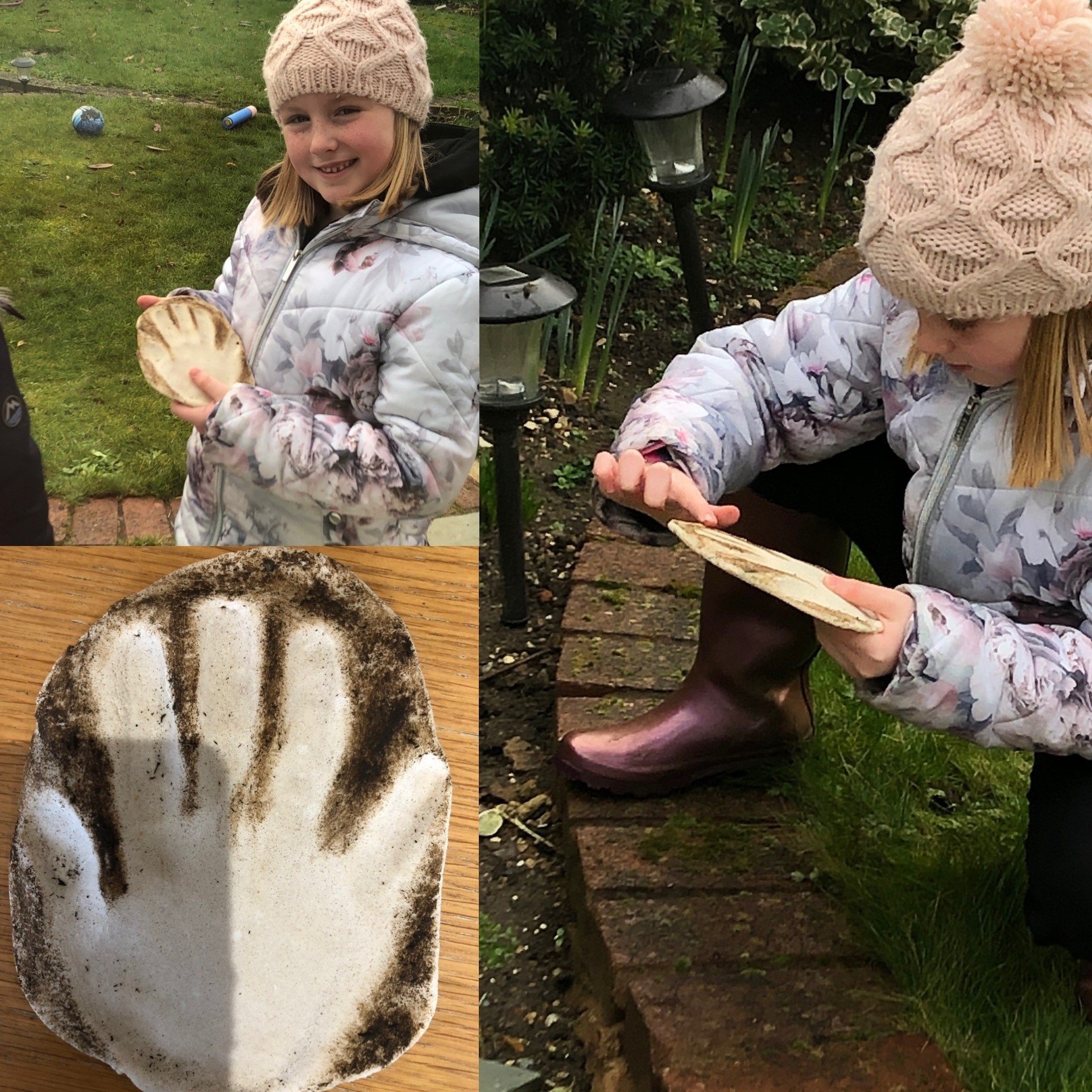 Through their Stone Age Topic, Year 3 looked at the hand print cave painting in Argentina that were made at the time. Stone Age people used the materials they had around them to create their art. Year 3 children scavenged for items that they had around them, to make their own Stone Age hand art. Harley has shared her creation. Doesn't it look impressive? Well done Harley!
22.1.2021
Good afternoon everybody! It has been another busy week. I am so proud of all our children engaging in Remote Learning now which is well above the national trends and reflects the positive relationships children have with their teachers and the level of commitment to learning you as parents emphasise at home. Now that we are up and running and teething problems have been ironed out, we will be registering the children's attendance as required by the Local Authority. Please do not worry if you had some initial problems attending as this will be noted on your child's attendance register. The Government expectation is that parents and pupils engage as much as possible with the school to access learning so please let your child's class teacher know if your child will be unable to attend a live session of learning just as you would in school learning time. Poor attendance will trigger a phone call from the school to check on wellbeing.
I am sure by now the realisation of this lockdown not easing soon, is putting immense pressure onto some families. Please remember that we are here to help with whatever we can.
Miss Clarke has the ideal activity for you all to join in with this week. Remember, it is not just for the children to have a go at, parents you can join in too especially if you have been working all day on a computer - give yourself some time and try your hand at some sketching.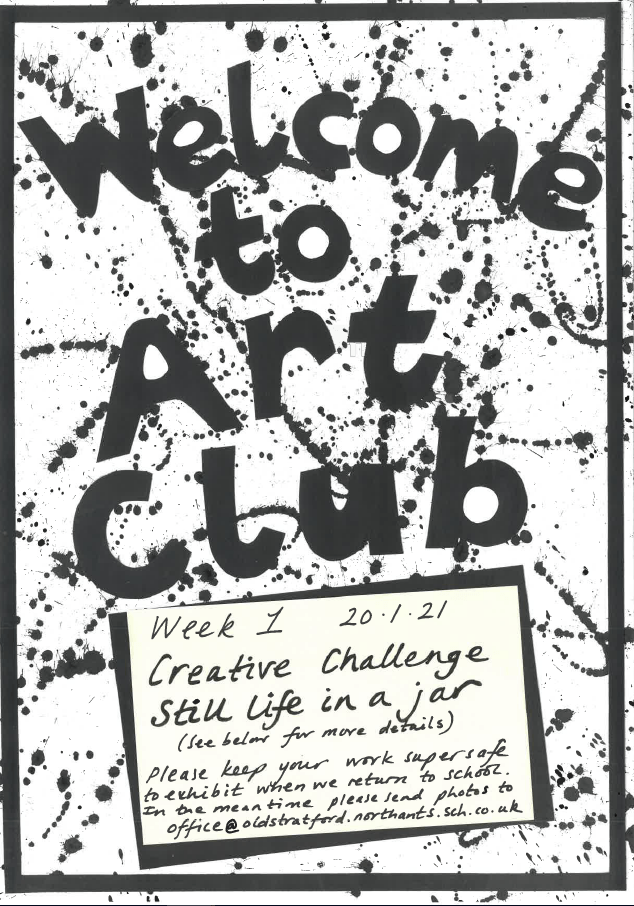 Remember to send me some photos of what you have been up to so that I can share them.
19.1.2021
Good morning everybody! I hope you all had a good weekend although during a lockdown it is difficult to change things up and do something different to get away from the stresses of work! The March lockdown was made easier with the sunshine we were blessed with but this time the weather seems to be less inviting. Don't underestimate a good walk in the winter weather though. If wrapped up well, it can be quite invigorating. We have a dog in my family so we have no choice but to get out whether we like it or not. Patch would be very upset if he didn't get his daily walk. This is Patch - he's very cheeky!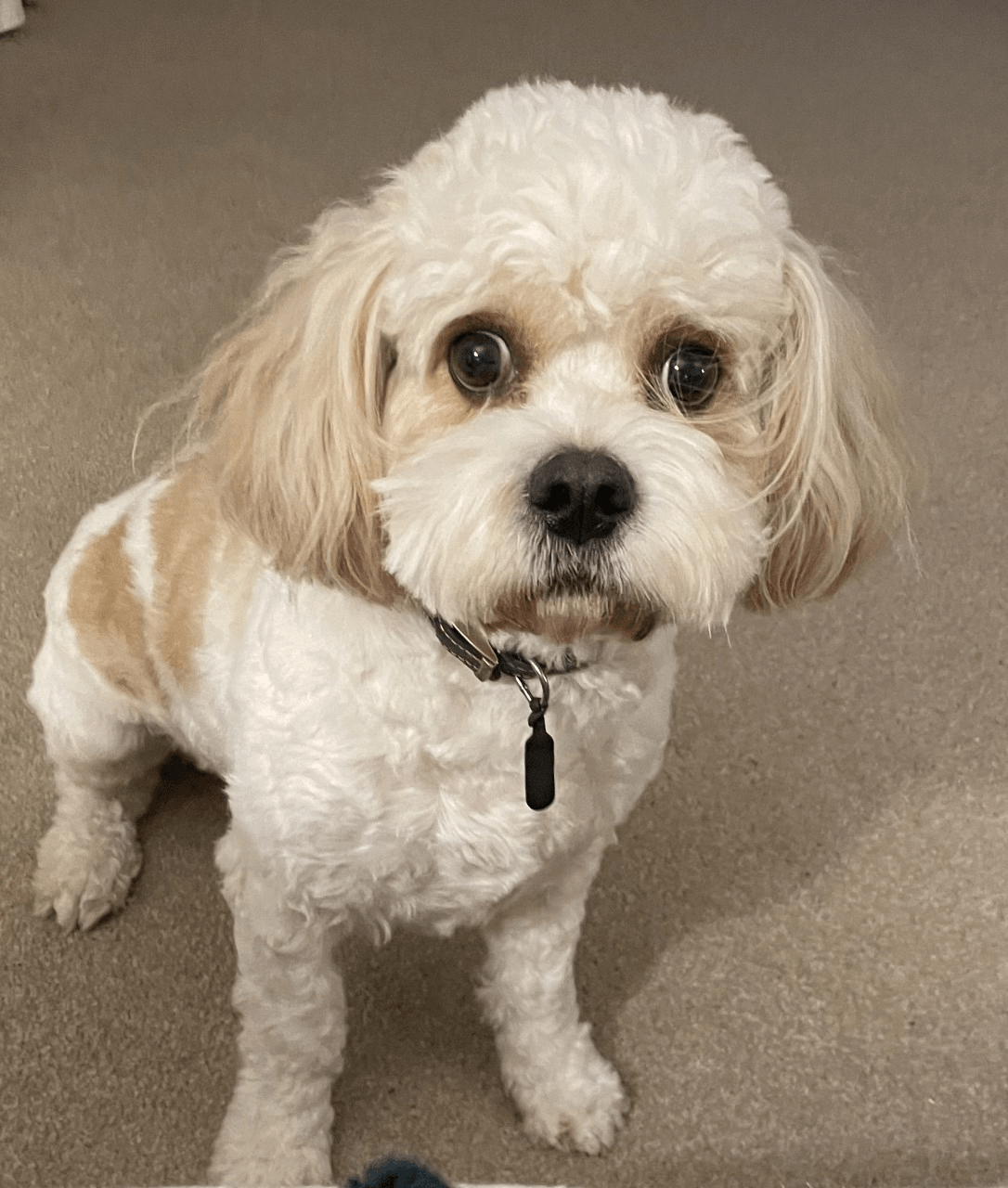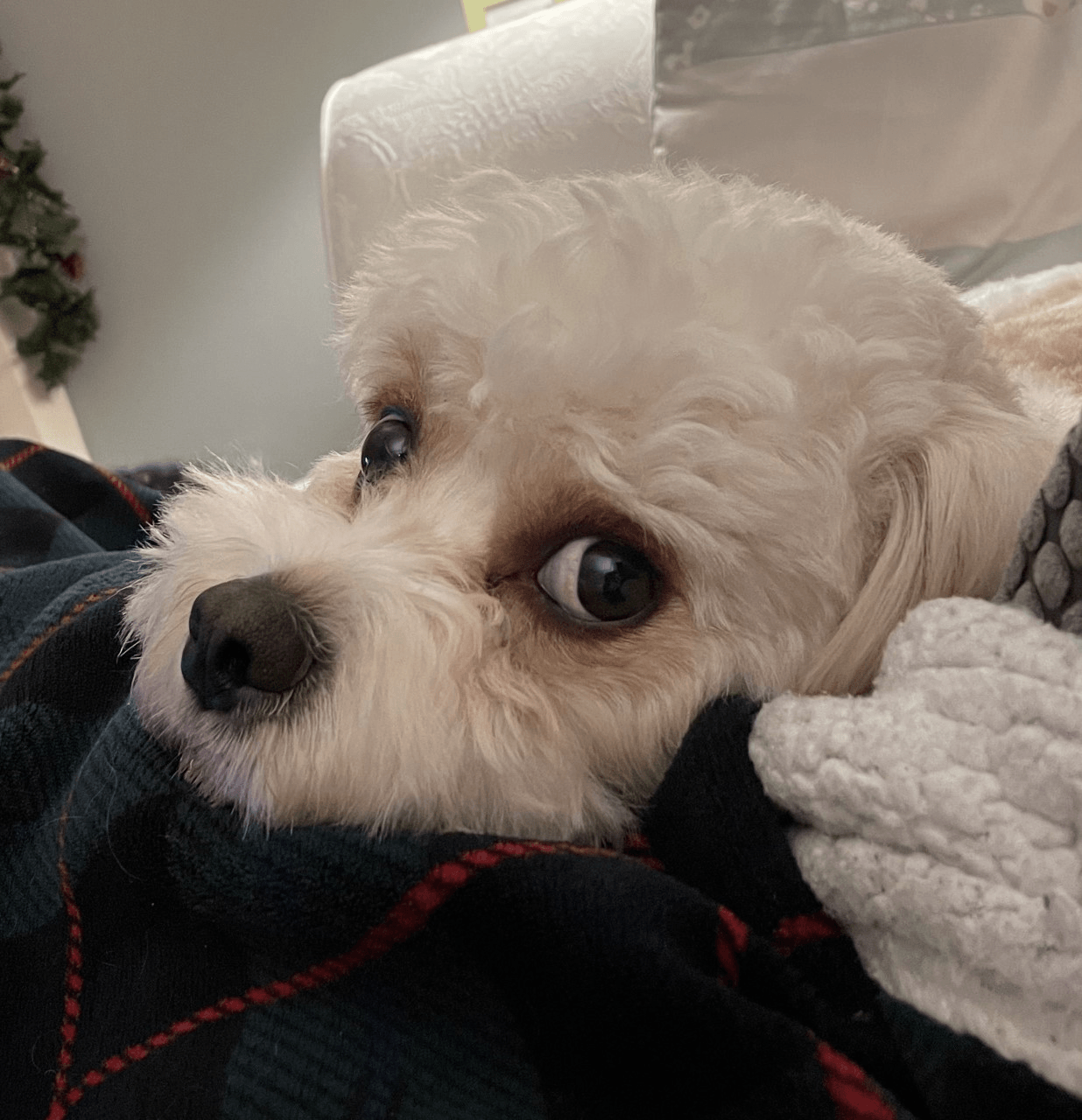 I obviously didn't think of the winter months when I chose him! His white coat is not always white! I know so many of you have pets at home and I hope you are all helping your parents to look after them. Please send me some photos of you and your pets and a message maybe explaining how you are helping to look after them whilst you are at home.
At school we are still trawling through daily guidance and updates on how to stay safe in school now and moving forward - I have had well over 100 messages with changes and updates to the current guidance from the Dfe and Local Authority. This weeks update is that all staff in school will be able to self administer Lateral Flow Tests twice a week to try and eliminate those asymptomatic cases coming into schools. Although we welcome this move forward, it does put added pressure on the team as tests results have to be logged centrally with the government and locally with the school. However, anything introduced to give us that extra layer of safety is always welcome.
I hope you are all managing to complete the work that your teachers have set for you. It can be difficult to get motivated so make sure that you get into a routine and stick to it. Remember there are many websites out there now that promote curriculum learning so if you need extra learning then please try some of these:
https://www.thenational.academy/
https://www.bbc.co.uk/bitesize
https://whiterosemaths.com/homelearning/
Also look on BBC iplayer for educational programmes for children to watch.
But also remember to come away from the screen from time to time and do something more creative or exercise. Getting outside for a walk can be excellent for your mental health.
Enjoy the rest of your day!
15.1.2021
Good afternoon. I hope this post finds you all well. I am sure by now the reality of teaching your children at home has set in. It certainly has for me! This situation, if we let it, can soon spiral into a pit of anxiety and stress so please take some time now that we are at the end of the week to look back at all that has been achieved this week. It could be as little as being up and dressed by 9am or as big as completing all the lessons that the teachers have set!
What have I achieved this week, I hear you ask? I now know how to enlarge a screen with the touch of a button on my keyboard (Ctrl +)! I know it sounds small and most of you may already know how to do this little trick but for me it was like a genius tool that I never knew about. My son taught me as I was struggling to see the tiny font on his computer - even with my glasses on! Whatever your achievement - celebrate!
I know the teaching staff have had many a moment like this all week as they learn to teach remotely. Thank you all for supporting them and turning up to meetings as it makes all their hard work worthwhile. Check your ParentMail for the latest newsletter for more tips on how to support your child's teacher whilst in Zoom lessons.
Photos have already started to come in of work that has been completed by children at home. These pictures really do cheer me up so carry on sending them in and I will try my best to share as many as I can.
Year 1 have been making models of London Landmarks. Look at these fabulous creations.
Clay's London Eye Cleo's Big Ben Edward's London Eye Olivia's Nelsons Column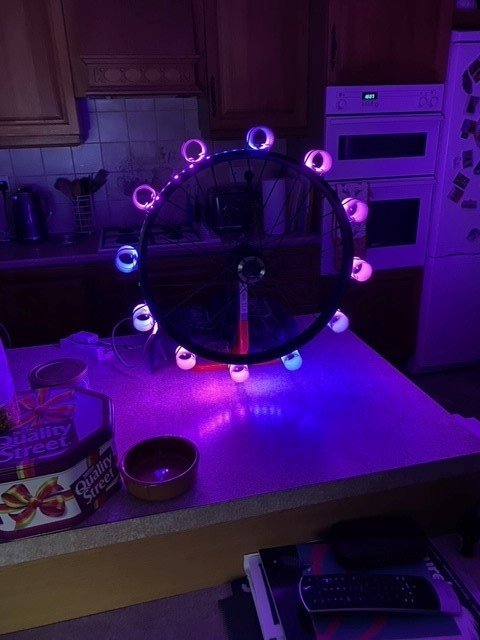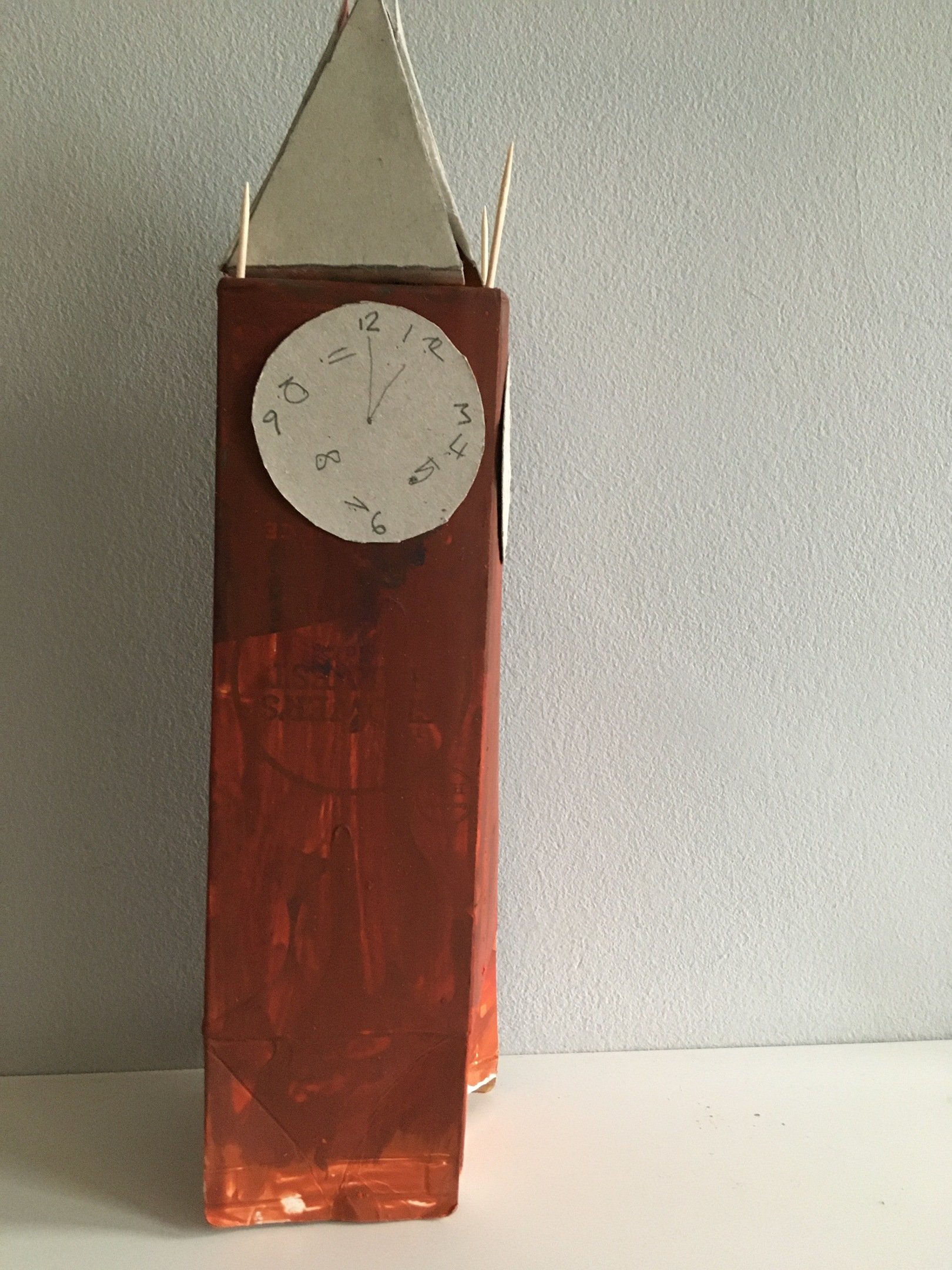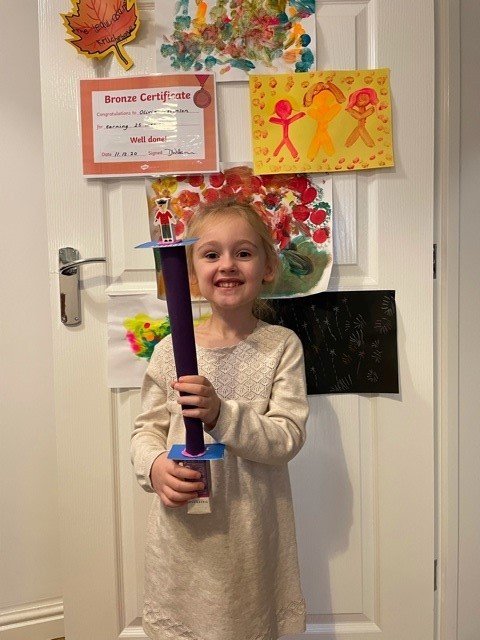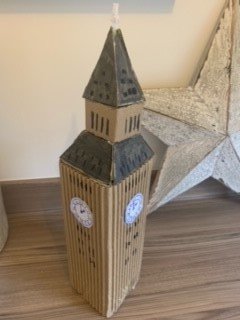 Harper's Big Ben
Evie's Tower of London Emilia's Tower Bridge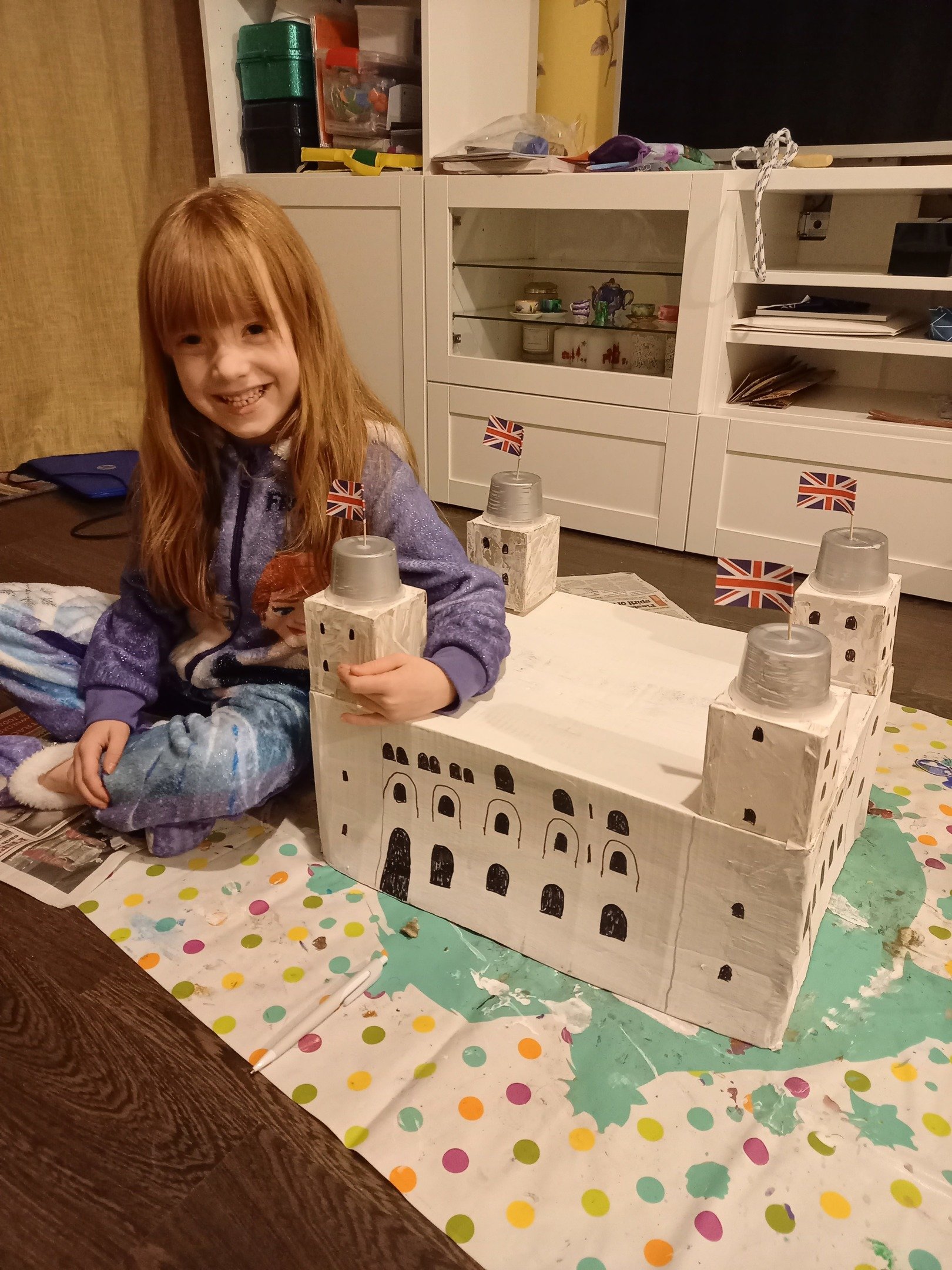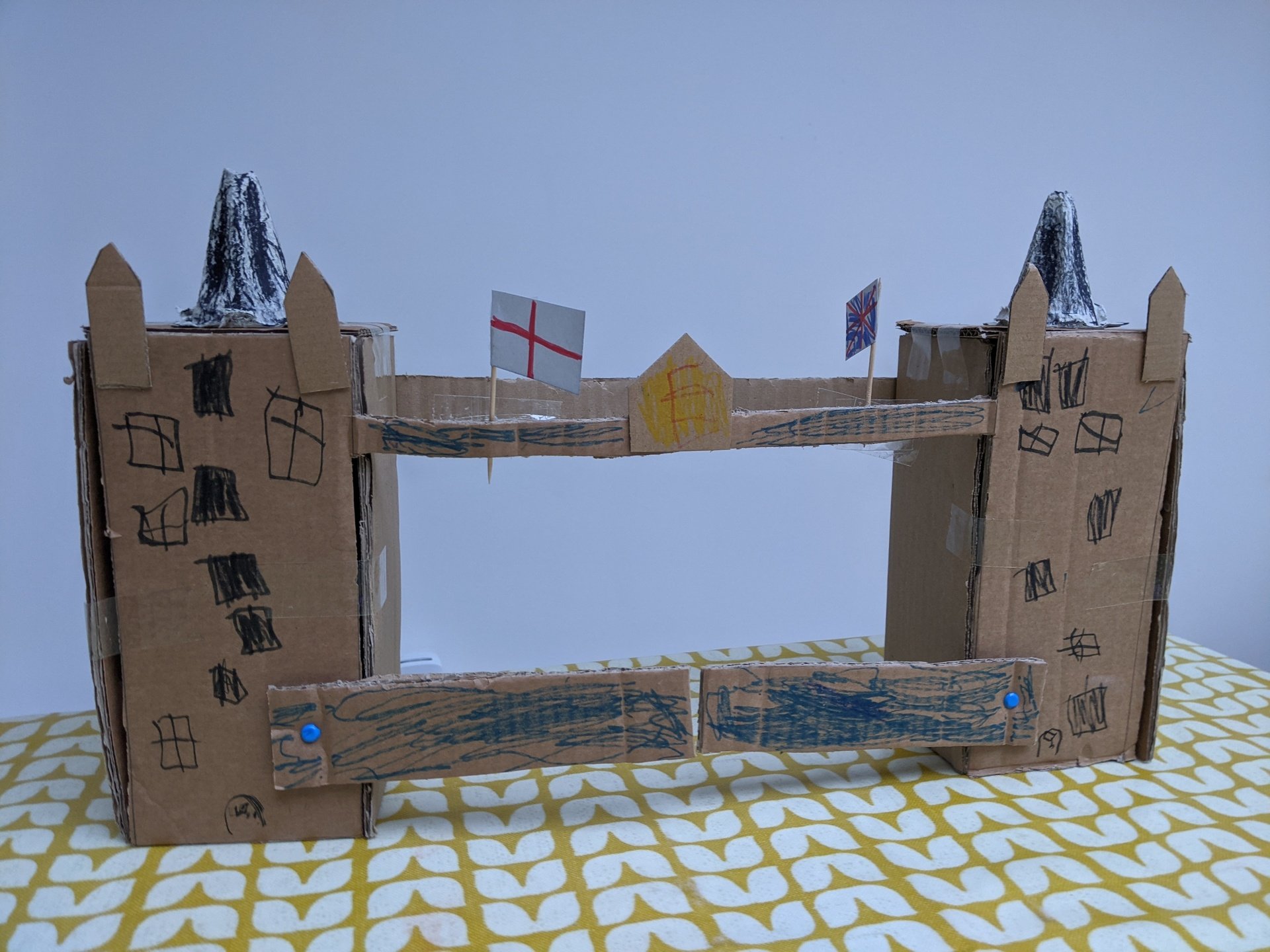 Fantastic work Year 1! Year 4 have also been busy. Bethany has put a lot of work into her poetry. She has made sure that she is still working at the highest standards as she edited and re-drafted her final copy. What great work Bethany.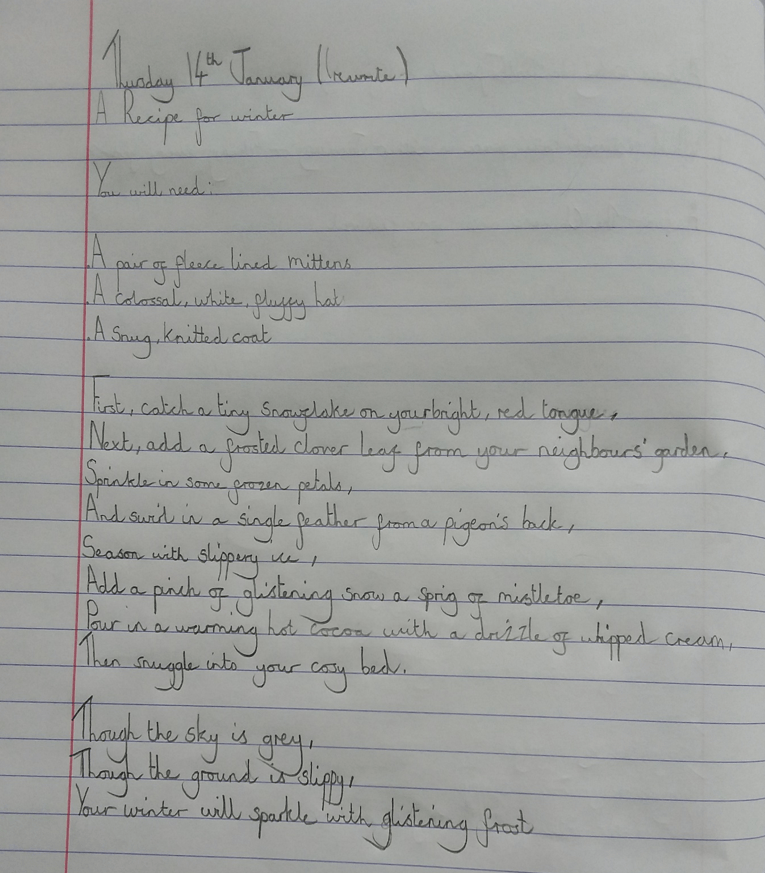 Molly, also in Year 4, has sent in an excellent mind map for her new Topic starting this term. Can you guess what the new Topic is about?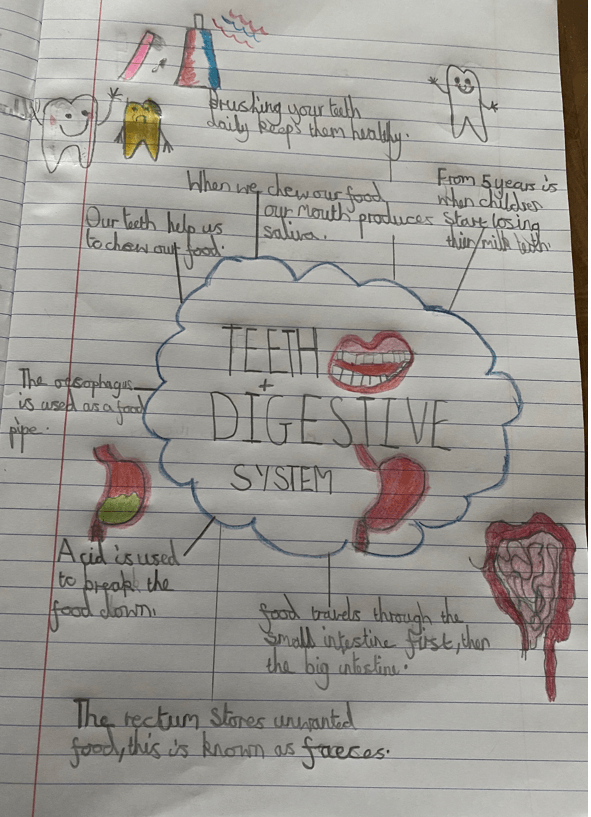 Well done Molly and thank you for sending it in for me to share. Keep up the good work!
Have a great weekend everybody!
8.1.2021
Good afternoon everybody! I can hardly believe that I am writing to you again from a distance as the whole country has gone into a 3rd Lockdown and closed schools for a second time. I am hoping that this time we are a little more prepared and remote learning will become more structured with more contact from your child's class teacher.
As you know, I have two boys of my own and totally understand the pressures of Remote Learning from a parents perspective. I am hoping the daily contact from your child's teacher will help motivate your child into doing the work that is set. Remember, teachers are on hand throughout school hours and are there to help with anything through email.
As during the last Lockdown, try and encourage your children to get themselves into a routine (especially KS2 children). Make sure they get up and dressed, ready to start the day as they would normally. This will help them and encourage them not to slip into 'holiday mode'.
With the younger children, try to encourage daily tasks such as reading, listening to a story, phonics practice and counting. Your child's class teacher will guide you with this and do not be afraid to ask for ideas if you are struggling.
It is important to remember that every family are dealing with a set of individual circumstances. I know so many of you will be working from home and sometimes this can cause an incredible amount of stress. Please just do what you can.
At the moment the school is running on a skeleton staff as some members are self isolating or shielding therefore it is important that we keep our teachers safe at home so that they can continue to teach even if it is remotely. Those children of Key Workers that are in school, will be accessing the same work as those at home. They will be supervised by our wonderful support staff but already these staff members are stretched to the limit as the numbers of Key Worker children are more than double of that in the last lockdown.
Thank you to those Key Workers that have managed to organise childcare or have juggled work times and commitments to enable us to keep these numbers down. If your child is in school please make sure that they are only in for the hours needed and that there is nobody else at home that is able to look after them.
I hope you all manage to have a restful weekend. I will keep you updated with any news or developments but it looks like we will be communicating from afar for some time yet. We will be reviewing how remote learning is going regularly, as it is new for us all, so hopefully we can deliver a good standard even from a distance.